Today is my day 24 of my Whole30 transformation.  I started this journey 24 days ago because I was sick and tired of being TIRED all the time.  I was sick of always having digestive issues, adult breakouts, mood swings, lack of focus and energy and I consider myself a pretty darn healthy person.  I have known my whole life that food affects me pretty easily.  I am sensitive to dairy, cheese, fried foods, high fats, and peanut butter. The sad part is that I would eat them anyways and then end up with a stomach ache, horrible indigestion or worse….
I read about the Whole30 plan more than a year ago and I bought the books off of Amazon and they sat on my shelf for about a year.  I continually came back to the Whole30 plan after every event or party.  I knew my body needed a change but I just wasn't ready yet.  Then, at the end of August I noticed that my skin was breaking out, I had ZERO and I mean ZERO motivation to workout!  That is not like me at all because I look forward to my workouts daily.  I also craved sugar which led to bowls of the kids cereal, greek yogurt, honey, berries and chocolate chips, more snacks and a lack of follow through with my containers.  I was thinking about sleeping all the time and I hated the way that I felt.  I was snippy with the kids and of course my husband.  So when my BFF Katy said she was going to do it and we could do it together I was in!
We started our own little Facebook Support group, chose a date and got started.  I will say that there is never going to be a perfect time to do this program but I am a true testament that you absolutely can do this!
In the past 24 days I have gone on 3 work trips, I have attended a wedding and ate out at restaurants at least 1-2 times a week.  I have had ZERO cheats and I have no desire to at this time.
We are off to leadership in Coronado Springs Resort in San Diego and I am again committed to my fitness and nutrition while there.  No drinking, no moments of weakness because I have come too far to go backwards now.  I am in the ZONE and I got this.
So what was the 2nd and 3rd weeks like for me?  
The 2nd week was tough because I was hitting that wall where I was noticing all the foods that I wanted to have that I couldn't have.  I was a little angry and I was having a hard time getting my meals to 3 per day.
What I ended up having to do is have my breakfast, lunch, then an afternoon snack and dinner.  I make my last meal before 7 pm.
What does a typical Whole30 day look like for me:
Breakfast:  8:00 am Shakeology with water, ice, 1 handful spinach, 1 spoon almond butter, chocolate shakeology blend and then have with a little unsweetened coconut.
Lunch:  Left overs from last night's dinner or a grilled chicken salad.
Snack: Apple, Chopped, microwave for 45 seconds, sprinkle with walnuts, pumpkin pie spice and a little almond butter. So good!
Dinner:  Walnut Crusted Pork Tenderloin with lots of veggies.
You do not have to be super fancy with your meals.  It is all about keeping it simple.  We absolutely love the recipes that come in the Whole30 book.  So far we haven't had a bad one.  Last week we made spaghetti squash with homemade sauce and it was to die for!  So you are not starving and the best part is that you can have larger portions at each meal since you are aiming for 3 meals per day.  We eat a lot of eggs and bacon for breakfast since that is approved on the plan.
For snacks we have a few go to's:
Apple and walnuts
Apple and almond butter
Carrots, celery, peppers, cucumbers & guacamole
RX Bars
Lara Bars
Unsalted raw cashews and nuts
Drinks: La Croix and Sparkling Water
While weight loss is not the goal of this program I can say that I have gone from 119 lbs to 112 lbs in 24 days. I have ZERO bloating, gas, discomfort, I have more energy but I am also being mindful of getting at least 7 hours of sleep per night and I am more patient and focused.
I can absolutely see that this is the way that we SHOULD be eating! We have been conditioned in our society to eat fast food, quick easy and ready made meals that are full of preservatives, fake ingredients and are not giving us the proper nutrition our bodies need function at an optimal quality.
Let's face it, MANY people these days do not place a priority on their health.  Eating healthy is actually frowned up and people just want to live free because heck they are going to die anyways so you better enjoy while you can.  Goodness, that makes me so frustrated!  From reading this book its so clear that food is our best preventative medicine. I certainly do not want to look back in 20 years when I am diagnosed with an illness and say… I wonder if I took better care of my body if this would of happened. I want to do everything in my power to control the controllable and be respectful of this body I was granted.  I value my health, eating good foods, exercising regularly and knowing that I am healthy from the inside out.  It isn't until you do this program that you realize how good your body is designed to feel.
I am totally not crazy, I have experienced it myself!  If you suffer from any autoimmune disorders, sleep disorders, depression, anxiety, chronic fatigue, digestive issues, skin problems, allergies, chronic headaches, asthma and more then this could be for you!
It's also important to know that this is not an 80-20 program.  You can't just decide that you are going to go 1/2 in.  If you are going to do the whole30 you have to commit from start to finish with ZERO cheats in order to truly feel the effects of eliminating foods from your diet.
Its soo worth it.  I promise I wouldn't steer you wrong!
So bring on the last 6 days!!  Going strong and I'm excited to share the final results!!!!  Ready to rock and roll!
What does the Whole30 Meal Plan look like?  Here is my nutrition plan for the week and I'm pairing it up with Max30 which I'm on the 4th week as well.  I have plenty of enough energy to get through my workout and not bottom out and actually I do not even feel like I have lead in my feet anymore.  I am able to workout, crush it and recover faster because of the nutrition.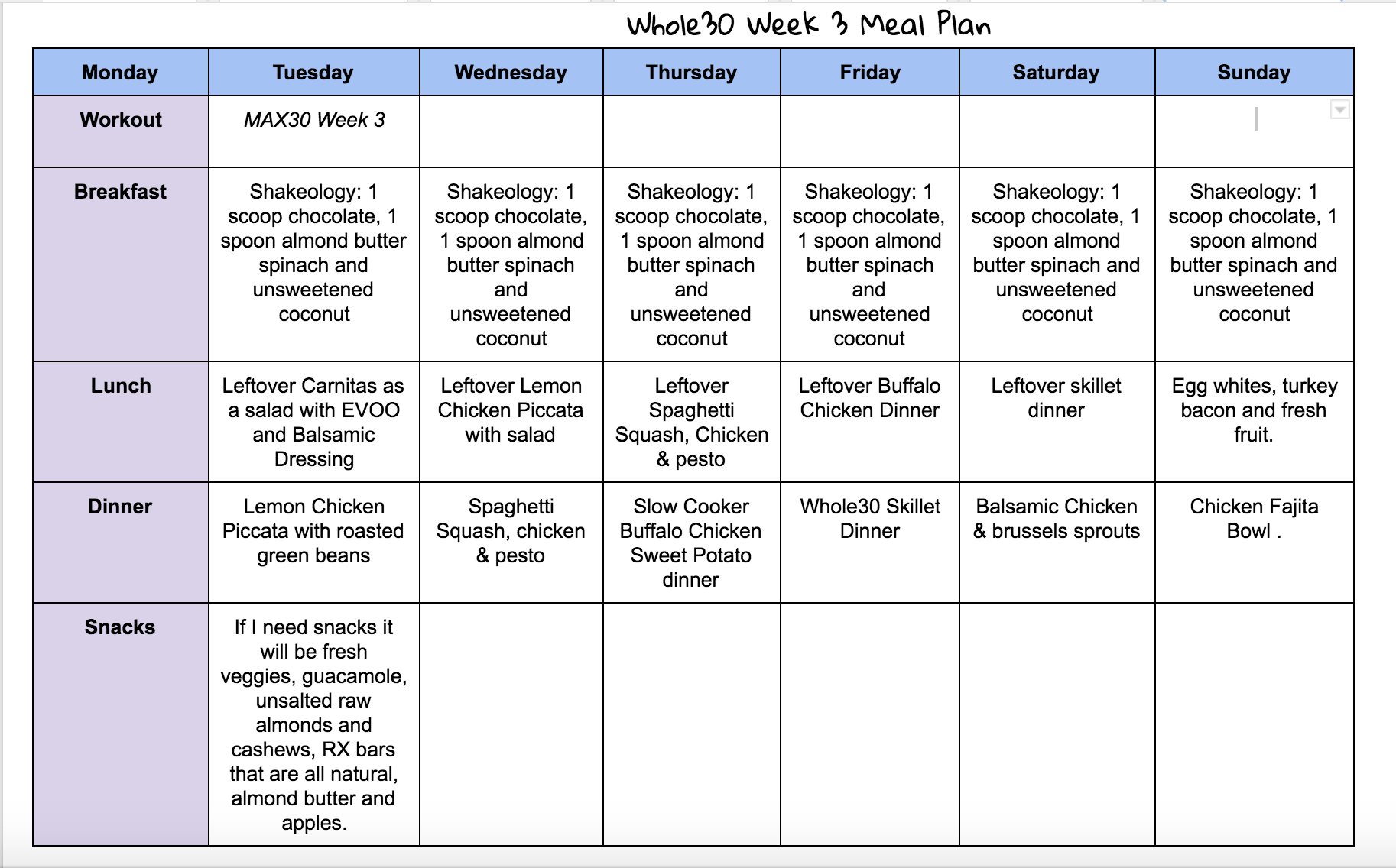 If you are considering doing the Whole30 plan then reach out to me.  I am starting a group to mentor a small group of people through the program starting on the 24th of October and ending right before the holiday.
Here is the link to get more information:  
"I don't crave sugar
I'm sleeping the best that I have ever slept
I have energy and I am not relying on coffee all day long
I am not starving & I get to eat lots of great food.
I don't miss dairy or carbs
The recipes are DA BOMB & I look forward to the new meals we are trying.
I have seriously never been more mentally clear in my entire life.

What I am learning. Food Is FUEL which I already knew but now more than ever its not JUST about CLEAN eating but its about the quality of your food and reading your labels.

Sugar comes in all kinds of SNEAKY shapes and sizes so always read ingredients of your foods.

You can do the whole30 while traveling, while being a super busy business owner, parent and spouse! You can do anything you put your mind too and I had to get to a point where I wanted to change more than I wanted to stay the same!

I'm committed, I feel great and I can't wait to see what day 30 brings!"