I can't believe I have already done an entire week of Core De Force and I'm sitting here prepping for the second week already!  I was really excited when I went to the Leadership Event in Coronado that we could purchase the program before anyone else could.  That is an awesome perk of attending Leadership events.  I also feel like it has allowed me to be prepared for my launch group that is starting next week by working ahead of the group.  
So, in the first week what did I notice?  For starters, I am sore as HECK!  I honestly couldn't believe for as fit of a person that I am, I was sore in so many places.  My core felt like someone punched me.  I am ok with that because my core is the area that I truly wanted to focus on most so bring it on!  Secondly, my legs and butt were burning and there are a lot of push ups so my arms were jelly!  The whole first week was definitely that uncomfortable sore feeling that you get when you start working out.  The one thing that I have learned over the past 5 years is that unless it is pain from an injury you can and should push through that soreness.  It actually helps you to recover faster and get better results.  Another way to get through the soreness is to make sure that you are indeed fueling your body with good food that is from the Core De Force Nutrition Plan.  I eat according to my containers and I also err on the side of a more paleo lifestyle which works great.  I also incorporate the Beachbody Performance line into my day.  I drink the energize before my workout, the hydrate during my workout to give me that extra boost that my body needs to kill the workout and then post workout I drink the Recover which helps my muscles to recover faster, decreases soreness and improves overall results.  I can tell a big difference when I am staying hydrated and eating correctly!  I also want to point out that your quality of your nutrition is WAY more important than the calories you consume.  Really get into the habit of choosing foods from the Core De Force nutrition guide that are at the top of the list. Those are the most nutrient dense and will keep you full the longest.  Pay attention to how your body reacts to food and don't skip food groups all together.  A well balanced diet that is free of processed ingredients, white breads and starches is what will give you proper fuel to crush it.  I can tell a DISTINCT difference in my workouts when I am eating clean vs just surviving.
---
Now that I am in week 2 the soreness has subsided and I am getting comfortable with the moves.  That means I can kick harder and higher, punch harder and be more forceful and aware of my body.  You are constantly turning your core, engaging your muscles and working as many body parts at a time that you can.  This workout is incredible and I like that it isn't the same workout every day or each week. There is an entire 30 day calendar of exactly what workout to do and when in the program.  Plus, when you finish the first 30 days you can continue on for 60 more days and there are two additional calendars that you can follow.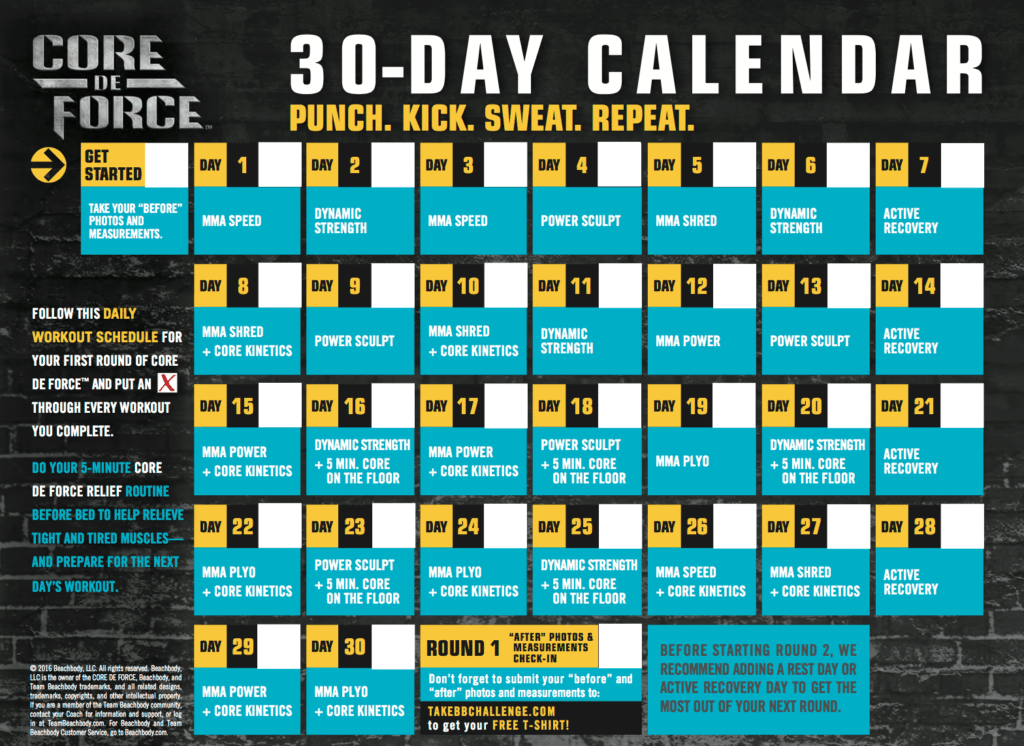 ---
Lets talk nutrition planning.  That is always the one area that most people ask me about.  I'm sharing with you my plan which is plan A from the Core De Force guide.  I am doing a mixture of Whole30/Paleo and Portion Fix system that comes with Core De Force.  I am sensitive to grains and dairy so you won't see very much of that in my diet.  That doesn't mean you have to eat that way, but its what works for me.  I notice when I eat beans, corn or dairy I instantly get bloated and gassy.  So even though I really like cheese and carbs I stay away from it because I feel much better in the end.
I eat 3 regular meals per day with 2 snacks.  Usually my snacks are between lunch and dinner and then one right after dinner but always 3 hours before bed time.
I am really digging a new snack I created:  It is 1 honey crisp apple, 1 drizzle of all natural almond butter, pumpkin pie spice.  So you chop up the apples and microwave for 45 seconds, then drizzle almond butter and top with pumpkin pie spice.  INCREDIBLY delicious!!
I try to stay away from any pre packaged foods and bars.  Although, in a pinch I will use the RX bars because they are the cleanest no sugar added bars I can find.  You can get them at your grocery store or Amazon.
I usually make extra's for dinner so that my leftovers become my lunch the next day and that keeps me on track with food.  Shakeology is usually my breakfast because its quick and easy, unless I am going to be away during lunch and usually then I will have my shakeology.  It's never a set meal, its just what meal do I need it the most.  I never skip a day!  Shakeology is that 1 thing that truly does keep me healthy and moving in the right direction.  It is 1 meal I don't have to think about, it is good quality nutrition, it tastes good, it boosts our immune system, it keeps us super healthy and its not a weight loss Shake! Its a nutrient dense super food that to me is preventitive in every sense of the word.  If you haven't tried Shakeology, you must!
---
If you have been following me on social media you may of noticed my wild and crazy traveling schedule lately.  YES, that is legit the real deal.  I am finishing up my last 2 trips of the year and then I'm home til after the New Year.  But, this is a true testament to the fact that you can travel for work or pleasure and still find a way to rock your workout whether its in the hotel gym, your hotel room or your guests house.  You can use Beachbody On Demand to stream your program and stay on track.
I also have found a way to scope out Clean CDF approved options for food by using the app, YELP everywhere I go.  It's worked great and I travel with my bag of goodies in a pinch, Shakeology, Shaker Cup, Energize Packets, almonds and walnuts, apples, almond butter and RX bars.  I am armed and ready to rock the results.
---
Finally, when you are working on your fitness journey and you are improving your nutrition don't discount the opportunity to really understand how food affects your body and how you can use it to create better results and lifelong health.  I am reading a book, "It Starts with Food" and I can tell you that its mind blowing how jaded society is about food and what it does to our bodies. Check this out for all the things you need to know to start improving your health!  
How about you?  Is it time to take the leap of faith?
You can still join my Core De Force Launch group starting November 7th!