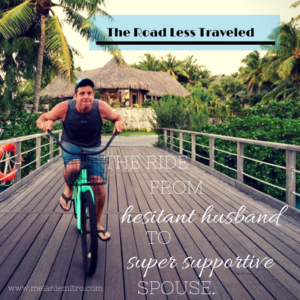 Today is my third week in my February Series on Spouse Support in your network marketing business.  Every Tuesday at 10:00 am EST I go live on my Facebook page to give either a training tip, resource or tool to help you grow your business.  Today's training is the third in our series this month.  Today I talked about how Matt's role transitioned from unsupportive spouse to truly my business partner in this endeavor.
In the beginning of my career as a Beachbody Coach, my husband Matt and I weren't always on the same page. I mean that was actually putting it very gently.  We were not even in the same chapter at first!  Being a stay at home mom meant I was fulfilling my role as a wife and mother, not taking up time working a business from my kitchen table. That's where dinner was suppose to go!
Gradually, over time and with an open dialogue, Matt's hesitancy about what Coaching could do for our lives lessened. The more he understood the business model and why I was spending so much time on the computer we started to get a game plan together for how we were going to make this non- traditional business work for our family.  We created a game plan that would fit our families needs. While he was still working his job outside of the home, we sat down every Sunday night and made an agenda for the week – when did I have calls, was Matt going to be late due to a meeting, what scheduled activities did the boys have. From there, we had a "divide and conquer" mentality! He picked up when I had late calls, and I held down the fort while he was at work every day.  We split household duties such as cooking dinner, getting the boys to bathed and in bed,  folding and putting away the laundry.  I created the weekly meal plan and then Matt would do the grocery shopping. We learned to really work as a team. Getting to know one another's strengths and weaknesses has been crucial in this balancing act!
We had this great system for four years, until Matt was able to leave his job to become a stay-at-home-dad.  It wasn't until one cold morning, as we worked out with Insanity Max30 in our basement that we started questioning why we were doing this – getting up early to spend time together (even though we enjoy working out with each other!), hustling to get the boys to school on time, giving up family time to work in pockets of available time – when we knew we could potentially bring him home thanks to my success as a Coach. It took a couple of months and lots of research before we realized him leaving his job would benefit our family more than negatively impact it.
Now, he will openly admit that it was never a title he wanted. However, it is a job he gladly stepped into because he wanted to help me do what was possible to grow my business and take it to the next level. Eventually, he will probably go back into the work force, but for now, he's enjoying being the household chef, coach on the boys' sports teams, and my own personal business advisor! Matt also greatly enjoys building relationships with other Coach husbands! He's always willing to organize a round of golf, play a game of spikeball, and find ways to bring the husbands of our team together. He is a great sounding board when spouses have questions or frustrations, so it's nice to have someone there who understands. 
When others ask me for tips on how to get an unsupportive spouse on track to see their goals, I have a few key points:
Openly and honestly communicate your "why." If your partner doesn't understand why you love Coaching so much, it can be difficult for them to understand why you're devoting so much time to it. Discuss your vision and goals, then express how achieving these milestones will positively impact your family. For me, it was becoming an Elite Coach. I explained to Matt what the title meant, but also the financial reward that would come from achieving this, as well as what we could do with that additional income.
Be clear about what is going to be required from you to reach your goals. While it may be a short term sacrifice (missing a tv show together), the long term gain (being able to afford a weekly date night) could be even better! Now, Matt is very understanding of the time I spend working because we've openly talked about it. He knows that my hours spent working are producing results. With that, though, you need to be honest if you're struggling, too!
Work from a list. Matt knows that when it's time to work, that's exactly what I will be doing. When my office doors shut, I have an agenda for my day. I am not doing online shopping or browsing Pinterest – I am working hard now so I can relax and enjoy our time together later.
Make a schedule. Know what each other is doing and what you can do to help. There aren't any surprises or glaring stares when we know the plan for the week!
Fall in to the "our money" mentality. It isn't what I earn or what he earns that pays bills. We are a family unit, so it doesn't matter what the other is contributing financially, because we both work really hard! I was a stay-at-home-mom… sometimes that work is harder than leading a team of successful Coaches! You have to have a mutual respect for what each other is doing. Put egos aside!
How can you implement this into your life starting today?
Create a list of what you could be doing better.
Do you need to spend less time wasting time or be better at delegating responsibilities?
Once you create this list for yourself, have a conversation with your spouse.
What could you be doing better as a team?
Can he put the kids to bed while you attend a team call?
Could you work your business while you eat lunch so you aren't scrambling when dinner time rolls around?
Finally, have a weekly meeting and evaluate how your schedule worked. Are there ways you can improve to make next week even better?
Don't forget to tune in next Tuesday at 10:00 AM EST for our last week of our series on Spouse Support.  I do a live call each week on my Facebook Page.  Subscribe to get notifications of when I go live and post trainings and resources to help you grow your business.