Mother's Day is just a few short days away and with me being a Mother I want to enjoy my day of pampering. I also know that a lot of people enjoy a day of pampering with breakfast in bed, mimosa's dessert and more. I also know that you may be working hard to slim down and keep your waistline in check and that one day of indulging can void out the 2 pounds you lost from your health and eating and exercise Monday through Saturday! So let's be realistic here and ask ourselves this, would you rather have a toned and tight body or a soft, bloated and sluggish body from the food choices you make?

Last year for mothers day I did a completely clean brunch and I plan to do it again this year!!
I wanted to share what is on my menu so that you can enjoy good, clean, and tasty food for your Mother's Day feast!!!

Eat Clean Egg Strata- this recipe you can prep the night before and cook that morning to cut down on your prep time.
1 LB lean ground turkey or chicken sausage

1 Tbsp olive oil

1 tsp poultry seasoning

1 tsp garlic powder

1 tsp sea salt

9 egg whites and 3 whole eggs

Dash of Tabasco sauce (optional)

2 C skim milk

1 tsp Worcestershire sauce

1 tsp dry mustard

1 tsp black pepper

8 pieces of whole wheat bread with crust removed

1 C low-fat Monterey Jack cheese

1 small onion, chopped

1 C diced fresh mushrooms (You can also add diced tomatoes, other veggies, and a can of diced chilies-all of it yummy!)
DIRECTIONS
Coat a 13X9 baking dish with cooking spray.

Heat oil in pan and cook turkey until no longer pink. Season turkey with poultry seasoning, garlic powder, and ½ tsp sea salt. Pour into a sieve and allow any fat to drain from the meat.

In a medium mixing bowl, mix eggs, ½ tsp sea salt, Tabasco, milk, Worcestershire sauce, mustard, and pepper. Using a wire whisk, beat egg mixture well until frothy. Set aside.

Arrange one layer of bread slices on the bottom of the baking pan. Make sure to cover all places with bread. Place half of the crumbled meat mixture on the bread. Top with one half of the grated cheese and half of the onion and asparagus. Repeat layer starting with bread. There will be only two complete layers and will end with the grated cheese, onion, and asparagus.

Pour egg slowly over contents of the pan allowing the egg to absorb into the bread. Cover with foil and refrigerate overnight.
IN THE MORNING:
Preheat oven to 350. Remove tin foil from strata. Place in oven on center rack and bake for 60 minutes. Allow to cool for 10 minutes before serving.
1/8 of casserole =serving size
If you are at all worried this will not be AS good, then sprinkle yellow cheese over the whole thing…TRUST me you will still be coming in MILES ahead of the old version!
Remember it is hard for our kids to eat healthy foods if they are not available, so regardless of what your serve make sure there is plenty of fresh fruit and pitchers of ice-water available throughout the Holidays!


My favorite Oatmeal Recipe
I made this dish for a recent get together with some family and it was delicious. You could even make this dish ahead of time and portion it out for the rest of the week for breakfast. Then you wouldn't be scrambling to make your healthy breakfast in the am. Just grab the container and go!
Ingredients:
2 cups old fashioned oats

2 cups low-fat or skim milk or soy milk

1/2 tsp best-quality vanilla

1/2 cup slivered almonds

1/2 cup dried cranberries or other dried fruit of your choice

1 large unpeeled MacIntosh apple, grated (apple should be firm)

4 tbsp maple syrup

Eat Clean Cooking spray
Preparation:
Preheat oven to 400 degrees. Coat a 3 quart casserole dish or baking pan with cooking spray.

Combine all ingredients in a large bowl. If you are preparing this the night before don't add the liquid ingredients such as milk and grated apple until the morning.

Place mixture in casserole dish. Bake uncovered for 45 minutes.
Tip: If you have more people to feed, simply double the recipe!
Guilt Free Cinnamon Rolls
Ingredients:
Filling
2.5 TBSP Coconut Oil (Softened – ~30 seconds in microwave)
1/3 c Stevia in the Raw
1/4 Xylitol Brown Sugar Blend
2.5 tsp Cinnamon
Dough
3/4 c Oat Flour (We use Bob's Red Mill Oat Flour. There is also a Gluten Free Version)
1 c Whole Wheat Pastry Flour (We use Bob's Red Mill Whole Wheat Pastry Flour)
1/4 c Vanilla Protein Powder
2 TBSP Stevia in the Raw
4 tsp baking powder
1 tsp sea salt
3 TBSP Coconut Oil (Softened – ~30 seconds in microwave)
3/4 c Unsweeted Original Almond Milk


Directions:
1. Preheat oven to 400 degrees.
2. Combine ingredients for filling in a small bowl. Ingredients will form a grainy paste. Set aside.
3. Mix first 6 ingredients of dough in a medium size bowl. Stir with a wooden spoon (metal can also be used; however to save utensils, it may be easier to use a wooden spoon so you can continue using it for your dough). Once combined, slowly integrate the softened coconut oil into the mixture, stirring to combine. This should begin forming a dough. Once combined, add almond milk to complete dough, stirring and kneading with the wooden spoon. Form ball with dough.
4. Once dough is combined, place dough on a floured surface (can use either the oat flour or the whole wheat flour to protect your surface). Using a floured rolling pin, roll dough to a 1/4″ consistency. It is best to create as much of a rectangle/square as possible while doing this.
5. Spread 3/4 of your filling mixture over the top of the dough mixture. Be sure to coat all areas of dough. Roll up dough starting at one end – you may use a knife to help you if the dough is sticking to your floured surface.
6. Cut dough into 12 equal size pieces. Place each cinnamon roll (piece) in one section of a 12 muffin tin that has been sprayed with 100% pure olive oil (We use this sprayer). This will promote consistency while baking and avoid sticking. Using a spoon add the rest (1/4) of your filling mixture to the top of each cinnamon roll.
7. Bake for approximately 18-22 minutes depending on your desired consistency. Because the dough does not have yeast, it will be softest at 18 minutes vs. 22 minutes.


Mets: per cinnamon roll (you determine your serving size)
Calories – 134
Protein – 4g
Fats – 8g
Carbs – 13g
Sugars – 1g
The fat content is high – is that ok? Yep! Coconut oil is a good fat – don't go indulging in all 12 cinnamon rolls, but 2 would be the perfect portion size if you need a sweet treat in the morning, perhaps coupled with 1/4 c of unsweetened greek yogurt.
Why is there no icing? Quite frankly, I have tried about 4 different clean "icing" recipes and they just don't taste right. The rolls are sweet without the icing!
A colorful fruit salad is also a great way to brighten up your table. Plus the sweetness of the fruit is enough of a sweet treat for me!!!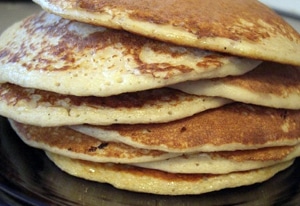 Ingredients:

5 egg whites or egg whtie substitute
1 scoop natural protein powder (I use brown rice protein powder)
1/2 cup regular oats
1 packet Stevia or 2 tsp. agave
1/2 tsp baking powder
1/2 tsp cinnamon or pumpkin pie spice or apple pie spice
1/2 tsp vanilla
Fruit (optional, can be mixed into batter or served on top)

Directions:
Preheat a skillet pan on low/medium heat and spray with non-stick cooking spray.

Place all ingredients into a blender and blend until combined.

Pour batter onto skillet to make either one giant pancake or several separate pancakes (better this way).

Cook until golden brown on each side. (2-3 mins/side)

Serve with a little pure maple syrup or fruit on top.
Here is a great punch recipe that I have used in the past as well:
In a big punch bowl I mixed 2 bottles of seltzer water, 2 bottles of organic blueberry raspberry juice with no artificial sweeteners and a bag of frozen raspberries with ice! Clean and super easy!
To finish it all off you can serve some sparkling water with fresh strawberries, lemons and limes. Serve tea, organic juice, and water to your guests. I bet that with all of these amazing dishes they won't have a clue that they are eating clean food!!!
If you would like more information on how you can turn any special event or function into a clean eating feast then ask me how you can be a part of my 30 day Clean Eating and Shakeology group. In this online closed group I will teach you the basics of clean eating, dealing with temptations, cravings, traveling, and eating out at restaurants plus meal planning, food prep and more!!!
Ask me how you can get in on this exclusive group to feel your best and lose weight too! With summer fast approaching there will be plenty of opportunities to make bad choices. But when you are prepared you can handle any obstacle that is put in your way!!!