Les Mills Body Combat
Happy Thursday! It's an exciting day!!! I have 6 days until I leave for Las Vegas for the annual Coach Summit and I can hardly wait. Last year I was a 1 star diamond coach sitting in the audience and this year I am a 7 Star Diamond Elite Coach speaking on stage! Pretty pumped about the opportunity to share my knowledge about building a successful business with all the other coaches out there! That is actually not the reason I am writing this post but that is what was on my mind this morning. I'll be journaling and documenting my entire week through my blog, Facebook and Instagram so make sure to follow me at the links above. So to get to the important stuff.
This month Beachbody came out with a great promotion. They typically have pretty good deals but this one actually takes the cake for sure. If you are interested in a few things such as joining one of my challenge groups, trying Shakeology, Becoming a Coach or just wanting to try the workouts and the Shakeology then this is a good option.
This month only Les Mills Body Combat Challenge Pack is on sale for $140. It is a $70 savings if you were to try Shakeology and Combat any other time of the year. So let's break it down. So if you were to purchase Shakeology you would pay $129. So for $10 more you get Shakeology and the entire 60 days of Body Combat home workouts with the nutrition guide, a program guide to tell you exactly what to do each day and complete access to my challenge group. In the challenge group I will help you to create a customized meal plan, give you recipes, tips and suggestions for how to create a healthy lifestyle vs a crash diet. I will hold you accountable to your goals, teach you how to stay away from temptations, handle emotional eating, curb your cravings, and deal with vacations, parties and other summer struggles! Now for me that is a sweet deal! You can't take a class at the gym or go to a weight watchers meeting and get all of that support!
Shakeology Price Comparison
Also, for those of you who are wanting to try out Beachbody Coaching this is a great opportunity. Anytime you purchase a challenge pack you get your $40 coach sign up fee waived! So you get the challenge pack and you get to save 25% on all future purchases and I will teach you everything that I know about building a successful Beachbody Business. Whether you want to learn slowly or you want to hit the ground running I am here to help you out! It's way better to sign up this way vs throwing $40 down the drain!
So now what is Body Combat for those of you wondering!
LES MILLS COMBAT is an explosive mixed martial arts–inspired body transformation program that will help rip, shred, and lean you out for unparalleled results. Blending dynamic martial arts–inspired training with High Intensity Interval Training (HIIT), LES MILLS COMBAT pushes your body far beyond where it's ever been before. You'll punch, kick, and strike your way to the biggest adrenaline rush—and your best body ever—in just 60 days! Beachbody® and Les Mills International have teamed up once again to bring you a high-octane workout program based on the immensely popular BODYCOMBAT® gym classes taught in 80 countries around the world, with expert trainers, charttopping music—and muscle-shredding results. Now for the first time, LES MILLS COMBAT is available for home use.
So if you love Tae Bo or do Combat at the gym but find it hard to make it a class consistently this is a great alternative for you! I know that personally I enjoyed every Combat workout that I have done! I did this workout right after the Reset in January and saw great results. I would highly recommend it!
Combat really works your arm muscles like you never would of imagined plus it engages your core and gets your heart rate fired up! Also the whole thought of kicking someone's butt while working out is rather exciting! To read more click here for the full article on Les Mills Combat!
So are you ready to to join my June 24th Challenge Group with Body Combat, Shakeology, My Support as your coach and some kick butt Combat Instructors? It is on! There is no better time than now to make the decision to commit to a new YOU!!! Imagine where you could be by the end of the summer if you just went for it now! Believe me I know that the time will never be right, you will always have a vacation, a wedding, a Bachelor party or a crazy work schedule. What I can tell you is that we work with the craziness of our lives. Even I have a bazillion things going on. I am speaking in Vegas next week, working more hours than I was before, 2 small children a house to clean and laundry to fold! I have found a way to cut out the fluff in my day, maximize my time and live a healthy life. I just make it a priority to be healthy and set a good example for my family. When you want something bad enough you will do whatever it takes to achieve it! Sometimes we just need a person there with you to encourage you to keep going. There are days when you feel like the results aren't happening fast enough or the scale isn't budging. But it's not you! It happens to everyone! Yes you are destined to have the body you desire, it just takes a little hard work along the way! Decide today to commit to a new you! You don't want to see that before picture ever again and the after picture WILL BLOW YOUR MIND!!!!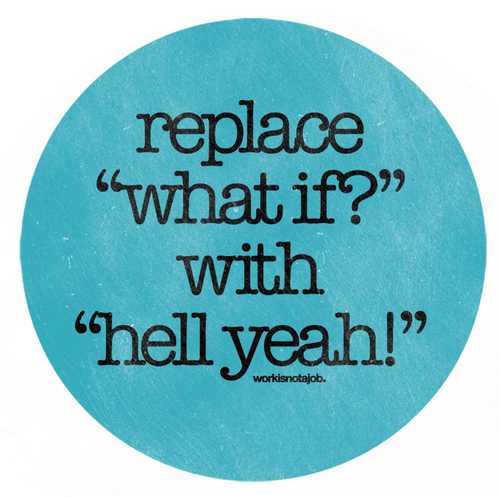 Replace what if with Hell YEAH!!!