I haven't blogged in a little while about my Core De Force progress so I figured I better give you all the update.  First of all, Core De Force is an incredible program.  The focus of Core De Force is on your core and just total body strength and conditioning.  It's incredible how this program has shredded and sculpted my body with absolutely no weights at all.  I am impressed with the program, the workouts and my results.  I am not actively trying to lose any weight and I am quite happy with the way that I feel but the one area that I always strive to improve is my core, my muscle tone and making sure that I eat as clean as possible and stay away from certain foods.  My meal plan omits dairy, legumes and all processed sugars. The sugar that I do consume comes from the naturally occurring sugars in my food.  I can say that living a paleo/clean eating lifestyle is the perfect combination for me.  It wasn't until I did the entire Whole30 program that I realized my body thrived under these conditions.
So I have done the entire Core De Force program by following Whole30 food guidelines, daily Shakeology, and healthy snacks.  I have had a few cheat or treat meals along the way and I have still seen incredible results.
So I am on day 15 (tomorrow) which is the start of week 3 of the 30 Day Deluxe Core De Force Program.  This program adds in some new workouts like MMA Kick Butt, Agility Strength and Agility power which utilize the agility ladder.  Beachbody On Demand also released 2 new workouts MMA Speed 2.0 and MMA Shred 2.0 which I have swapped out for the regular MMA Speed and MMA Shred. So I feel like I have a whole new calendar of workouts to do and I'm loving it.
As the holidays are fast approaching (2 weeks away from Christmas to be exact) there are so many temptations at every corner.  For example, this weekend we went out for dinner Friday night and to see the Polar Express.  I managed to keep it pretty healthy by ordering a grilled chicken salad and I had 1 drink.  Saturday we had breakfast with Santa and there were donuts, cake pops, fruit and coffee which I only had a cup of coffee and drank my Shakeology before the event.  Last night we had our annual friends Christmas party and I kept it clean other than the drinks.  I had a steak, sweet potato, asparagus and salad.  I did have 1 cookie and some champagne.  I worked out yesterday  morning because I have a rule that I never have a treat meal on a day that I rest.  It's cardio then party!!
Today, we had our active recovery day which was perfect because my body needed that chill time.  We had a birthday party for my nephew and gingerbread making party.  So, I had baked chicken, salad, and I did have a very small piece of cake and a sugar cookie.  I feel pretty gross after eating that today but I can tell you that I will for sure be back on track and moving in the right direction again tomorrow.  No questions asked.
Sugar doesn't sit well with me and it leaves me feeling pretty blahh.  I know this about myself and I don't beat myself up over it.  I enjoyed my weekend and now tomorrow it's back on track.  I actually don't have anything planned for next weekend so it will be a full week of 100% on track!!!
This is what I call BALANCE!  It's not about feeling like you can't have a healthy holiday.  Its just about having what you want now vs. what you want later!  Every day is a choice and a decision that is completely up to you.  I will say that you do not have to wait until the new year to get in shape.  You can start now and be surprised at how much progress you can make between now and the New Year.  You just have to start making better choices.
So here is my meal plan for the week.
You can see that I modify to follow the whole30 plan but I did add 2 small optional snacks if my body needs them.  I do follow the portion fix containers.  RX bars are incredible because they are a 100% clean snack that I keep for emergencies in my purse or glove compartment in case I am out and need a snack.  Plus I take Shakeology with me every where that I go.
This weeks workouts are:
MMA Power + Core Kinetics
Agility Strength _ 5 minute core on the floor
MMA Kick Butt + Core Kinetics
Agility Power + 5 minute core on the floor
MMA Plyo
Dynamic Strength + 5 min core on the floor
Active Recovery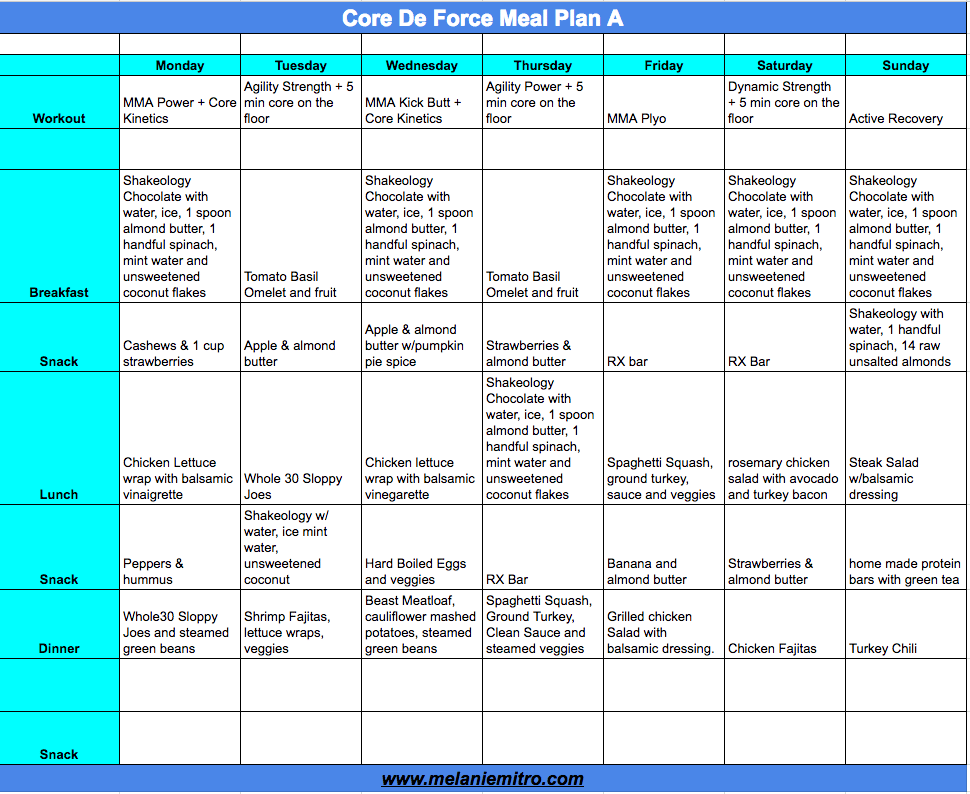 I am really excited about my results so far and I really feel like I am making progress in my Core area. I have 2 boys ages 5 and 7 and after a 60+ pound weight gain with the boys I have come to the realization that there is going to be some extra skin that I can't get rid of and there is going to be stretch marks and I have learned to embrace those imperfections because I wouldn't trade my boys for anything.  I am so thankful for their blessings in my life.  I am a proud and strong mom and every day when I workout and I make healthy food choices I am also doing it to lead by example to my children too.
So tomorrow I will press play on day 15 of my Core De Force workout and I will be grateful for the weekend full of friends and memories and I won't beat myself up over the foods I ate this weekend because I know that I have balance and this is life.
If you think you have to be perfect to have success then you are sadly mistaken.  Perfect is FAKE, be REAL and just LIVE!
So let's bring it!!  Cheers to all you moms out there just trying to live a healthy life.  I got your back!
Make sure you follow my page, www.facebook.com/melaniemitro for tips on healthy eating, holiday parties and travel tips.
Plus score a spot in my  New Year New You Healthy Bet Challenge Group starting January 2nd by completing the application below and I can help you set realistic expectations to help you reach your health and fitness goals in the new year.