We are just 7 days away from Christmas and I think my kids are about to burst at the seams.  Every morning they wake up to find Marshmallow "our elf" & eat their chocolate in the Star Wars Advent calendar.  They count down how many more days until Christmas.  We have baked cookies for Santa, we have made hot chocolate to stay warm from the snow we have been getting, the Christmas music is playing on Pandora and the smells of Yankee Candle Balsam Fir is burning in the house.  It truly feels like Christmas this year.  My kids are absolutely 100% into the season.  We have gone to see the Polar Express at the iMax downtown and had a visit with Santa to give him our Christmas lists.  I think we are ready to go!
With all of this craziness of shopping, wrapping, visiting family and friends, hosting parties and attending parties I can feel how thrown off our routine is getting.  I vowed this year that I wouldn't get overwhelmed, that I would enjoy the season and that I would stay consistent and balanced in my nutrition.  As a family we are just more patient and calm people when we don't go completely crazy with sugary foods and drinks and we stick somewhat to a routine.
I'm going to share with you some of my tips on how we as a family stay on track and don't go overboard this holiday season.  Plus, as the Christmas week approaches we are about to travel to see family and host family.  What will we eat, how will we workout and are we going to give up everything we love to stay on track???
Friday night my mom came out and we baked Christmas cookies with the boys.  This is actually something we haven't done in years because neither one of us can resist cookies in the house.  Although, we knew the kids would love baking together and I had to make cookies for a cookie exchange so we decided to go for it.  The boys helped us make M&M cookies, Peanut Butter Blossoms, Cut outs and Cherry Macaroons.  They pretty much ate more sugar and icing than went on the cookies but they had a blast and we definitely had a mess to clean up afterwards.  But, great memories were made!  I ate a cherry macaroon, sugar cookie and of course an M&M cookie but that was it and the rest went into the fridge for Christmas. My kids were totally hopped up on sugar and we just made sure that the cookies were hidden so they couldn't find them.  If I can control what they get we are all a happier family!!!  Saturday the kids had some friends over and they asked for cookies. So instead of letting it be a free for all I put 2 cookies per kid on a plate and told them that they could each have 2 cookies. They asked for hot chocolate so I got out mini mugs and filled them 1/2 way with milk and we have all natural chocolate syrup that they could have in their milk.  I cut the serving in half and they were not nearly as crazy as they get when they have a full cup.  See- everything in moderation.  No one was deprived but we didn't have to go overboard either.
This morning I sat down and created my workout plan and my meal plan for the week.  There is no reason for me to miss a workout because #1 I get up early to get my workout in and #2 I have Beachbody On Demand so even if we are traveling I can use my iPad, iPhone, or Laptop to stream my workouts.  There are plenty of options that require zero equipment so I can literally workout anywhere. I am doing the 30 day Deluxe option for Core De Force and I'm in the third week right now.  I am following Meal Plan A from the Core De Force Nutrition Guide.  So I mapped out my workouts for the week and how much time I will need to get the workouts in.  I am going to workout on Christmas Eve, take Christmas day as my rest day and then do a workout the day after Christmas.  It works out perfect because the calendar has Sunday as an active recovery day!  My one tip is this:  No matter how crazy your life gets don't skip your workout!  My workouts truly set me up for the right mindset the rest of the day.  When  I get in my workout I have more patience to handle all the craziness that life throws at me with just a little more calm and peace.  There is something about a workout that just keeps me level headed.  Also if you mess up…. it's ok!!!  Do NOT BEAT YOURSELF UP over spilled milk!!!  You didn't blow it, you just allowed yourself to enjoy a little more than usual.  Dust yourself off and lets keep on going!
Lets Talk Nutrition.  I just sat here this morning to create my meal plan, grocery list and game plan for the week. I am in the 3rd week of Core De Force and I'm following Meal Plan A in the nutrition guide.  So below you can see my weekly plan.   Pretty much everything will stay the same except for a few meals with family.  I am not going to let the holiday week mean that I don't do my normal meal planning on Sunday, go grocery shopping and keep healthy snacks in the house.  I'm not going to stop drinking Shakeology for a week because it's a holiday either.  I will still drink my Shakeology for breakfast every day except Sunday because we host a Christmas brunch.  I will have my Shakeology for lunch that day instead.  I also have a day where I have Shakeology twice because I know we will be on the road and I know that I will have a few more splurges so I am keeping it simple for the other meals.
We are going on date night Thursday night and I will have a margarita and some tacos but I will have 1 shell and then opt for just eating the insides for the rest.

Friday we are going to lunch with my grandparents and I will order a salad with grilled chicken at the restaurant and then dinner is at my parents.  It is the traditional ham dinner but with loads of veggies and sweet potatoes. So I'm good there!  Nothing truly to tempt me other than my Aunt's awesome rolls which I will have 1.  But remember, I will have also crushed my workout that morning as well.  I'm all for breaking even!
Saturday is Christmas Eve, I will wake up get my workout in and chill with the family since we actually aren't going anywhere until dinner that night.  This is the first time we are going to have a relaxed Christmas Eve.  I think we are going to play some games as a family, watch a Christmas movie, snuggle on the couch in our jammies and enjoy family time together!  So Shakeology for breakfast, normal lunch and then for dinner we are going to an Italian Restaurant.  I will have a glass of wine and the game plan is actually to have a steak and some potatoes.  I got my plan in place and I'm good to go!  After dinner we are off to church and then back to our house to meet up with my parents who like to spend the night and open presents with the kids.
Sunday is Christmas Day and we always do brunch at our house.  We have eggs, bacon, fresh fruit, oatmeal, mimosas and more. So there is really nothing to throw me off track there!  It's my active rest day so I'm sleeping in and enjoying the morning with my family.  Sunday for lunch is Shakeology and then its off to Matt's Aunt's house to celebrate Christmas.  Traditional ham dinner and of course lots of veggies!!!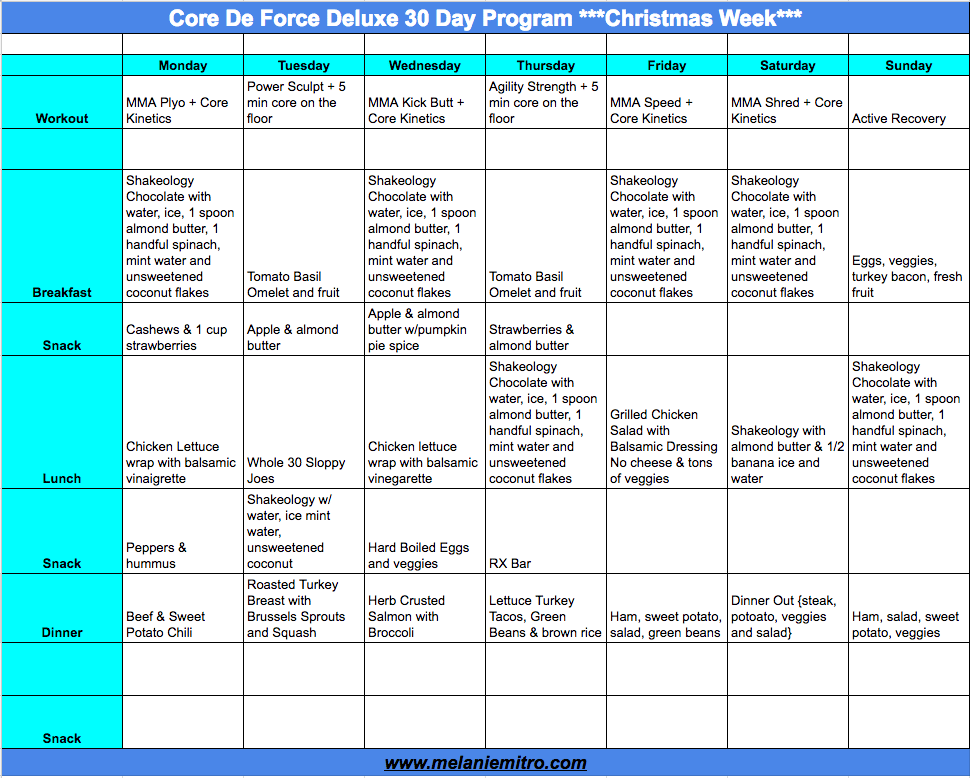 I swear that the act of just walking through it in my mind and writing it out keeps me totally on track!  Sure there will be curves and twists in the plan and it might not go exactly as planned and that is ok.  I adjust and it's not the end of the
world.  I am flexible and of course there will be a Christmas cookie and cocktails mixed in there somewhere.  But I always pair it with lots of water, my workouts and Shakeology.  I call this HOLIDAY balance and it's important to know that you can be healthy and still enjoy the things you love during the holidays.
Did this give you some ideas???  
I hope that you enjoy your holidays with the ones that you love and you don't stress about things that need done or didn't get done!  Enjoy and Relax!  There are so many blessings to celebrate.
If you want post holiday accountability make sure to check out my New Year New You Challenge Group Starting January 2nd here!