So what the heck is this Exclusive Business Opportunity With Top Coach Melanie Mitro All About???  What is Coaching? Who can be a coach and what does a coach do? Those are the most commonly asked questions that I get from others!
I'm sitting here writing this blog post in my comfy pants, hair up, listening to Train "Play That Song" on Pandora.  The sunlight is coming through my windows, I just sent Bryce off to Kindergarten and I've got a cup of tea sitting beside me and I'm just so BLESSED to be here today!  Laundry is in the washing machine, both boys are at school and I'm sitting down to do my JOB for a few hours before I have to close the computer, put on my shoes and walk to the stop sign to get the boys off the bus.  Where I will then go from momprenuer, Top Coach of Team Beachbody, Super Star Diamond III Coach, Speaker to MOM, Wife, homework helper, baseball catcher and shoe-tier.  Just like that I flip the switch and I go from business owner to mom.  No long commute to and from the office, no daycare for the boys, no juggling schedules, it's just a decision that I make to be present in the moment with my boys.  As I sit here this afternoon I realize what a blessing that this business has been in my life.
5 1/2 years ago Matt and I were in a very different spot in our lives.  We just had our second son, Bryce and we were down to a single family income, living in our townhouse that we were basically busting at the seams in and every week our arguments were over money.  We didn't have money to eat out, do fun activities or go to Target for a special treat or toy.  It was essentials, bare necessities and even at that we had to really really pick and choose.  But…. isn't that HOW it's supposed to be?  You grow up, go to college, get a degree, get a job, get married, have kids and struggle to make ends meet!  I mean seriously, who the heck lives in those big houses anyways!  What do THOSE people do for a living that get to travel a few times a year or buy those nice clothes at that store I wouldn't dare step foot in!!!  I mean isn't this just how life is?  You struggle and you just deal with it?!  You work long hours, you commute, you put your kids in daycare and you just manage it all!  It's just the same GROUNDHOG type of feeling every single day… right!  WRONG!! Totally wrong!  It does not have to be like that.  You might think I am off my rocker and honestly many people thought that I was off my rocker before.  I will be honest that this is not the case at all.  As I sit here in my bare feet and Matt is pulling the car into the driveway and getting ready to do his own workout we can truly say that we have been opened to the world of Entrepreneurship through Team Beachbody Coaching.  I really think we will never again go back to working for someone else or feeling like we are "stuck" in a situation.  I have learned that 1 decision can change your life forever.
That 1 decision started with a very simple click of a button and the start of a video on Youtube explaining to me what the Coaching Opportunity with Team Beachbody was all about.  It was exciting to me that I could make an income from helping other people reach their health and fitness goals.  It was so cool that I could do my business at home, any time of the day and that the income was a real thing.  I was already doing Beachbody workouts and I wanted to drink Shakeology so the 25% discount that I was going to get being a coach sounded really enticing.  Plus, the fact that I could earn income to pay for my product and to earn an extra income from my family was even more exciting.  Coaching has also helped me to stay accountable to my own health and fitness goals because if I am going to be teaching others how to start and finish a fitness program then I really should be doing it also!

Coaching was just the perfect fit.  I could start my business while my kids took their nap, in the evenings when they were in bed and in the cracks of our day!  I could totally rock this!  WHY not!
I signed up to be a coach in July of 2011 from my dinosaur laptop computer and I didn't even have a phone with internet on it.  I instantly thought to myself, how can I teach other people how to live a healthier life and make better choices?
I started a blog to just journal my weekly process of making a meal plan, how I prepped our family for the week, and how I handled all the temptations that life throws at you!  I started posting about my  workouts on social media and using Facebook and Instagram as a platform to share my knowledge, ups and downs in my own fitness transformation.  I started off by doing a free group to help people understand what my job was in helping them set realistic and achievable health and fitness goals.  From there I started requiring people to actually purchase the products from me because I was actually putting a lot of time and energy into helping people get results and I should get compensated for it!  So I grew in my confidence, I understood the products that Beachbody had to offer and I really loved it!!!  I was on fire inside that people were changing their habits and their lives because of ME!  The coolest part is that I could do all of this right from home and it actually a lot of fun!  I definitely work hard and I treat this like a business but it's a business that I actually enjoy doing!  You know at the beginning of this post I mentioned how Matt and I just thought you worked to live and collect a paycheck and it didn't really matter if you loved what you did.  You just did it!  Now I can say without a shadow of a doubt that I LOVE my job and I don't feel like I HAVE to work and I am not wishing away the weeks so that I can get to the weekend only to DREAD Monday's!  I decide how and when I am going to build my business and what that is going to look like in my life.
Over the past 6 years I have gone from a stay at home mom to 3X Top Coach of Team Beachbody, Super Star Diamond Coach x 3, Coach Advisory Board Member, Millions Club member, 5x Elite Coach and 4X Top 10 Coach and creator of the fastest growing team in the network the DREAM TEAM!  I have retired my husband from his full time Corporate Career and we have bought our Dream Home, Paid off all of our debt and are truly living our life by design.  We are not a super flashy family and we choose to just do our own thing but we always strive to do the right thing!  I have learned how to lead a large team and do my best to always live by the principles of servant leadership.  I love my organization, our sense of community and our strong leadership.  I truly feel like we have some of the best systems in the industry for getting new Coaches started right, developing future  leaders and creating a sustainable business that can impact your future lives as well.  As much as I have been able to achieve I seriously feel like I have only scratched the surface of our potential as an organization.
This next year there are going to be some incredible new product launches as well as international expansion with Team Beachbody!  So I know that this company is about to explode with a ton of growth opportunities. Which is why I am sharing this with you!  If you have EVER thought about becoming a health and fitness coach with Team Beachbody or if my story inspires you to take action please contact me because I am accepting new coaches on my team for my next new coach business mentoring class.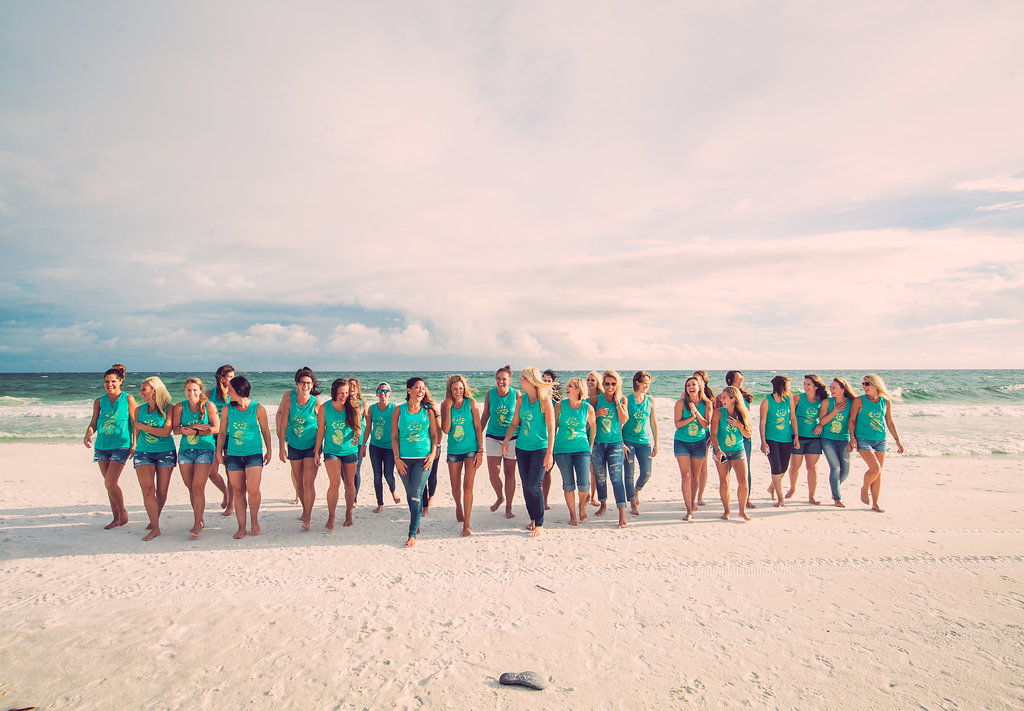 Starting on April 3rd and the first Monday of every month I will kick off a new Business Mentoring Class and I will ONLY be accepting a limited number of coaches to join.  Are you in?  Do you want to learn more about what I do as a coach?  
What is the Business Mentoring Class (Coach University)
The Coach University is where you will start as a new coach on my team.  Only coaches that sign up with me will have access to this content.  For 30 days I will take you through the steps of launching your business, using social media to grow your network of influence, how to share and not sell, how to start your first challenge group which we will start together in the first 30 days.  Your goal is to find 3-5 people to join you in the first month in the group.  You will have access to all of my resources, documents, guides and scripts, plus weekly team calls, small group new coach sessions and 1:1 calls as needed.  My goal is to keep you from re-inventing the wheel but give you the tools and tips necessary to customize your business to fit your niche.
Once you finish the first 30 days you will transition into phase 2 where we will build on the first month and of course you get to determine how fast or how slow you want to go at this business.  But if you want to RUN I will run with you!  If you want to walk then I will walk! There is never any pressure but I will set guidelines for growth along the way.
Who Can Join The Exclusive New Coach Training Program with Top Coach Melanie Mitro?

Well for starters you CANNOT already be a coach in the Team Beachbody Organization.  If you are not a coach then you are eligible.  So you would complete the application below and I will contact you within 24 hours to answer all your questions and determine whether or not it will be a good fit.
I really am looking for people who are confident, self motivated, willing to jump in and trust that I will not lead you astray.  I am looking for individuals who are passionate about health and fitness or have done Beachbody Fitness Programs before and would like to turn that into an income.  You cannot be afraid to fail, you cannot be afraid to put yourself out there and you have to trust the process.  If you consider yourself a goal getter then I am going to teach you how to create a substantial income around that mindset!  If you can dream it, then you can make it happen if you are willing to take MASSIVE ACTION!
Does that sound like you?  Are you ready to take charge of your future and say that this is not how the story is going to end?!?
If so… it's time to join the DREAM TEAM which is about to explode with new growth, new opportunities and a team culture that truly cares about your future success.  

I am going to accept 15 new coaches on my team.  The Coach University Starts on April 3rd and I will be hosting a New Coach Kick Off Call next Wednesday the 29th of March to help you focus on the most important activities to complete in your first week as a coach!  You don't want to miss this!