What a whirlwind of a week Matt and I just had.  Do you follow me on Instagram or Facebook?  If so, you saw that Matt and I were away last week on a trip to the Dominican Republic.  We stayed at the Hard Rock Resort in Punta Cana.  This was a trip that I earned from Team Beachbody as a Coach.  Every year Beachbody has an incentive trip AKA Success Club Trip that Coaches in the network can earn for themselves and a guest/family.  This was an all inclusive all expense paid vacation with travel cash that was given to us to spend at the resorts spa, golf or shops.  I became a coach 6 years ago and the first year I was a coach the trip was to Disney in Orlando.  I remember as a new coach having NO IDEA what the heck success club was or how to earn the trip.  I remember thinking that those trips were only for the super successful coaches in the business.  Interestingly enough I was TOTALLY wrong and these trips are absolutely for EVERYONE that becomes a coach, even brand new ones.  Of course you have to earn it, but it is actually not that hard to do!  
How to earn the success club trip?
Earning the Success Club Trip is pretty simple actually.  You make the decision to set the goal to at minimum help 3-5 people each month get started on their health and fitness journey.  When you set the goal to help 3 to 5 people you earn points aka trip dollars towards the next vacation.  If you hit what we call success club 5 or 10+ each and every month then you earn enough trip dollars to get the trip covered and travel incentive.  Not only do you get to earn an incredible vacation but you are growing your business and earning an income which is exactly what the goal is in the first place.  You then receive an invitation from Team Beachbody to sign up for the trip.
What happens on this trip?
The Success Club trip truly is like hanging out with your very best friends in the business.  As a coach most of what we do is virtual.  We chat through our support and accountability groups, our trainings are hosted online through our video conferencing, we do trainings online and we mentor and support each other each and every day.  You show up at the resort and it's like you are seeing your very best friends that you talk to day in and day out in person.  You get to relax on the beach and pool with people who just get you!  Coaches are Entrepreneurial minded, we are visionaries, we are driven, and we love health and fitness but we also love margaritas, chips and guacamole, ice cream and just epic cheat meals!! We call that BALANCE!!!  We sit on the beach and chat about life, brainstorm business strategies and share our own ideas on how we can continually improve our businesses together.  Beachbody has an entire agenda of fun things planned that you can take part in if you want too.
The first night that we were there was the opening party.  They had amazing food, drinks, live music, corn hole boards, and games to play.  You could dance, hang out together and chat or live it up on the dance floor.  Plus it is always nice to get out of your workout clothes, your sweat pants and put on a nice dress and feel fancy!  I work from home so I really don't have to get dressed unless I really want to!  So this was a great excuse to feel fancy!
In the morning we hit up the live workouts with the trainers Autumn Calabrese and Chris Downing.  We did Chris's new workout program that is going to be released in July called Shift Shop!  I am seriously so pumped for this workout!!!!  It is a 3 week rapid weight loss program and we had the opportunity to test it out live.  Let's just say it is incredible.  You are going to love love love it!!!!  I can't wait to share more about it with you!
Then, we hit up the beach for some fun in the sun with my coaches!  We rented a Cabana and just hung by the ocean and chatted about business, life and goals!
Monday night we went to the Hibachi restaurant and then to the Casino to do a little gambling.  Tuesday morning everyone met back for another live workout, Shakeology bar, breakfast and pool/beach time.  The guys played spike ball and of course had lots and lots of drinks.  While we were at the resort Matt organized golf for all of the husbands on our team that wanted to golf.  There were about 32 guys that went and they had a blast.  It's a great way for the guys to connect and just develop relationships since the wives are always together!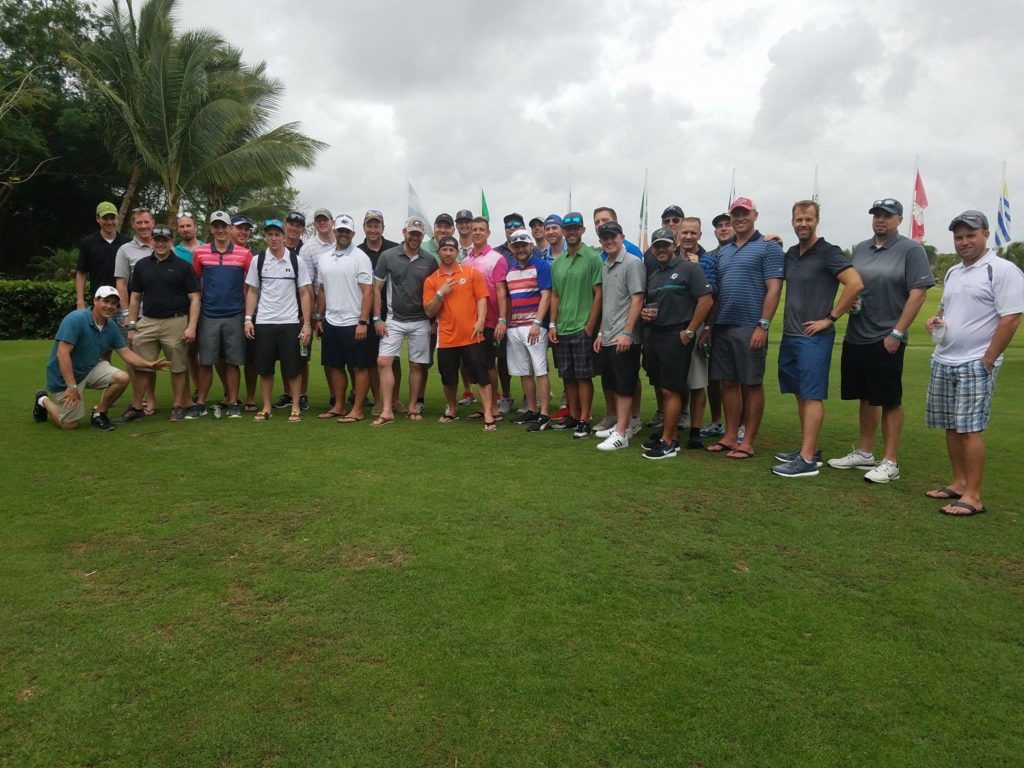 There was another event called the Elite & Premiere Party where coaches who are Elite & Premiere get a special evening event on the beach.  It was gorgeous and complete with chandeliers, champagne and of course amazing food.  We hung out with other coaches in the network, chatted and just had a great time with the corporate team and our Beachbody family.
I love this picture of most of our team below.  You know what:  our team is made up of MOMS, WIVES, NURSES, TEACHERS, DOCTORS, CORPORATE BUSINESS WOMEN AND MEN, PSYCHOLOGISTS, GUIDANCE COUNSELORS, HR MANAGERS AND MORE.  We all have families and lives outside of coaching but we have this common thread, this passion for helping others to achieve a healthy and fulfilling life and we also have a drive to grow a business that creates a life that we desire!!!  We are living this life every day and we are taking charge of the future!!  It's a pretty incredible journey to be here with such amazing and down to earth people.  I truly feel blessed by this business in so many ways.
I had only 1 work task to do while I was here and that was to speak on the Elite 10 Panel during the trip.  Corporate asked us if we would do a Q&A session and answer some questions about coaching, being a top coach and what we do to continue to grow and balance it all.
We really had an awesome time with our team and as much as we couldn't wait to get home and see our babies we will really miss our team!  But of course we will be back together in just a few months at Summit in New Orleans where the Dream Team will be taking over!
These trips are really a great way to re-energize yourself, surround yourself with positive people that are like minded and just get yourself ready to bust the doors wide open in your business.  When you surround yourself with the movers and shakers in this business you can't help but to dream a little bigger and reach a little higher and that is of course what we are going to do.
If you have ever considered coaching and would like to join the #1 team in Team Beachbody the Dream Team, I am now accepting applications for my May 1st New Coach Training University.
To snag your spot on my team hit me up by filling out the coach application below and I will contact you in the next 24 hours with the details on how to join!
Will you be joining us on the 2018 Success Club Trip to Rivera Maya???  Let me mentor you in growing your own fitness business and help you earn your spot for you and your family for next years trip!  Are you in?!?!