I can't believe it!  This is the moment we have been waiting for.  21 Days of the Shift Shop Program is done and it's time to reveal our final transformation pictures and our measurements.  Over the past 3 weeks we have not only had some physical shifts in our bodies strength and endurance but we mentally shifted ourselves to be stronger, to push through our own personal limitations and to improve our character and our outlook on life.  When Matt and I agreed to be a part of the Shift Shop Coach Test Group a month ago we knew that there were going to be challenges.  Oh boy were there ever!!!  I can say that having the accountability of the Coach Test Group, Chris Downing himself, and my husband we were able to rock the results with confidence.
The 2nd and 3rd week was the most challenging because we were traveling as a family and I was attending a professional development conference.  I had to be disciplined to get up earlier, to take my laptop to the gym and do my workouts, to say no to the snacks and desserts and stay focused on the outcome that I wanted to achieve.  I finally hit a wall in the third week on Wednesday last week.  It was Speed 45 which is the longest cardio workout and I was just so tired from being on the go for the past week.  I drank my energize but I seriously felt like I had zero gas left in the tank.  It was like someone tied weights to my ankles and I couldn't move.  I wanted to quit, I wanted to stop the video, but I was committed and I wasn't going to give up.  Katy and I pushed through and I know that it was in that moment that we built some character.
You can check out my live video post workout below:
Let's Talk About Week 3:
Week 3 is a whole different ballgame.  In week 3 you cut out your starchy carbs, but I was able to add in another protein, veggie and a good fat.  That was definitely my saving grace with the extra protein and good fats.  You actually get unlimited veggies in this meal plan so if there is ever a moment where you are starving you know you can rely on the veggies to save the day.  Honestly, I thought that not having any carbs would be torture but it really wasn't.  I was still getting carbs from my Shakeology, fruits and veggies.  I felt really mentally clear and I actually did have quite a bit of energy.  I will say that the PERFORMANCE LINE is a MUST for this program. The energize gives you a boost to crush your workout, the hydrate keeps you from cramping up and keeps your electrolytes up, the Recover helps you with your post workout recovery and the recharge overnight really made me wake up feeling my best and ready for the next day.  I would go to bed at night exhausted and wake up ready to go in the morning.  I don't think I would of had the same results without the performance line.  It is absolutely worth it.
While I was at the EntreLeadership event I hit up Publix and stocked up on protein, fruits and veggies.  I bought disposable storage containers to take food back and forth to the events.
Week 3 Workouts:
Week 3 workouts were more challenging than the previous two weeks and the workouts were 10 minutes longer.  So the workouts totaled 45 minutes each day with 2 days where you add an extra 10 minutes of abs.  At first I saw 45 minutes and was dreading the workout but the time really flew by and I wasn't counting down the minutes at all.  Chris is a phenomenal trainer and motivator and he talked to me in such a way that made me want to be better at each workout.  That is quite the gift!
Lets Talk About Our Results:
In just 3 weeks both Matt and I were blown away by the muscle tone, the increased strength and endurance and also the changes in our bodies.  Matt was concerned that he would re-injure his older injuries (torn labrum and knee problems) but this workout did not do either of those.  There is not a lot of twisting and turning and there is also a modifier with every single move in the workouts.  It does not matter what your ability level is starting out, you can do the workout!
Matt's Results:
Matt lost a total of 7 inches and 13.9 lbs
He lost 3.5 inches off his chest
his arms grew by .75 and .5 inches
He lost 1.8 off his waist
He lost 3 inches off his hips
and his legs stayed the same.
Matt hasn't been under the 200 lb mark in 4 years and he really is changing with his muscle definition.  I am so proud that he stuck with the meal plan even when I was traveling and he was home with the boys.  His results are just incredible.  Matt is the kind of guy that always says he is genetically cursed and will never have abs.  I can say that he is the closest that he has ever been to having some sort of abs.  We joked this morning that there was actually a rib showing!!!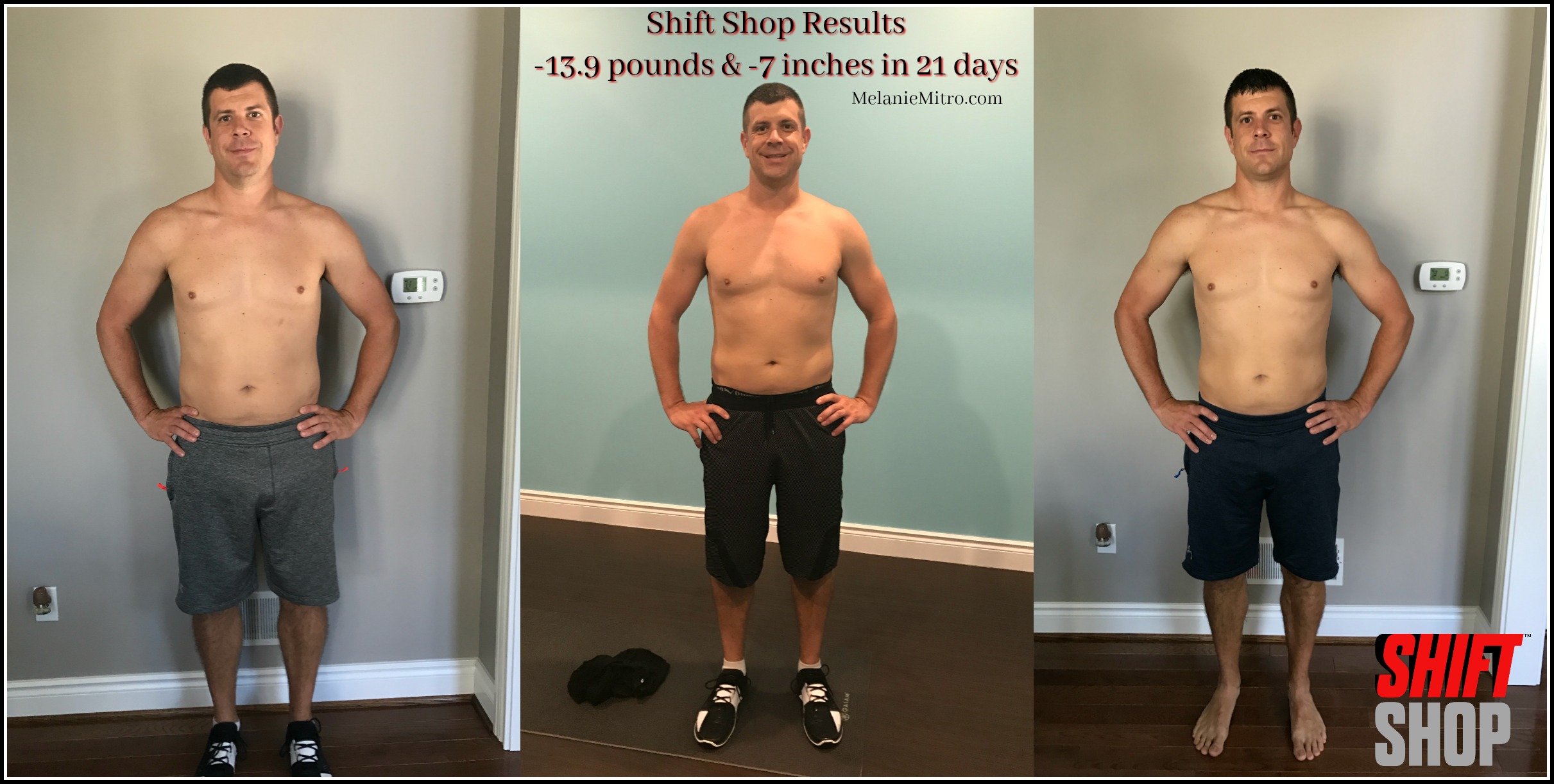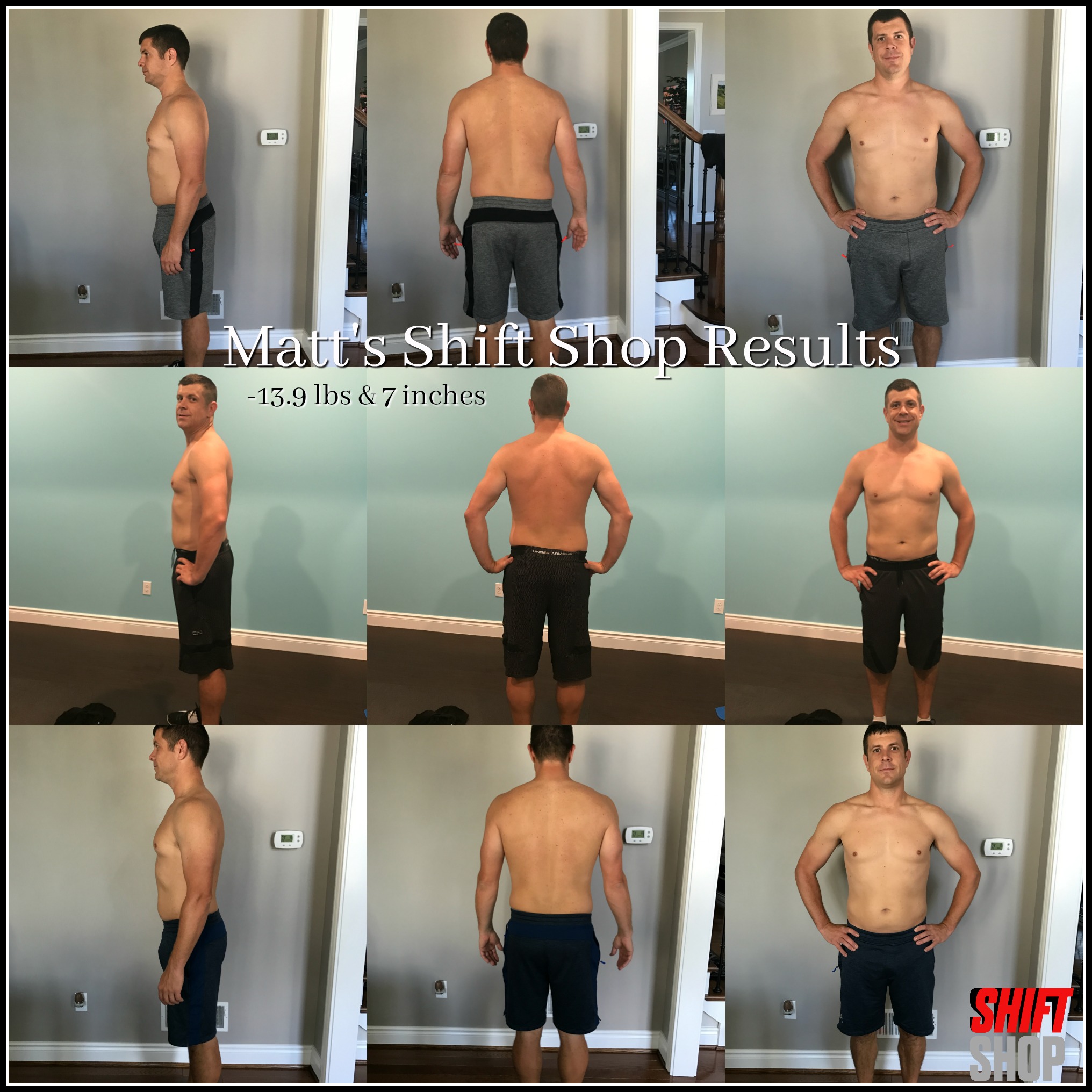 When I look at Matt's pictures I can't believe how much his back has leaned out and also his chest is way more defined than ever before.  He really rocked this program and I'm so proud of him!
Melanie's Results:
I lost a total of 5.3 pounds and 2.75 inches.
I lost 1.25 inches off my chest
I lost 0 on my arms
I lost 1 inch on my waist
I lost 1 inch on my hips
I grew in my right thigh .5
I wasn't sure what to expect with my results since I am pretty lean already.  I can tell you that I noticed more muscle definition than ever before.  I noticed my back fat went away.  My trouble spot is my love handles and that slimmed down.  I also started the program doing push ups on my knees and now I can do push ups on my toes.  I increased my weights with my upper body from 10 pounds to 15 & 17.5 pounds.  I even did triceps with 20 lbs so I was excited for that.  I went from 17.5 in my legs to 25 pounds in my legs.  I can really tell a difference in my body even if the pictures are not drastically different.
With the nutrition, as much as I LOVE LOVE LOVE MY SWEETS AND DRINKS.  I have a much better MOOD, I am not as cranky, irritable and I'm very mindfully clear and the mental fog is gone.  I have energy and I'm not sluggish.  It has been a dramatic shift for my nutrition.  It is so hard to cut out the crap because it is literally everywhere around us.  But it feels so good to say no and know that I don't wake up the next day feeling drug down by my bad choices.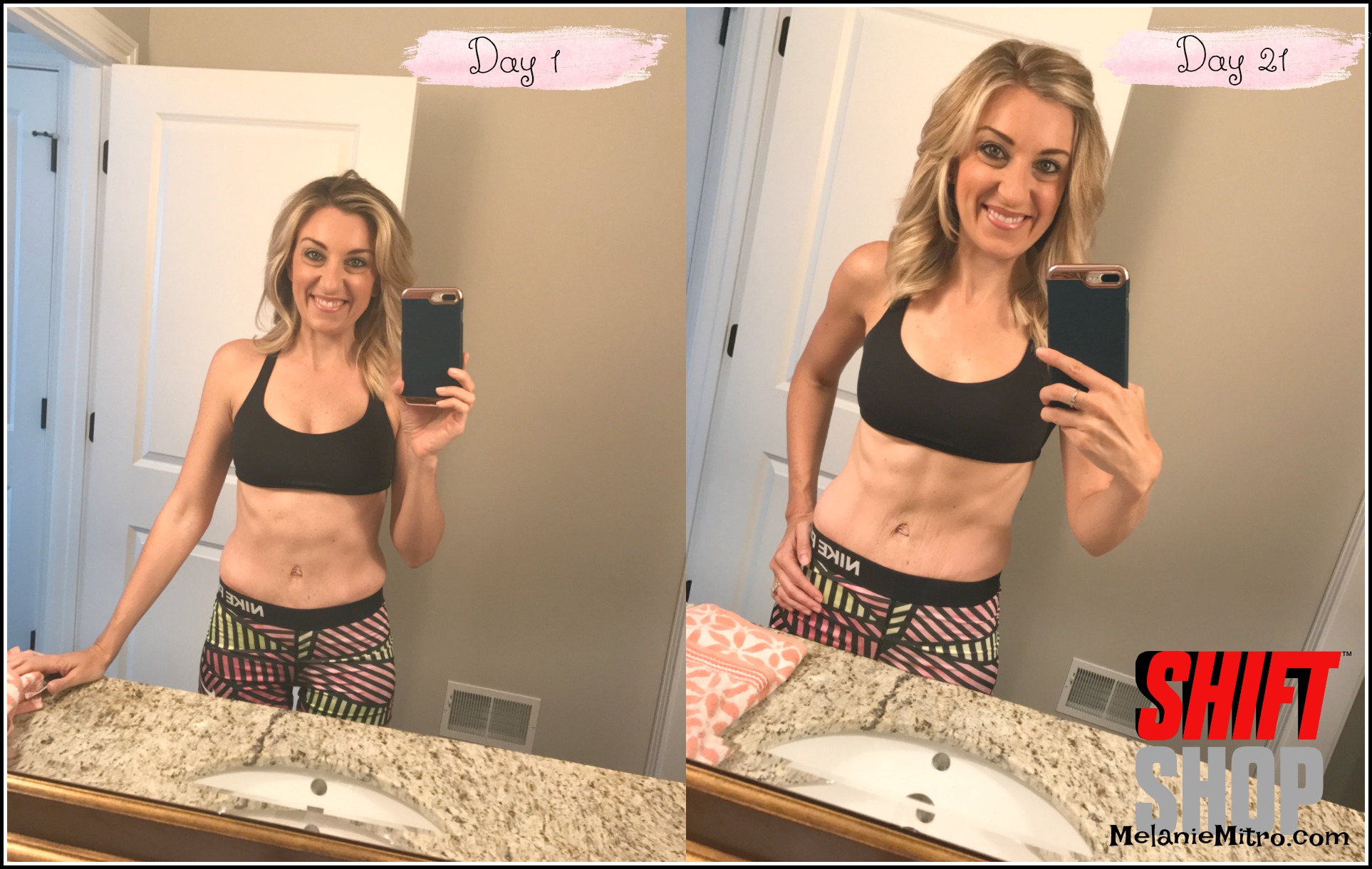 For me personally, I know that the changes happened. They might not be dramatic but I can see my core is way more defined and my back is way more toned.  Overall I just truly feel amazing!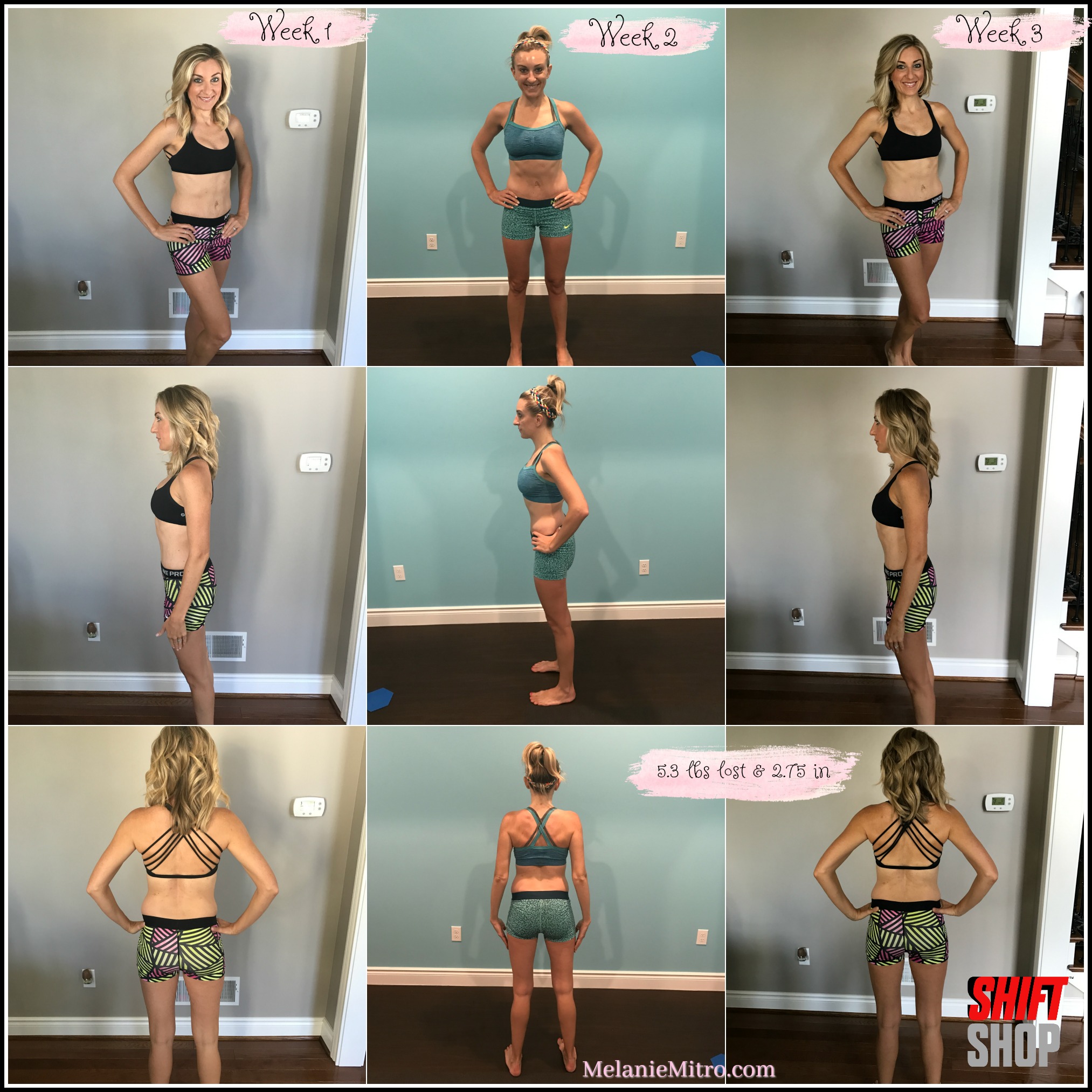 We Did Have A Treat:
So day 20 was Saturday and it was our 10 year wedding anniversary and we did decide to treat ourselves to some champagne and dessert.  It was well worth it and we enjoyed but Sunday we woke up and were right back on track.  Everything in moderation that's for sure.
We definitely felt pretty awesome on our anniversary!  Totally comfortable in my clothes and to me that signifies MISSION ACCOMPLISHED
What's Next?
Now that round 1 of Shift Shop is over what is next?  We have been asked to continue on for round 2 and both Matt and I accepted.  Round 2 switches things up a bit.  You go back to Strength and Speed 35 with the Abs and back to the week 2 eating plan which gives you limited carbs.  You do that for a week, then move to Strength and Speed 45/Abs and the same week 2 meal plan.  Then, the third week is Strength and Speed 55/Abs and back to cutting carbs again.
Next week we will have a little hiccup in the plan because we leave to go to Italy next Sunday June 4th but we will be working out while we are there, but nutrition won't be perfect.  But, as soon as we get back home it's game on!!!
We figured that we only get to go to the Amalfi Coast once in a lifetime so we will allow ourselves to taste and try the food along the way.
I am sitting here now writing out our meal plan for the week and we already did our Monday workout this morning which was Speed 35.  It's not just a 3 week workout program, it truly is a lifestyle for us.  On our anniversary we joked that we never would of imagined 10 years ago that we would be working out on our anniversary together.  Beachbody is truly a blessing in our lives.  We went from unhealthy, skinny fat, emotional eating, late night snackers, to clean eating, daily workout buddies and a positive influence to our children and those around us.  That is the biggest success of it all.
When Can You Get This Program?
The Shift Shop Program will be launched to the public on July 13th.  I am going to host an exclusive launch accountability and support group starting the following week.  If you want to get the program and/or be in my support group you can complete the application below to be considered for a spot in the group.  Matt and I will be walking you through everything that you need to know about the Shift Shop Nutrition Plan, the Workouts, and helping you to get the best results possible.
Does this sound like something you would like to do?
Full Recap of the program week by week with the meal plans:
Week 2 & 3 Shift Shop Meal Plan and Review