There is definitely a shift going on in the Mitro house this week.  Matt and I accepted the challenge to participate in a 6 week coach test group for the yet to be released (In July) Beachbody Fitness program called The Shift Shop.  The trainer that created the program is Chris Downing.  A Coach Test Group is a small group of coaches selected by Beachbody to follow the fitness program and nutrition plan to the T while tracking their progress and their results to share with the network and to give the company testimonials from others who have done the program prior to the launch.  So this morning I am going to give you our first shift shop workout review and preview based on the 2 workouts that we have done so far and the week 1 meal plan we have created.
I won't lie, Monday was hard and I'm not sure if it was because my allergies were in full swing or the fact that I didn't sleep the night before due to some crazy dreams or it could of been my body detoxing from some of the bad food choices I had made in the weeks prior.  Whatever the reason, I felt like I had the flu yesterday but without the fever.  I pushed through the food cravings, the longing for carbs and even maybe a cocktail because I want to show others that it can be done and when you shift your thinking for even a short period of time anything is possible.
The alarm went off at 6:00 am yesterday morning and I am pretty sure that Matt tried to push me out of bed.  After a long night of no sleep I felt like I had led in my feet.  We drank our energize and started the first workout.
The equipment needed for this workout are the 4 agility markers, a set of light and medium weights, and it does come with a sandbag which we haven't used yet.  You don't need a ton of space to do this workout so don't be discouraged if you see some of our videos.  We did clear the space because we wanted to do the workout together which required us to clear out some of our previous equipment.
The first 2 workouts were 25 minutes long.  The entire first week is 25 minute workouts with the exception of 2 days where you add in the core.  You get a rest day or stretch day on the 7th day.
Monday is the speed workout and I love that Chris really challenges you to keep your head in the game, to give it your all and only modify if you need to.  Don't start with the modifier unless you know you need that as your starting off point.
Tuesday was strength and I used a combination of 10, 12.5 and 15 lbs weights depending on whether it was upper or lower body exercises.  There are 1 minute intervals and he throws in some surprise holds and pulses in the intervals to really challenge you!  You want to make sure that you use a weight that challenges you as well.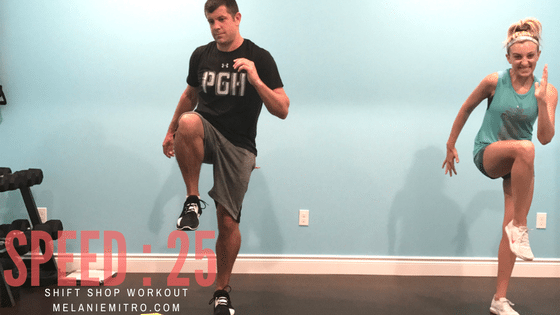 We definitely were dripping sweat at the end of the workout and it's a good thing we are allowed to use the Beachbody Recover Formula because I know that both of us needed to refuel and help keep ourselves from getting overly sore muscles.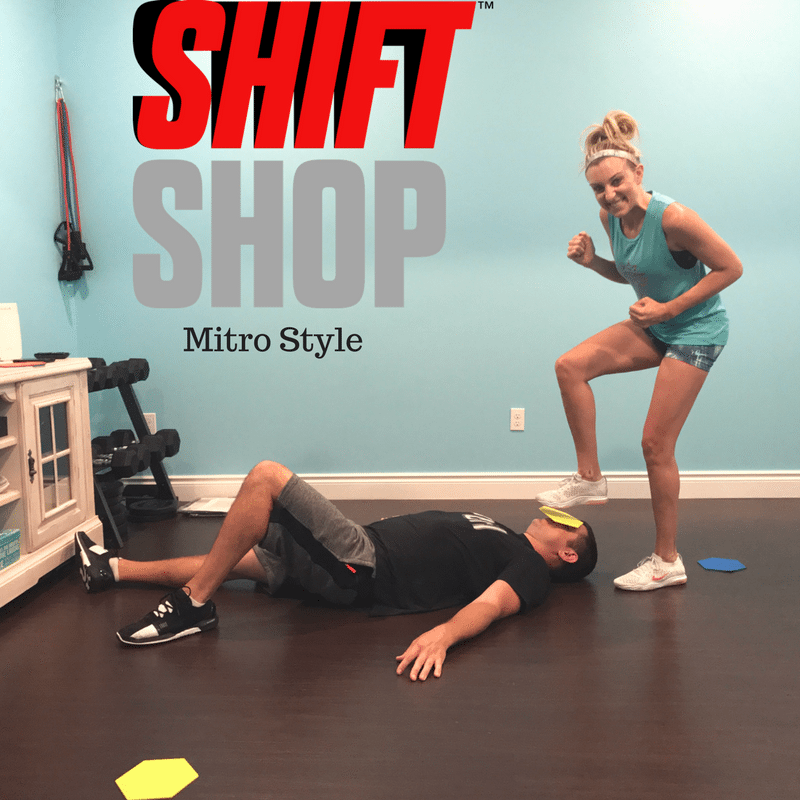 TRACKING OUR PROGRESS:
Both Matt and I had to take our before pictures and measurements plus submit them to Beachbody.  I know personally I enjoyed a few too many drinks and snacks on vacation and it doesn't take long to get yourself off of track.  So taking those pictures and measurements reminds me of where I want to go in this journey and to stay focused on pushing myself each day so that I can maximize my results.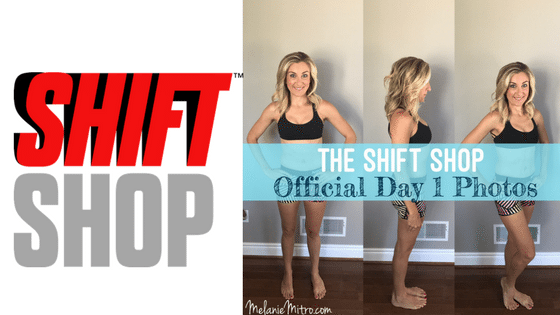 Sunday I spent some time looking over the meal plan and getting our grocery list together so that we could be ready for our start on Monday.  Basically it is a ton of fresh fruits, veggies, lean protein and it does follow the portion controlled container system.  Although it is NOT the same as the 21 Day Fix at all.  I love that it tapers down your carbs and it is very specific with which carbs you can and cannot have.  Plus  I don't even see on their almond or coconut milk.  You are keeping it basic because if you want RAPID results in 3 weeks like the program delivers then you are going to have to be serious about your nutrition.  I always say this, but it is so true, 80% of your results come from the foods that you eat!  You cannot out exercise a bad diet.
So our fridge is stocked with our staples:
Sweet Potatoes
Black Beans
Avocado
Cucumber
Tomato
Spinach
Lettuce
Feta Cheese
Lean Ground Turkey
Boneless Chicken Breast
Flank Steak
Salmon
Broccoli
Brussels Sprouts
Asparagus
Green Beans
Eggs
Strawberries
Bananas
Apples
All natural almond butter
and more…..
Lots of water, no alcohol or sweeteners for the next 3 weeks!  TOTALLY doable and seriously you can do anything for 3 weeks if you put your mind too it!  It's time to shift your thinking from all the things you are missing out on, to all the things you are gaining!
Super easy to make and the portion controlled containers make it a no brainer to make sure you are on the right track with your portion size.
Breakfast 2 eggs, 1 cup spinach and 2 tbsp of feta cheese
Snack 1 chocolate Shakeology with 12 oz cold water and 1/2 banana
lunch is lettuce, veggies, approved dressing, 1 red container of flank steak, 1/8 c avocado and 1 yellow sweet potato
Afternoon snack is 1 cup strawberries and 2 tsp almond butter
Dinner is 1 yellow of grilled chicken, 1 green of broccoli and 1 yellow of sweet potato
You obviously don't have to eat exactly that but for my meal plan this is what a typical day is for me!  I also get to to have energize and recovery from the Beachbody Performance line.  Each participant has a different calorie level based on their body type, weight and goals.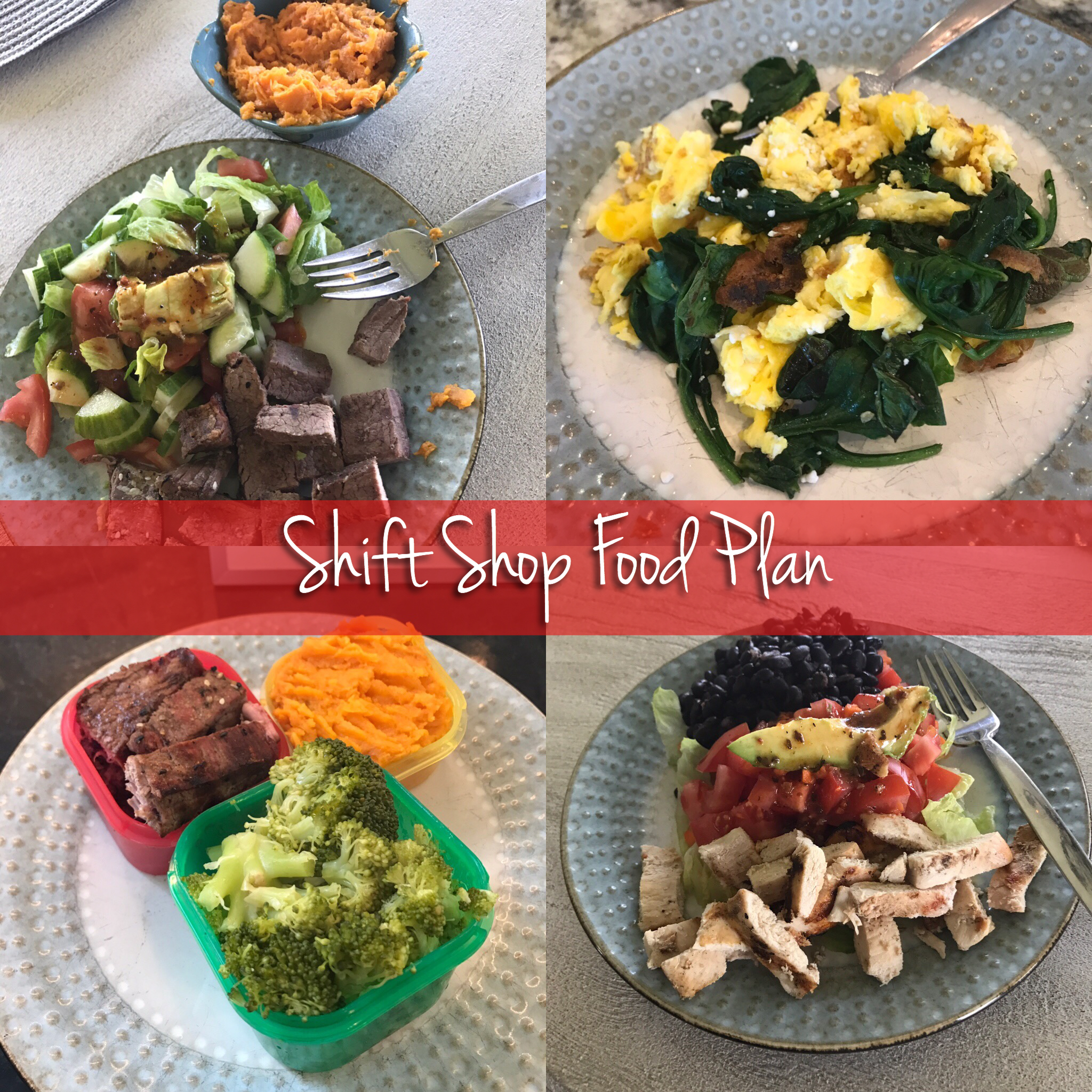 If you want to know more about what the Shift Shop Workout is check out my post that I did last week with all the details:  What Is The Shift Shop Workout?
Lastly, if you want to be the first to know about the Shift Shop Workout Program and it's release plus be in my launch group accountability group then make sure to fill out the application below and I will add you to the list.  When the program is available you will be the first to get it!