This past week was a whirlwind of emotions from anxiety, excitement, joy and gratitude. Last Wednesday I boarded a plan with 5 of my top leaders and headed to Birmingham England to host our very Dream Team United Coach Training Event in Birmingham, England. I can excitedly share that this was my very first international training event with Team Beachbody.  Before I get into the actual event I have to give you a little back story! So about 6 months ago Team Beachbody announced that it was going to be opening up the coaching network internationally to the United Kingdom. I was so excited to connect and share my health, fitness and business journey with others across the pond that might have the same passion for building a business that I do. I began to dream up this concept of being the first to go over tothe United Kingdom and do a "Pre-Launch Training Event" for people who are interested in joining our team! I really wanted to meet face to face with those interested in coaching, get to know what their hopes, dreams, and needs are so that I could customize my support to help them get to the goals that they desired. I wanted to make sure that I was sensitive to the differences in cultures and that I didn't push my own agenda on new coaches but I gave them a voice to express what we as the top leaders in the company could do to best support them in starting a business.
So, I started looking up locations to host an event. I started asking a few of my UK friends where they thought the best location to host an event would be and together we decided that Birmingham, England would be a central affordable place for people to travel too! Next, I pitched the idea to some of my top leaders and asked them if they would like to go with me. We formed a U.K pre launch training thread, started hosting calls to plan the event and booked our flights and hotel rooms at the MalMaison in Birmingham England. We created our eventbrite training page and started inviting others to join us at the event! We had absolutely no idea what to expect when we hosted the event, how many people would attend and what level of interest there would be. In my mind I just knew that we had to go for it!
One thing I am truly passionate about is TRAINING!  I love creating trainings for others that can empower them to take responsibility of their goals and help others to achieve their hopes and dreams through coaching.  This training was specific to the questions that individuals would be most interested in learning prior to launch.  We even sent out a pre-launch questionnaire to make sure we were headed in the right direction.
Recap from the event:
On Wednesday of last week the 6 of us boarded our plane to Birmingham England and decided we were just going for it! We arrived on Thursday morning where we took a quick cat nap, hit up the gym for a Beachbody On Demand Workout and headed out for dinner at the Mailbox which is an awesome area with great restaurants and bars. That Thursday night we hosted a live business opportunity event in our hotel room to share what coaching is all about and how the Dream Team United can help you build your business.  Here is the live event if you would like to check it out below.
Friday morning was our free day to get up and do a little sightseeing.  We took the train to Stratford Upon Avon to visit William Shakespeare's birthplace, visit the museums, do a little shopping and grab some lunch.  We had a great time exploring the area and just soaking up some amazing culture.  Everyone was so kind and helpful as we navigated the tube for the first time.
On Saturday, we allowed ourselves to sleep in a little since the jet lag was definitely starting to kick in!  We did get in our workouts and then headed to the conference area to start prepping our event for Sunday.  We spent a few hours going through slides, working on the opening and closing messages, nailing the transition between speakers and making some last minute final adjustments to the presentation.  We were officially ready! All this hard work was paying off and the vision was coming together.
Saturday night we met a few of our U.K. friends and future founding coaches of the Dream Team Organization for dinner at The Gas Street Social Restaurant.  We had some great conversation and got to know each of the amazing coaches that came out that night.
After dinner we headed back to the MalMaison Hotel for a meet and greet where we had drinks at the hotel bar with a few more excited coaches that were going to be joining our team.  I got to meet Emma and Leah who were absolutely amazing and so kind!  It truly got me pumped up for the Sunday event!!!
What Is A Pre-Launch Training Event:
The Dream Team United Pre-Launch Training event is a way for interested individuals to gain clarity in Team Beachbody Coaching, to understand how to use social media to grow your network, how to over come your own personal fears and what is the most effective strategy to launch your business in the UK.
During the Pre-Launch training event we had Shakeology for everyone to sample, we had some swag to give out during the event and we had lots of time to mix, mingle and get to know others in the room.  This event was a great way to see who was really committed to launching their business.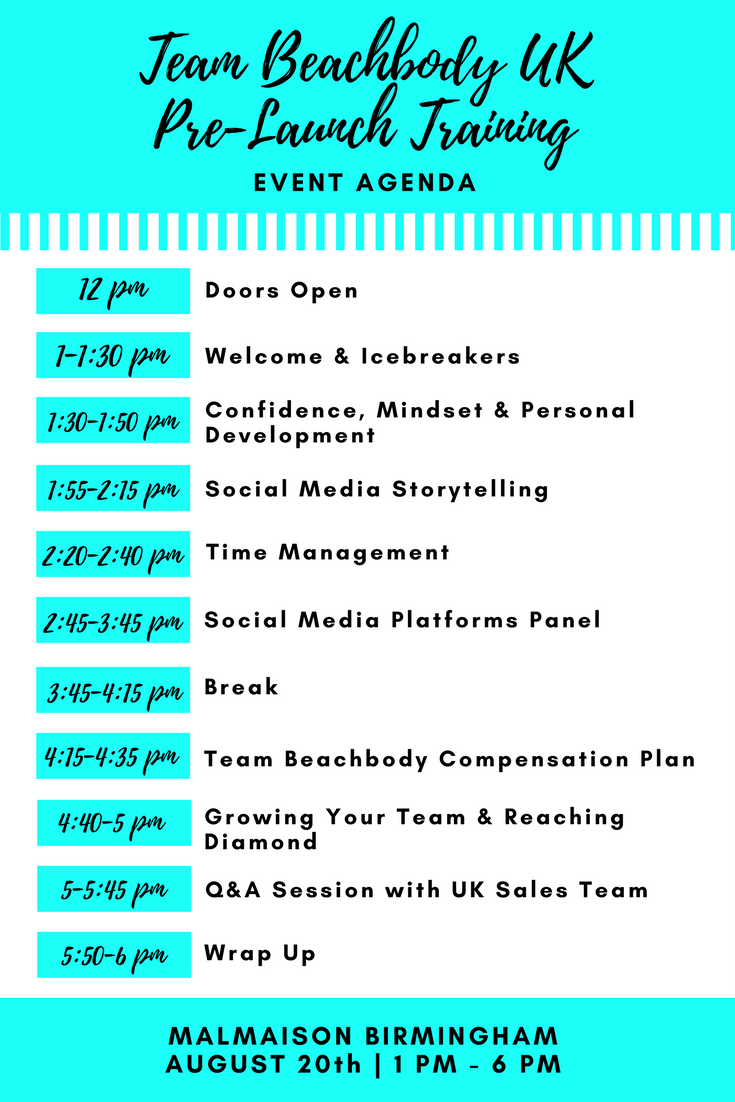 During the training event we trained on confidence, mindset, personal development, social media storytelling, time management, options for running your Beachbody business on different platforms, the Team Beachbody Compensation plan, growing your team and reaching diamond and we finished out the day with a Q&A session with the U.K. sales team!!!  Everyone was engaged, excited, ready to learn and pumped about the future of Team Beachbody in the UK!!!  It was REFRESHING to train people who are EXCITED and POSITIVE in their business decisions.
At the end of the event we gave the group a post event action plan of what they can begin to do moving forward in order to start their business off strong.
Between now and the official launch each person can lay some serious groundwork and a strong foundation for future success.  So that on October 19th they can open for business and truly crush it!  You can see a snippet from the slides where I went through the calls to action.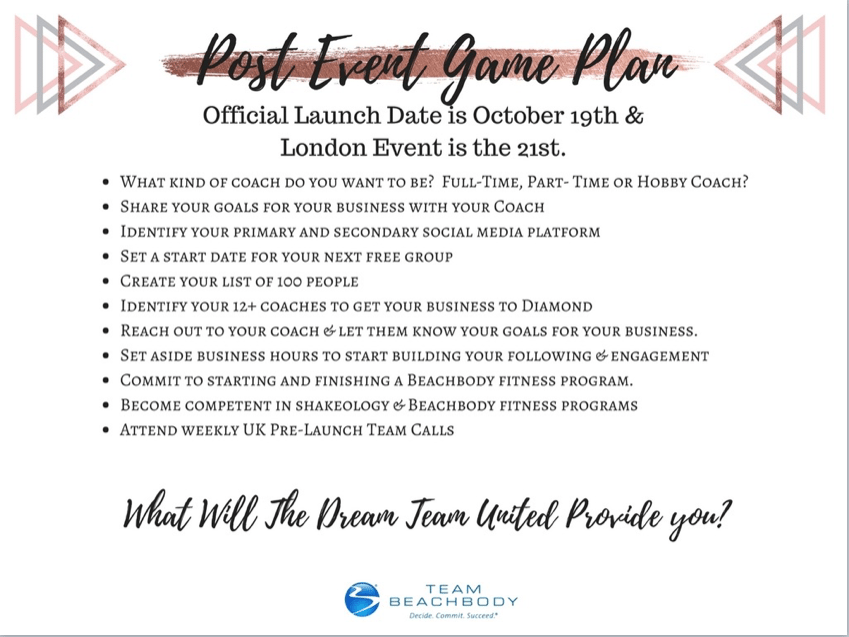 You know what?  This event was a leap of faith but throughout the event there were numerous times where our decisions were affirmed. For example, a woman at the event came up to us at the end and shared that this business was exactly what she needed in her life and that she had been waiting for a sign and this was it.  We heard stories from others at how they had been waiting for this opportunity for years.  Individuals are launching the first groups, setting up team pages, inviting others to join and are going to be meeting back up again in London on October 21st for the official Team Beachbody Launch event!  I'm beyond excited to see how this team is just going to continue to grow and expand.  It was an incredible feeling to know that we were in fact attracting our tribe and you could feel that vibe resonating through the entire room that day.  Hosting this event really put into perspective what an amazing opportunity that Team Beachbody Coaching truly is!  I also realized that the BEST is yet to come.  There truly is limitless potential in this business and so many more people that still need the services that we offer through Team Beachbody.  I am so excited to start this next chapter of my business. Plus, I am also excited to start announcing some other speaking opportunities that will be coming in the near future.
Post Event Game Plan
So now that the event is over the next steps are this! Even if you didn't attend the event or you didn't even know about the event you can still take action.  If you have ever considered becoming a coach in the United States, Canada or the UK you can apply to become a coach on the Dream Team United now!  I am accepting applications for individuals who are 100% committed to building a business, to being committed to their own health and fitness goals, leading by example, practicing what we preach and following our lead to help you launch your business successfully.  I am qualifying coaches to be Founding Coaches of the Dream Team United and I'm also accepting coaches into my next new coach training university.
As a coach on the Dream Team United you will:
Get access to our new coach training university & weekly pre-launch training calls
You will have access to all of our resources, documents, guides, scripts and challenge groups.  That way you can customize them to fit your voice and niche and you do not have to re-invent the wheel.
As your coach, I am committed to helping you every single step of the way.  I have been the top coach in the Team Beachbody organization for 3 years in a row and we are currently in the #1 spot right now.  I have been a top 10 coach for 4 years in a row and I am a 5X Elite Coach, Super Star Diamond, member of the millions club, CEO award winner, and member of the Coach Advisory Board.  I am your advocate, voice, and your mentor!
When you join my team you are going to get me personally guiding you just as I say that I will.
Get a 1:1 Call on a regular basis with me to help you strategize your launch of your business.
You Are Invited To Attend The Next Event In London!
If you are serious about coaching its time to commit to attending the next event!  Join our launch event in London on the 21st of October!  You can meet the coaches of the Dream Team United, experience the culture of Team Beachbody and network with other top leaders in the company.  This is an event you will not want to miss.  If you are reading this for the first time and do not currently have a coach you are working with, then fill out the application in the comments below and I can give you all the details on joining my team!
Do You Want To Be A Founding Coach On The Dream Team United?
Complete the application below to be considered for the US, Canada or UK Dream Team Family.