If you follow me on my Facebook or Instagram you know that I have been committed to a brand new fitness program that has not been released yet by Beachbody.  80 Day Obsession is a new program created by fitness expert Autumn Calabrese.  Autumn Calabrese also created the 21 Day Fix, 21 Day Fix Extreme, Hammer and Chisel, Country Heat and more.  I am currently in the Coach Test Group and I am on day 35 of the program.  I can tell you that the results are going to blow your mind.  The program officially launches in January of 2018.  In the meantime I will be giving you the play by play on my Instagram and Facebook plus sharing my results here.  You can also get prepped for the program by joining me in a "Prepare to be Obsessed" Facebook Accountability and Support Group.
Before I go into those details, lets talk about what 80 Day Obsession is all about.
For me this coach test group is not about losing weight but personally it's about booty gains and gaining muscle! I have always wanted to gain muscle but struggle in this department!! So I have been following Autumn's nutrition plan to the T with timed meals, specific workout routines and focused energy to get some booty gains!!
What is the 80 Day Obsession?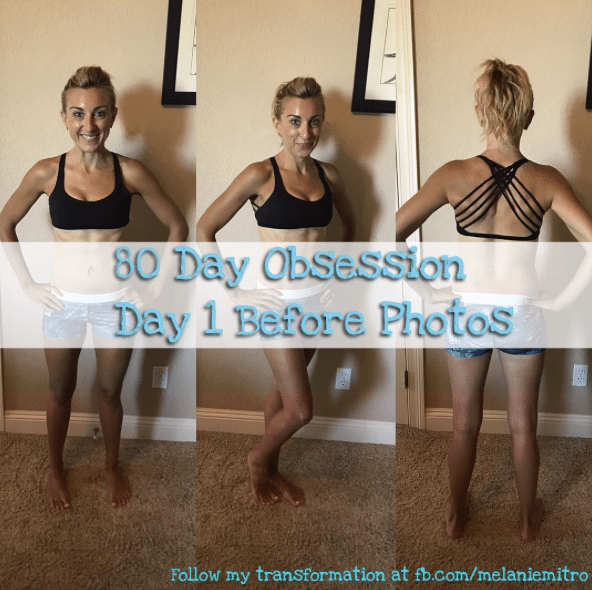 This program is an effective, step-by-step approach to building a shaped, curvy butt while simultaneously shrinking your core.  It's 80 days of obsessive focus on fitness and nutrition spread over 13 weeks.
Is it extreme?  YES!!!  The workouts are intense and they average 45 minutes to an hour in length.  The diet guidelines are every bit as demanding also.  You will be following a professionally calibrated macro-nutrition plan perfectly timed to produce amazing results at each phase of the program.  Yes the program is intense and it is designed to help you get in the absolute best shape of your life.  So it is really important that you follow the program to the T in order to get the results that you are expecting.
This program works your entire body but there are days specifically designed to work your butt, your legs, your core, arms and cardio.  Each workout is different and we are doing the workouts in real time with Autumn Calabrese.  In January 2018 when the program is released you will also be able to do the workouts in real time.  The time flies by and I can literally say that every single night when I go to bed I am sore.
What Equipment Do You Need?
You will need a set of light, medium and heavy weights, resistance loops, sliders and a mat.
What Is The Nutrition Plan Like?
I can tell you that the nutrition plan follows the portion fix containers for measurements but it is totally different than the 21 day fix or other Beachbody programs.  You are eating at specific times of the day and you have a pre and post workout meal.  You can keep it basic and follow the meal plan or you can get fancy with your recipes.  I honestly prefer to keep it as simple as possible.  I replace 1 meal or snack a day with Shakeology  and I use the Beachbody Performance Line every single day.  I use the Energize pre workout, the hydrate during my workout, recovery post workout and recharge 30 minutes before bed at night. It truly is my saving grace.  I will say that it is worth every single penny of investment.  I will be going into more detail with the meal plan in the next few weeks.  The best part about the whole program is that you get to have a refeed day in which you get to have more carbs to refuel and jolt your body back into results.  The first refeed happened at week 6!
Who is the 80 Day Obsession for?
This program is for anyone who wants to literally get strict with their nutrition and see how far they can go with results!! You do need to have a base level of fitness and you do have to understand portion fix and clean eating.  If you have more than 40 pounds to lose I suggest using the next few months to get within that 40 pound goal so that this program is the most effective for you.
This program is good for:
-Those that want a leaner, firmer, more sculpted body
-Women looking to add some curves WITHOUT bulking up
-Anyone who wants a tighter, more defined booty and flatter abs
-Fitness fans looking for an intense, holistic workout that they can do at home
The really good news is this!  You have lots of time to get ready for 80 Day Obsession which is why I am hosting a "prepare to be obsessed" Facebook group to help you get your nutrition in check and your fitness up to speed.
---
My #1 goal with this program was NOT weight loss. Which means I did not follow the weight loss meal plan. I chose the maintenance plan which I had NEVER done before. It actually freaked me out at first to eat that much food!!! Much to my surprise– it worked!! I am gaining muscle, my booty is lifting!! I feel stronger and leaner and I know I am fueling up with the right foods!! I love the timed nutrition and the workout blocks. It's been really interested that tweaking my nutrition and changing up my workouts can produce such dramatic results.  I can say that I was a believe in Autumn's programs before and now I'm just absolutely head over heels about it!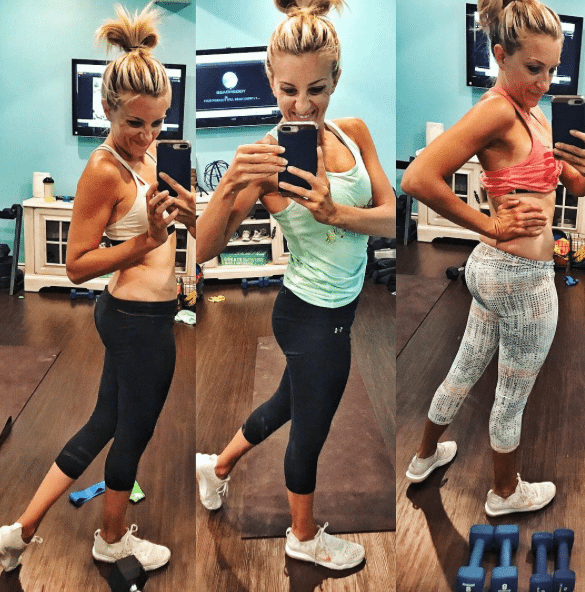 I think it's safe to say that I am getting some booty gains from this program!! My tiny crack in the back is growing!!! This is only 35 days in!!!!
Legit– this program works!! Loving the results and it makes me even more motivated to continue on!!
What can you do to prepare for this program?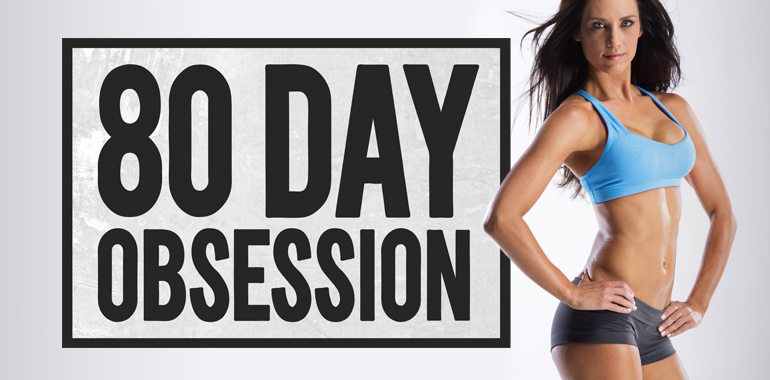 Take the next few months and join my Prepare to Be Obsessed challenge group and start building a solid foundation for fitness and nutrition and let me walk you through clean eating and exercise together!!  I am hosting a "PREPARE TO BE OBSESSED" Facebook Group where my goal is to walk you through goal setting, meal planning, daily preparation, motivation, consistency and accountability.
We will be starting on the 11th of September with the 21 Day Fix followed by 30 Days Of Chisel, then the 21 Day Fix Extreme and then finish it out with something extra special.  If you are interested in joining this prep group please complete the application below to join!
I will also be sharing tidbits of my 80 Day Obsession journey to help you get a head start on the results.  Especially going into the holiday season when most people gain a good 10 pounds, you will be in control and rocking the results with confidence.
The program will launch on January 13th and a new workout will be posted each day for 80 days.  If you would like to be a part of my 80 Day Obsession Customer Beta Test Group please complete the application below to get on the list for all the details as the product is launched.
Want more details on this abs, butt and total body workout hit me up!! Apply below to stay up to date on the launch!