Today I am going to talk about something that has been on my mind a lot lately.  It's this idea of building a business and creating a brand.  But actually creating a business and brand that is based on community, culture, cause and income.  Not just INCOME!  Six years ago when I started my health and fitness business with Beachbody- I started it because I fell in love with Clean Eating, the Beachbody Workouts and the support system.  I thrived in an environment where other women were encouraging one another, posting their daily accountability pics, sharing recipes, motivational quotes and their own fitness results.  As a mom of a 6 month old and a 2 1/2 year old, I spent a lot of time cooped up in the house living the not so glamorous mom life.  I craved adult interaction but I had a really hard time with my oldest Landon.  Every playdate was a disaster, every time we left the house it was a production and quite honestly it was just easier to stay home.  I was struggling with my post baby body BIG TIME!  I lacked some serious confidence and I was not doing very well emotionally.  So when Beachbody came into my life it was like the ABSOLUTE perfect timing.  I truly thought that you HAD to eat low fat, fat free, or skip meals to lose weight!  I didn't have any idea how to achieve the results that I wanted.  Beachbody was my NUTRITIONAL THEORY that worked for me.  Simple portion controlled system that allowed me to learn how to eat REAL food to fuel my body for energy and a well laid out workout calendar that I could use to get the results I desired.  The icing on the cake was the supportive community.   I followed the Insanity Workout Calendar, nutrition guide and was 100% engaged in the group I was a part of.  Guess what… I got results!  I was disciplined, dedicated and consistent.  My results showed it and I was naturally sharing that with EVERYONE that I talked to!  I was a walking billboard for the programs and I believed in it.  The transition was so natural.  I created my brand based on new moms- moms who wanted to get control of their bodies after having babies and also women who wanted to learn about clean eating.  Even when I start to write about it, I start to get excited because I love teaching other people so much about living a healthier lifestyle.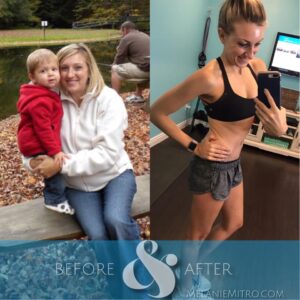 How Did It Become My Business?
So health and fitness became my business because I started teaching people who were my friends on Facebook and followers on IG what was working for me.  I would share my videos of meal prepping, grocery shopping, reading nutritional labels, pairing foods together, and the principles of clean eating.  I was also running groups to help people change their habits and I was using the Beachbody workouts and nutritionals to help them achieve the results because that worked for me.  The more that I poured into people, the more success that they had with the program the more that they referred their friends and family to me and the more my network began to grow.  It was organic growth and I blogged about EVERYTHING from how to meal plan and prep, to grocery shopping, to healthy kids snacks and meals.
I built my business amidst the chaos of momlife.  I can tell you that it wasn't glamorous or easy but it was so rewarding to be able to earn an income doing something I love while being home with my kids.  It started out as a side gig and became our sole income over the past 6 years.  Truly incredible and blessed by the opportunity.
How Did I Grow My Team?
As my customers started to achieve results with the products I started to invite them to become coaches along side of me.  I thought about it this way, I can only help a limited number of people.  But- if I have people on my team that are also out there helping others to achieve their health and fitness goals we can help more people.  People believed in what I was teaching and were sharing that naturally so it started to grow!!!  The more that I was vocal about growing a team of like minded people the more that people joined me.  I talked a lot about building a team and I also talked a lot about helping customers.  I started to create videos on how to grow a business and so the birth of my second focus of my brand which is business development was born.  I actually love teaching people how to build a business as much as I do the health and fitness side of it.
Our Tribe Has Been Born!
Over the past 6 years we have been growing and growing!  I call our team the Dream Team and we are made up of women and men of all different backgrounds.  We also have a lot of amazing leaders on our team that contribute to the growth of the organization.  The one thing that I really have leaned in to this year is WHO SPECIFICALLY I want on my team!
Unfortunately the 'leaning in' came after a pretty hurtful situation where someone in our organization was pretty dishonest and mistrusted quite a few of us.  But, I always say that out of those situations arises strength and community.  It made me get very CLEAR and VOCAL on who I want as a part of my team and what we actually stand for.
The one thing that I do NOT like about network marketing is the promise of 'quick money' & you don't have to 'work hard' to make an income.  There is also a very negative connotation on network marketing that it is a 'pyramid scheme' and its just a bunch of 'product pushers'.  The funny thing is that I have never felt like Beachbody has been a company pushing a product.  I 100% believe in what Beachbody stands for in their products and programs.  They really really do work and if you focus on proper nutrition, quality of food and regular exercise you can achieve results.  I mean there is nothing to argue there… it's real whole quality foods.  I can feed everything to my kids and I totally do! They can see what I do as their mom and they can imitate it and I would be ok with that.  I know I'm teaching them healthy body image and habits.  Of course you have to purchase the product to be a part of my services offered which is the same as going to a gym.  You can't walk in and use the facility unless you pay the membership.  Same here!
So Who Do I want On My Team?  What Are Our Values?
If you are looking for a team to join I want to be VERY CLEAR ABOUT my TEAM, my mission and culture.  I do not want you to join my team expecting to be a millionaire in the first year.  I also do not want the promise of striking it rich to be the reason you join me.  The PURPOSE of becoming a coach on my team is because you see the opportunity to help other people achieve a healthy and fulfilling life.  You want to inspire others to make the change and you know that you are going to have to actively put yourself out there to create traction and momentum in your business.  You are not afraid to do the hard work because you believe in the work.  You don't feel like you are selling but you feel like you are sharing the secret to living your best life.
You know that your INCOME is a product of the lives that you CHANGE/IMPACT.
You have a deep sense of COMMUNITY and you are someone that can be TRUSTED!  You are someone that cares about being a part of a culture that works together. There is no EGO and we lift each other up. There is NO ROOM FOR GOSSIP or any of that stuff that women sometimes do in the workplace.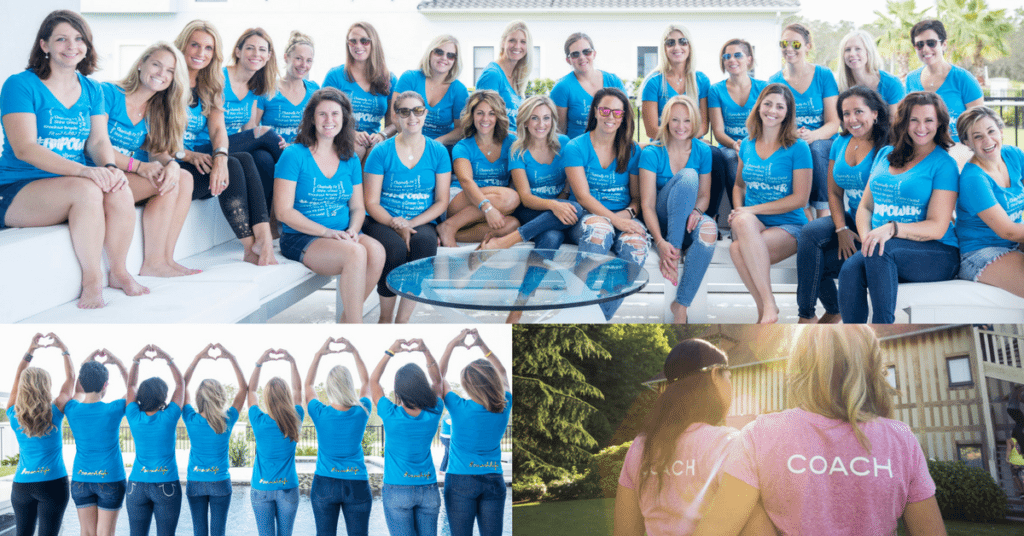 We work for a CAUSE!  We are women that band together if someone is in need and we will wrap our arms around you no matter what.
So if you are looking to join a team that is going to support you, that is going to lead by example and practice what they preach…. we are YOUR TEAM!!!
We are not going to tell you what to and then not do it! We are going to lead by example right along side of you.
BUT…. I want to STRESS that it is work!!!  It is not all rah-rah-rah, because changing sometimes mindset is work but its the most rewarding WORK you can do!
If you do your job and you do it well, then you will be financially rewarded.  While I can't guarantee any level of income- I know what is possible and I know what you can achieve if you want a different income for you and your family.
If you want to build a business then I am your GIRL and I will teach you everything that I have done to build my business from launching my business, growing my Facebook from <100 people to over 5k followers!  I will also share with you how to Instagram, Instastories, share not sell, and invite others to join and run effective accountability and support groups.  Our team works together to run monthly coach trainings where you get 1:1 and small group support in helping you reach your goals.
Whether you want an extra hundred dollars a month or you want to go all in and really make this business a full time income we can teach you how.  It will take you taking ACTION but if you are ready to join then now is the time.  Want to know more about more story… listen to my summit presentation!  
You have two options:
 If you want more information you can join our sneak peek into coaching where we will be sharing how you can earn an extra $500 this holiday season as a coach and beyond.  Here is the group to join:  JOIN HERE  (if you are already a coach please don't request since you can't join my team)
If you are ready to join and would like to be considered for my December 4th New Coach Training University please complete the application below to see if you would qualify as a team member on my team.  I will personally mentor and support you in your business and fitness.