It's the end of my second week of the 30 Day Elimination Plan.  14 days from the day that we committed to make the change.  It's wild and crazy how much has changed over the past 2 weeks.  The first week I started off by following the 21 Day Fix Extreme Plan B and doing A Week Of A Little Obsessed Workouts.  Then in week 2, I did the first week of the 21 Day Fix Extreme workouts and I gave Intermittent Fasting a try this week.  I still ate according to Plan B of the 21 day fix containers but I put it into an 8-9 hour window of eating.  (I will discuss more below). I love that we also had a group call with Super Trainer, Chris Downing last Sunday night to help us kick off week 2!! We talked more in depth about mindset, changing the narratives in your mind to be  more positive and to focus on the things that you truly want in life.
It was an awesome way to kick off week 2!
I also completed the 50 hour sleep week challenge this week coming in at 52.5 hours of sleep in the past 7 days. That is an average of 7.5 hours a night!  I can tell you that the Sleep Week Challenge was incredible.  For the first time in a LONG TIME I had someone comment on my picture and tell me how rested that I looked!  My mom commented yesterday that I was in a much better mood & I have not been irritable or grumpy with my family at all.  It's amazing what getting proper rest and nutrition can do for your entire life.  I swear that we live in a society that is always looking for a supplement, pill or quick fix for our energy level when in reality we just need to take care of ourselves.  I will say that my MISSION has become not just how to make myself feel the best I can be but how to teach that to others too!  How do I scale this elimination group so that I can help my customers get their very best results possible.  Results that are not just physical results in the scale and inches lost but in overall health.  I want my customers to feel empowered and not deprived.  I want my customers to feel in control and not restricted.  So here I am using myself and my leaders as the guinea pigs for how to create this perfect balance.
Week 2 Results
It is funny because I haven't even stepped on the scale yet today as I write this post.  I haven't even taken my pictures.  I will do those tomorrow morning.  What I can tell you is this:
-It is NOT about the scale for me.  I care way more about my mental health, energy level, eating good food, and feeling mentally on point.
-Did I achieve that?  YES!!!!!  Like a super huge, shout it from the rooftops YES!!!!!
-I feel the MOST CREATIVE and MENTALLY clear that I have felt in a while.  I am sleeping like a rock!  I am productive with my work hours.  I am getting an average of 7.5 hours of sleep per night.  My energy level is sustained through the day with no crazy ups and downs.
-I am tracking my food to make sure that I am not over eating or under eating too many days in a row but I'm not OBSESSING over it!  It's basically just to visually keep myself on track.
-I am journaling how I feel daily to see trends in the results.
-I feel strong, healthy and balanced!!!
– I do not feel deprived or like I'm missing out on anything at all.  Yesterday we went to my parents house to celebrate Thanksgiving with my family.  I ate turkey, a sweet potato, green beans, and a side salad.  I had a bowl of fruit as my dessert and sparkling water to drink.  I could of had the stuffing, corn, mashed potatoes and pie but honestly I just didn't want to ruin how good I felt.  I know that the day after I eat like that I feel awful and in a fog.  So I just avoided it all together.  It was a conscious choice and I don't look at it as missing out on anything because I have Thanksgiving again this week at our house Thursday! So I still can choose to splurge if I want then!  Still debating that choice quite honestly!  I'm sort of an all or nothing girl.  Which leads me to my next thought!
My Deep Thoughts This Week:
So the one thing that I am really struggling with this week is the "ALL OR NOTHING MINDSET"!  I am the kind of girl that when I say I am going to do 30 days of elimination (grains, dairy, sugars, alcohol) I stick to it!  I don't cheat because its my anniversary, or a birthday party or holiday.  I just put my mind to something and I just do it!  I don't know, am I weird???  Am I wired differently?  Is there something wrong with me??  I have this weird guilt because people in our group are talking about how they need balance and how they are not going to restrict themselves from having a drink or a dessert.  That they don't want to be OBSESSIVE over their food, which I totally understand.  I also don't want to be 100% hard core and then fall off track at the end with a CELEBRATION CHEAT MEAL!  Or I don't want my customers to think that if they mess up 1x that all is lost and they have to START OVER AGAIN!  That is obviously not ideal either!  It's not even realistic.  We are human and seriously.. on Friday night I accidentally picked up Landon's lemonade and drank a sip without realizing it was his glass.  DOES THAT MEAN I HAVE TO START OVER???  Ummmm no way!   But there has to be a balance?
Maybe for each person its individual:
So if you know that you need to break the cycle of sugar, carbs ect… then you do decide to be strict for 30 days until you can break that pattern.  Then, after the 30 days you allow yourself to create a balance.  It can be that each week you give yourself X amount of treats or that you pick and choose.
It could be that someone else needs to have a guideline for healthy eating and a list of approved foods but they need food freedom.  It means that as long as they eat quality foods, they know about how many they need to eat per day, how much water and they have an established routine and its not about getting a six pack then its just about feeling good in your skin.
Maybe it is reframing your thoughts and saying to yourself, I am not eliminating anything!  I am just making conscious decisions about my food.  I can have whatever I want but knowing there will be a consequence to that decision.  Its mindful eating!
What I am coming to the conclusion is that it truly is an individual basis!  Each person is capable of FOOD FREEDOM, FOOD CONFIDENCE, SELF LOVE, BODY CONFIDENCE but you can't compare your journey to someone else's.  You also can't expect everyone to live by YOUR STANDARDS!  You have to have the ability to look at each person individually and ask what is going to work best for me and for them.  Then, having GRACE to meet people where they are at!  WOW, if you think about that for a moment- doesn't that create a whole new level of accountability?
No one needs to feel guilty for their choices or the need to over explain.  You just talk about your day, your choices and share your mindset behind it and that is your own customized plan.  Doesn't that sound amazing?
So let me ask you this?  What is your ideal approach?  Do you need to do strict for the length of a program and then maintenance or do you need balance the entire way through? What works best for you???
Why Did I Choose To Do Intermittent Fasting?
I will be honest here.  I really am doing this to see if I feel a difference.  I'm not trying to lose weight but I just wanted to see if it would change anything for me personally.  What is intermittent fasting?  It is extending your fasting period or the time you do not eat and being a bit more conscious about your eating schedule overall.  It typically means that you fast between 14 hours and up to 36 hours which is the extreme.  Typically a fast happens while you sleep for the most part.  Intermittent fasting can be good for preserving your lean muscle and also weight loss.  IF is also good for cancer prevention, building muscle, and increasing resilience.
IF is something you can sustain over the long haul because it shouldn't make your life harder, it should be something you can live with.  The kind of IF I am following is this.  I fast for 14 hours and during the fasting period I consume little to no calories.  However you can have black coffee, water and 1 scoop of energize  (basically anything under 50 cals doesn't break the fast).  The one thing that I do have after my morning workout is bulletproof coffee.  It is basically coffee with healthy fats from grass-fed butter (ghee) and Brain Octane Oil to give you a stable current of energy that sustains you through the day.  IT helps to boost your metabolic rate by up to 12%.  I love the coffee every morning because when you blend the ingredients with your coffee it is rich, foamy, creamy and filling.  It helped me to get to the window of eating which for me was 10:30 am to 11:00 am.  The goal with adding in the BF coffee is truly to increase my mental productivity and to sustain the fast!  That way I do not EAT MY KIDS!  HAHA
For me this is my day:
Wake up at 6:00 am.
Drink 1 scoop energize with water
Workout
Shower
Bullet Proof Coffee around 8:00 am
Eat first meal at 10:30 am
Second meal is at lunch time
Mid afternoon snack
Dinner and after dinner snack and finish eating by 6:30 pm or 7:00 pm.
Personally I am a little hungry but nothing that I cannot sustain.  I actually felt extremely satisfied this week.  My meals were a little larger and I still ate my 21 Day Fix Extreme containers but I just did it in the 8-9 hour window.  The best thing is that I'm not giving up the clean eating principles and really focusing on the quality of the foods that we are eating! So nothing is changing there!
The one thing that I read on the Bulletproof site is that you are increasing your metabolism by up to 20% when you combine intermittent fasting with bulletproof coffee.  AMAZING!  This could be the jump start that some people need.  I really notice a few of my clients respond initially to the portion fix but then need some tweaks and this could help those people who hit that little barrier.
Here are the products that I use in my coffee:
Grass-Fed Ghee: 
Check it out here:  Ghee
Put them in the blender with low acid coffee and blend until smooth!
Enjoy immediately otherwise the oil rises to the top and it loses that creamy texture.
Give it a try and see how you like it!
I would say it took me a good week to notice the changes.
Let's Pair This With My Meal Plan:
Like I said, my first meal is at 10:30 am to 11:00 am.  The food is not crazy, weird or hard to make. Every recipe can be found right here on my blog under the clean eating recipes tab.
I am also going into the Thanksgiving week with the mindset that balance is key! Working out is not HARD and while we don't have to completely over indulge in food we can still live in balance.  What will your Thanksgiving plans be?
Also check out my FB live where I gave you my awesome breakfast recipe!!  This is seriously to die for!!!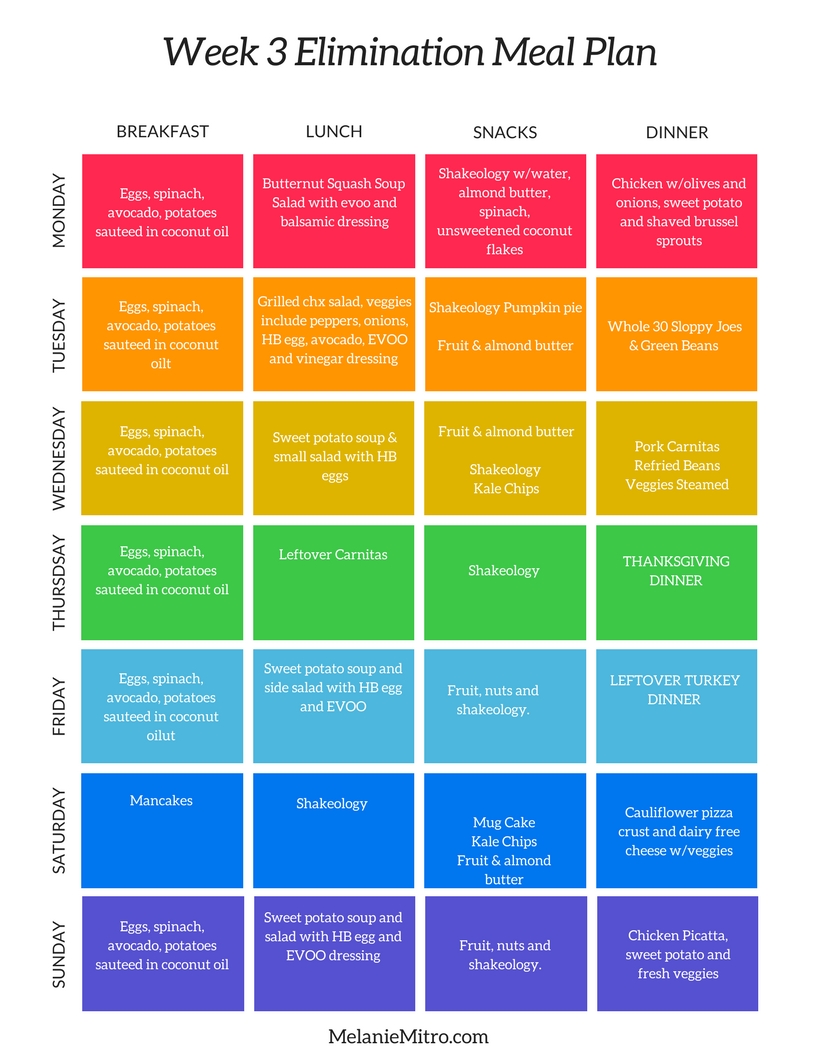 Week 3 Workouts
This week my workout schedule is like this:
Monday:  Cardio Fix Extreme
Tuesday:  Upper Fix Extreme
Wednesday:  Pilates Fix Extreme
Thursday:  Lower Fix Extreme and abs
Friday:  Cardio Fix Extreme
Saturday:  Dirty 30 Extreme
Sunday:  Yoga and rest
I am going to keep up with the 40 hour sleep week challenge!
Download the Sleep Week Challenge Here!
Final Thoughts:
If you can relate to any of the things that I am talking about above and you DO NOT HAVE A COACH and are looking for support.
Complete the application below to join my Holiday Survival Guide Challenge Group to get started!