Let's talk about Instagram and how you can use it to move your business forward! I will tell you that when I started this business more than six years ago, I had no clue how to use social media or what the different algorithms were. I've seen the business move from social network to social network – it started with Facebook and I barely even used Instagram when I started (I just liked the filters!!).
But the times have changed and I can tell you that IG is IN right now!!
This is a topic that I get a lot of questions about, so here are some of my top tips for using Instagram to its fullest potential when it comes to growing your business.
It's about QUALITY, not QUANTITY.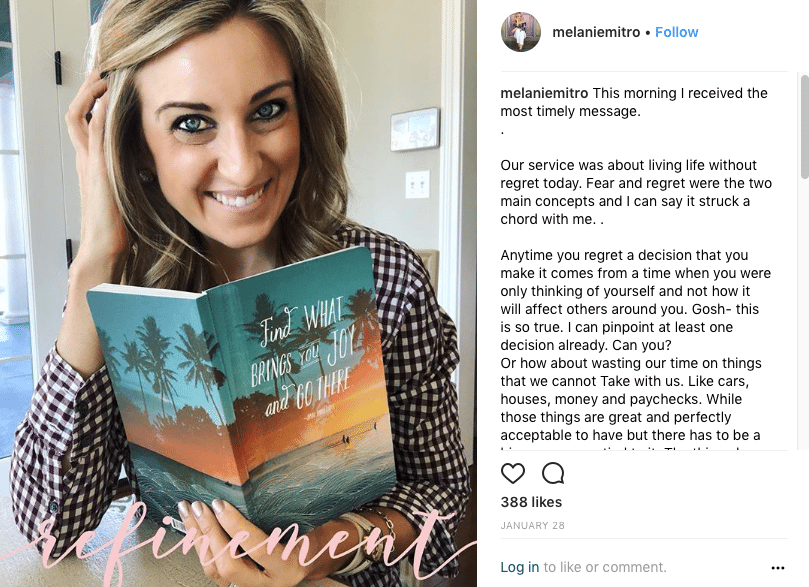 Instagram is a visual media source, so you want to make sure your pictures look good! It is better to have one or two really good Instagram posts that connect people to who you are rather than five or six poor pictures that aren't relatable.
I take all my IG pictures with my iPhone. Make sure your lens isn't dirty! I use portrait mode a lot because I like the way the pictures turn out. I also have a tripod that I use that I can bring into my workout space or anywhere that I want. And I have a bluetooth remote so I can take pictures without having to press the button on my phone. I got the tripod and remote on Amazon!
Lighting is also super important. I have a case that actually lights up to give me some extra brightness when I take pictures. I have a ring light in my basement as well that I use since there is no natural light in our basement. We also changed the lightbulbs in our basement to natural light lightbulbs which made a drastic difference in the color of my photos!
If all else fails, take a picture outside or near a window!!
You are not selling a product, you are representing a brand.
It's all about who you are and how you are inspiring people. Don't get too salesy on your IG – the whole point is to get people to organically connect with you and your story! You want people to come to you because your page has a common theme.
Utilize a social media calendar.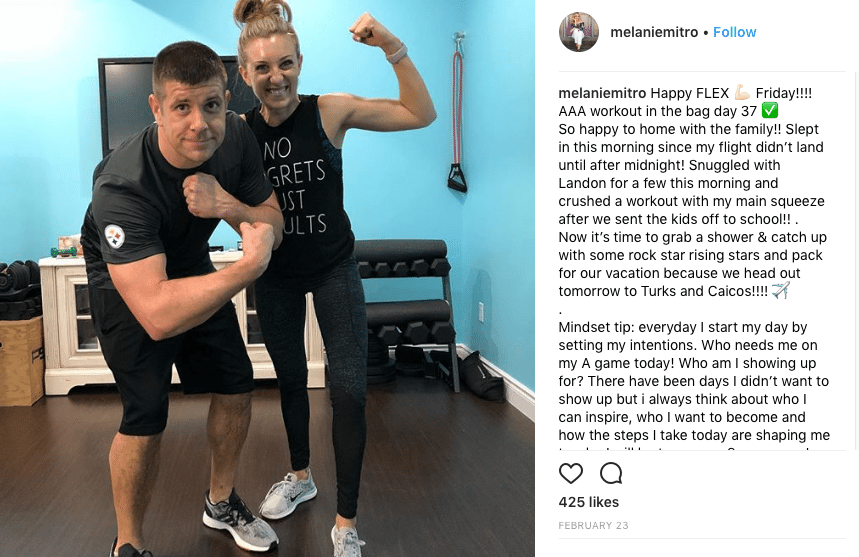 This will help you to plan out your posts so you aren't scrambling and posting a bad picture just to post something. What is the story you want to tell people in the next seven days? How do you want them to get to know you and connect with you? Everyday I talk about my own health and fitness journey – but I'm not just posting a picture of me working out. I'm telling people what I'm doing, how I found the motivation to get out of bed this morning, how I'm staying on track with my nutrition, etc.
Avoid busy collages.
Sometimes on Instagram I'll see someone post a collage with four our five pictures, some moving and some not, and they're always dark and dingy and there might be some words that I can't even read. Skip it! Post one photo, little to no text, and you'll be good to go. KEEP IT SIMPLE!
What you're wearing is key.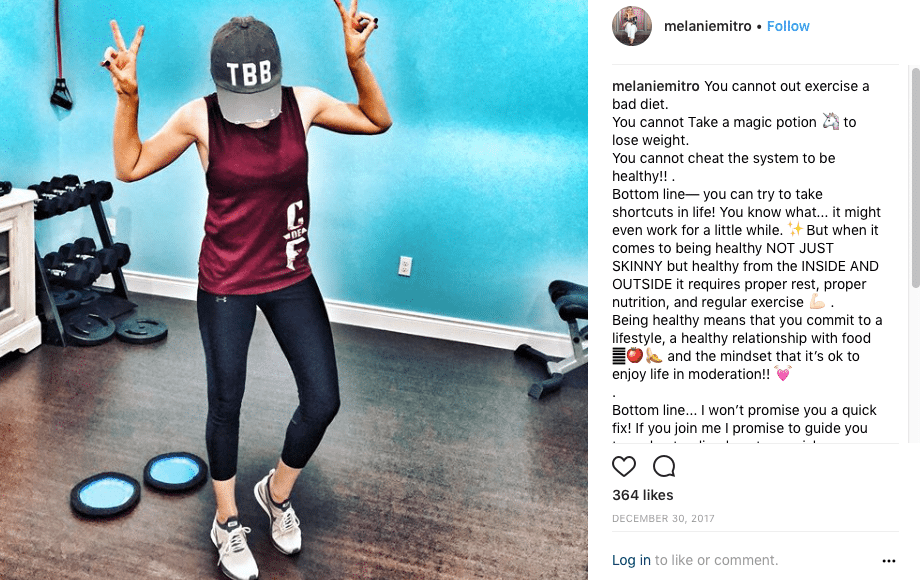 I never used to buy workout clothes or pay attention to what I was wearing when I exercised. But when you're building a health and fitness brand, what you're wearing is just as important as what you're doing for your workout. So invest in some good workout clothes that you feel comfortable in and wear those in your photos.
Don't forget your background.
A lot of the areas of your house will be way too busy to use as the background for your photos. In my old house, I found a corner and just pushed all the kids' toys aside and made a little space I could use as a backdrop. That blank wall was my own area to take my pictures!!
Take advantage of IG stories.
This is where it doesn't need to be professional. This is you, this is real life. It's not perfected…this is how I can connect with you – the PERSON behind the brand!! You should try to have 8-10 of these every day. It's a lot easier to get to that number since it doesn't have to be perfect. Some examples of things I post in my IG stories are doing homework with the kids, making dinner, taking about what brand of tea I'm drinking or what dry shampoo I use, things like that!
I also love to use the poll option on my IG stories. If I'm thinking of writing a blog post or just want a little more engagement, you can have people pick a poll option and you can use that to reach out to your followers.
HASHTAGS!

So you can use hashtags in your Instagram stories as well as in your regular posts. This is the way that people can find you through searches. I always try to think about what I would search if I was looking for someone to follow who was similar to me – things like #momofboys or the brand of clothes I'm wearing. You don't need to hashtag the company that you work for because the only people searching that tag are the other people who work for that company!
Some Final Thoughts…
I could go way more in depth but I just wanted to get you guys started! Think of what your number one objective is for the week. Then brainstorm a list of ideas that can go on your IG and your IG stories and start taking photos that are interconnected to the goal that you want to get to. Remember that you are not selling – you are connecting and you want them to come back to your page for more!!