Last week was our Annual Coach Summit in Indianapolis and I was honored to speak on the main stage for the 4th time.
I  have been a coach for 7 years and still I pinch myself that this is my life.  I never for one second take this opportunity for granted.  I am grateful every single day that I was introduced to this business and was open to the opportunities to make an impact in my own life and in others.  I am a shy and introverted girl so to see myself on a stage like that blows my mind.  But the one thing I will say is this, when you are passionate about what you have been called to do- speaking on stage is easy!  It's your passion, it's your calling and while you might be nervous- it is actually nervous energy that I channel into the thoughts of the lives I can change in that audience with my message!  Soo let's dig in!  Let me share!!  You ready!!!!
From Relentless To Refined:
When I ask you to think about somebody who inspires you to be relentless in your vision, do you have somebody that comes to mind? I have someone that comes to mind immediately: Sylvester Stallone. He totally inspired me in his interview with Tony Robbins about his relentless pursuit to become an actor.
When I listen to Sylvester's story and the amount of adversity and obstacles he had to overcome to make that vision come to life, I couldn't help but stop and think about all the things he had to overcome to get there. He was told he was too ugly to become an actor, and at one point he even had to sell his wife's wedding ring to put food on the table. But when Tony asked him why he didn't go find another job so he could at least pay his bills, Sylvester said that he never wanted to let himself get comfortable. He wanted to stay hungry and keep that vision alive.
I think about that and all the characteristics that it takes – the grit, the determination, the consistency, the never-giving-up attitude. And then I think about us and what we do here as Beachbody coaches. Every single day we have a choice to stay where we're at or to learn and grow from our mistakes. So today I wanted to share with you some principles that have helped me to stay relentless in the pursuit of my vision.
I have a very stubborn personality. When I want something, I'm going to find a way. The day I decided to become a Team Beachbody coach, I went to my husband Matt and told him I was signing up. And he said "Absolutely not." He told me I could put the kids in daycare and go get a real job. And even though he didn't see my vision just yet, I could see it as clear as day.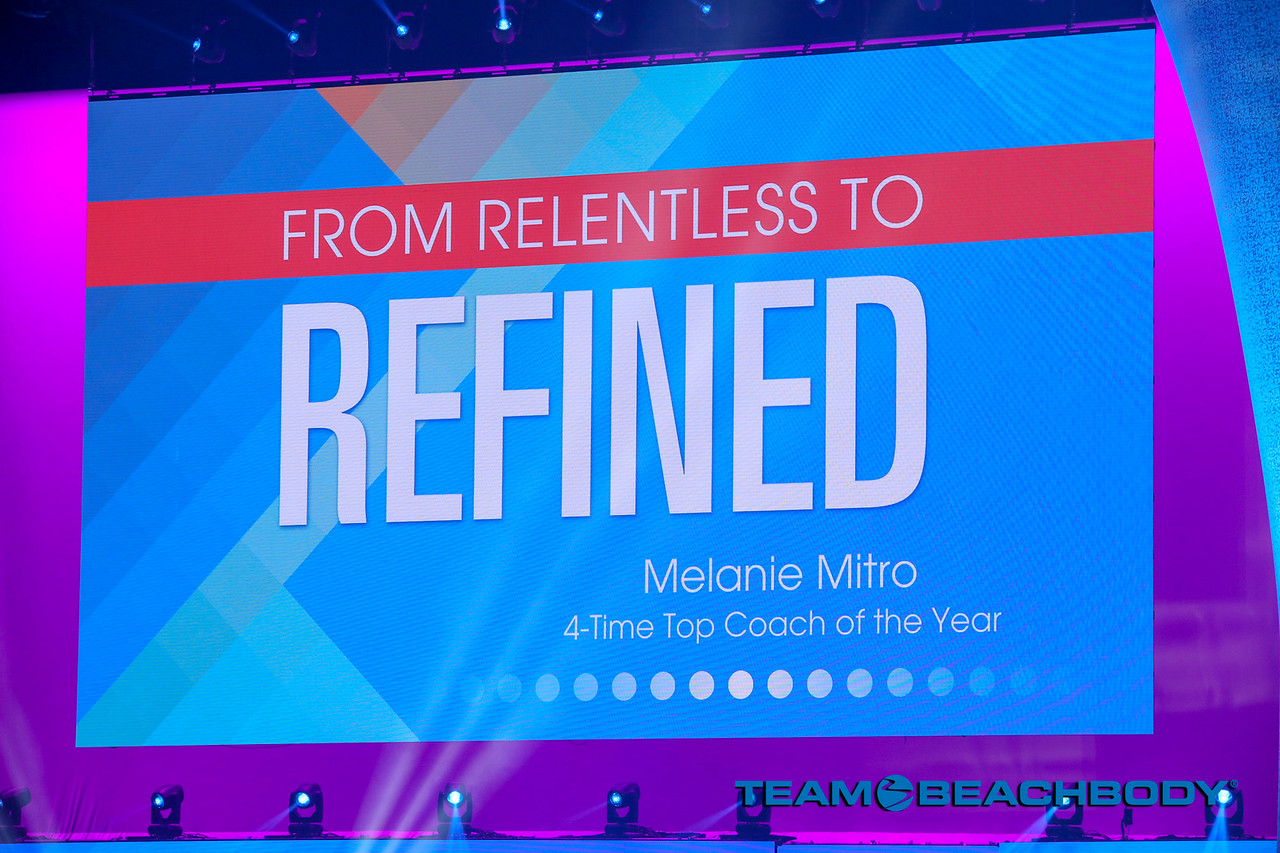 Sixty days into my fitness journey, I had finished Insanity and I still had about 25 pounds to lose. I had less than 100 Facebook friends, no Instagram, no blog. But I knew I was going to share my journey with other women and help them reach their goals. I knew I was going to figure it out. And I did.
From the moment I hit "Submit" on that sign up form, I never looked back. There was no Plan B. Whatever it was going to take, I was going to figure it out. I could see that I was going to make a difference. And in that process of being relentless in following my vision, I like to say that I became a wrecking ball. I was so passionate and so excited and even though people were telling me I wasn't going to succeed, I know I was going to prove everybody wrong.
But I started to become obsessed. It was all I could think about. Instead of doing the laundry and cleaning the house and playing with the kids, all my time was spent on the computer. At the dinner table I would pick up my phone as soon as I saw I had a message. I was inadvertently telling my family that the person on the other end of the phone was more important than they were.
It came to the point that Matt had to sit me down and tell me that I was out of bounds. He gave me an ultimatum: I had to choose between my business or my family. And I remember thinking "No – there has to be a way to help people AND be a mom." And it took a lot of effort and a lot of researching and a lot of work, but eventually I figured it out.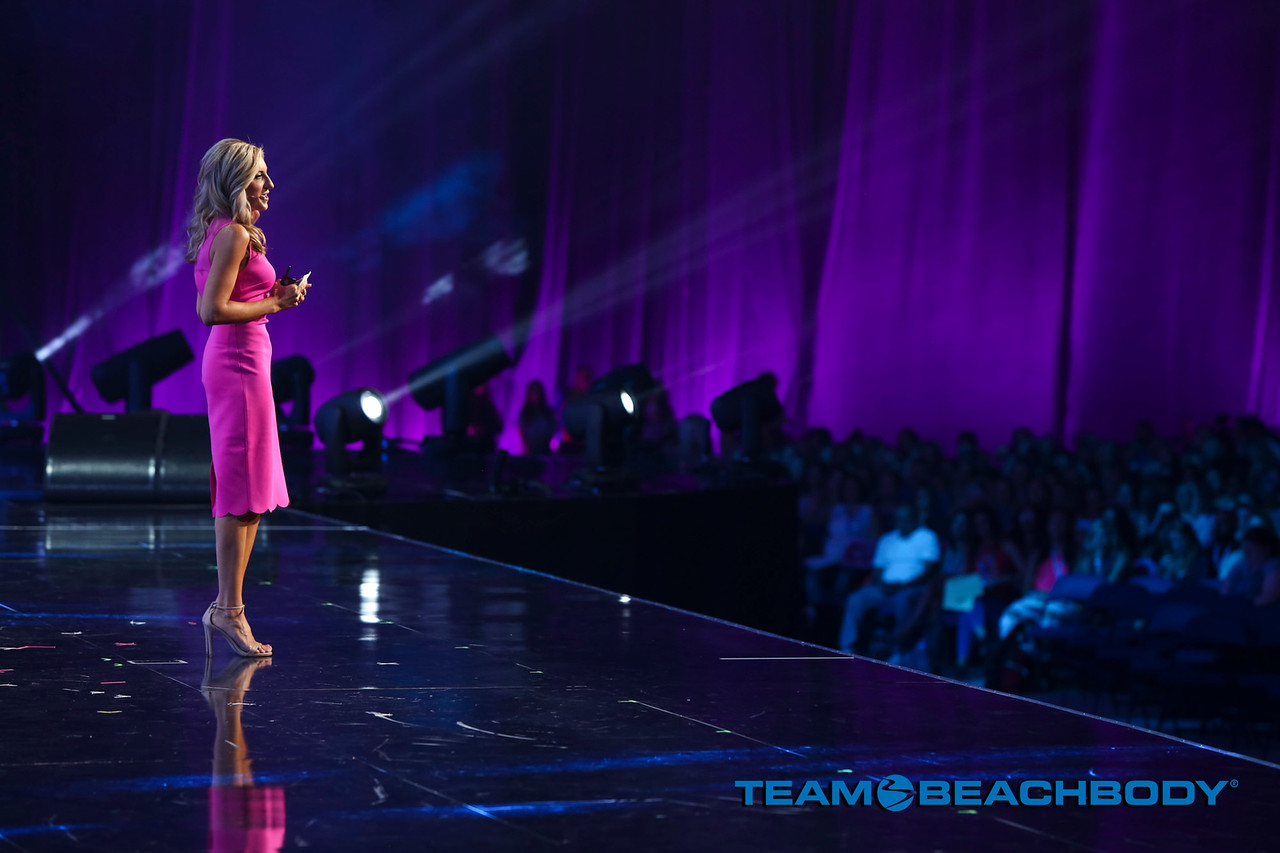 I had to become disciplined and set business hours. I had to turn off my phone and create purposeful spaces to spend time with my family. And when people ask if I would change anything about that process, my answer is no. I believe I was given that obstacle to empower other women to know that they can have a family and build a business at the same time.
I'm sure many of you are sitting here thinking about your next rank advancement. "When I'm Diamond, then I'll be happy. When I move up, then I'll feel accomplished." But I am here to tell you to put one foot in front of the other. Take it one step at a time. Enjoy the process. It took me nine months to get to Diamond!! If you focus on the process, I promise that reaching the destination will feel so much greater.
Coming into this business, we all have to learn. I didn't have any social media skills when I started out. I had to learn how to present the business opportunity and explain what Shakeology was. I even practiced on my kids and I was serving them chicken nuggets for lunch!
At every stage of the game, there are opportunities for you to close yourself off or realize that you are a student and you are open to learning. Three months into my business, a customer told me they were going to quit my challenge group because I was too intense. She said I never took a rest day and never had a cheat meal and she just couldn't live like that. She needed balance. And I took a step back – that was the first time that I realized not everybody learns the same way that I do.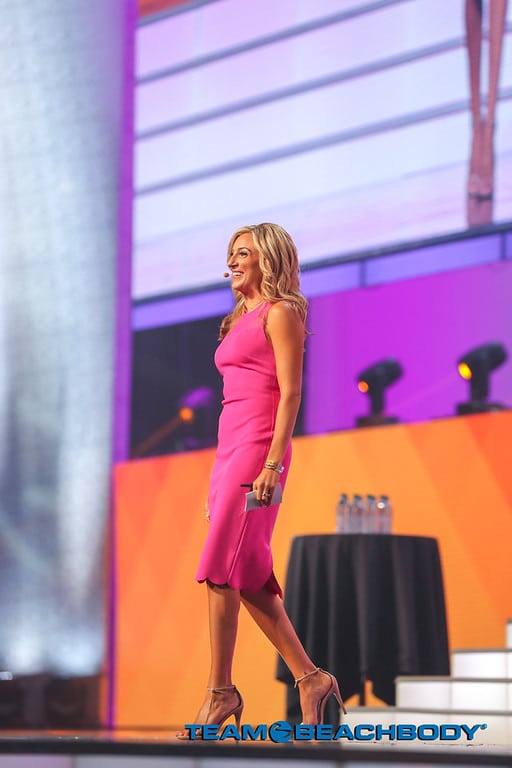 So I leaned into that. I found personal development that would help me become a better teacher AND a better student. In that moment, I chose to learn. I looked for new ways to engage my customers in my challenge groups to help them be the best that they could be.
I've been doing this business for seven years, and last year at Entreleadership I listened to John Maxwell talk about how he chooses to learn every single day. He's at the age of retirement, but instead he chooses to wake up every day and find somebody new to interview who is revolutionizing their business or their industry. So I decided that that was how I wanted to live my life. I asked people to guest speak on my team calls and my podcast. People would say "You know, I just don't think I have anything to tell our team that you haven't already told them." And I said "No, no, no – I'm going to take notes." I always put myself in a position where I can learn and grow from all of you.
The minute I become complacent and start thinking I have all the answers is the minute my business stops moving forward. There are points in this business where we have to refine our vision, and I look at my initial goal and I remember that everything said I. "I want to be Star Diamond, I want to pay off my student loans, I want to take my family on a Success Club trip." But there's a time where those goals might not bring you joy anymore. I want you to understand that that's not a sign that your time at Beachbody is done and you're ready to move on. That's a sign that you need to refine your goals.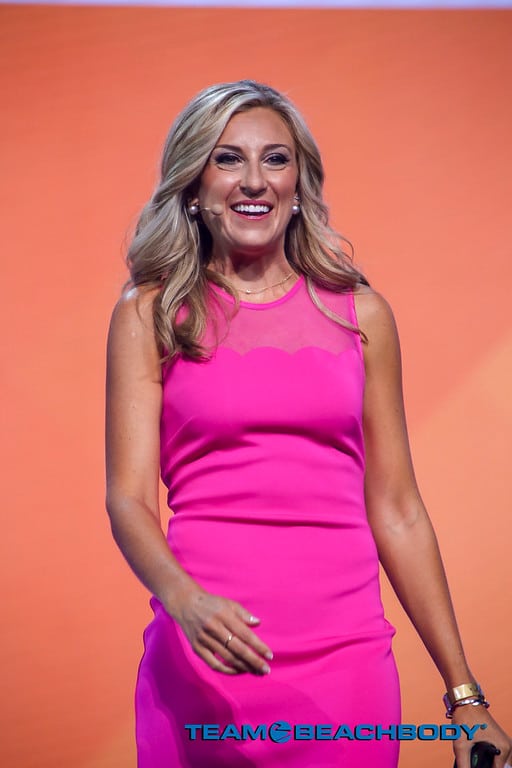 So I started making goals that were more we-focused. All of a sudden I felt the joy come back into my business and I realized that as I refined my business, my passion came back. I'm still helping other people achieve their goals, but it just looks a little bit different.
As a coach, I always say that the number of failures you have is part of your successes. The more times you fail, the more opportunities you have to get it right. Most of the things you do are not going to work the first time! But you have the choice to reflect. Reflect, refine, and try it again with the same passion and intensity that you had the first time. Keep going through the process until you freaking get it right!!
This refinement process is not one gigantic leap from Point A to Point B. It's all the things you learn along the way that shape you. The obstacles that we're faced with are opportunities to grow. When you go through peaks and valleys in your business, you're going to find out who your tribe actually is. Last year I learned that. And I decided that I want to learn from people who have overcome obstacles because I know they have what it takes to follow their dreams until they succeed.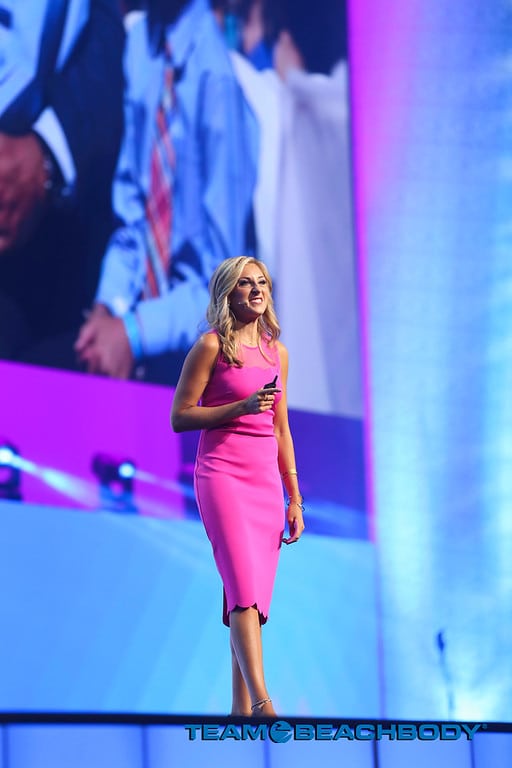 I'm going to leave you with this. There have been a lot of obstacles and a lot of change over the past seven years. When we're in the moment, we don't quite see how it's all going to work out. Last year, as I was sitting in the front row at Celebration on Saturday night, my youngest Bryce started to have a meltdown. I was searching through my purse looking for something to give him to get him to calm down and I heard Carl starting to announce the winner of the next award. He was talking about this girl who used her birthday money to sign up as a coach and I was like "Eh, that's probably not me," and I went back to trying to find something for Bryce. And Carl kept talking about this girl who puts out great content and has great Youtube videos and then he announced my name and I walked up on stage. And that was my full circle moment. It was the moment where I realized that this isn't just a job. It's not about helping MY team or MY customers – but I'm making an impact and I'm leaving a legacy for other people. The obstacles that I have been through are helping somebody out there crush their dreams and never give up.
It is not about the accolades. They're amazing accomplishments, but it's about who you become in the process. The legacy you are leaving behind and the impact you are making in somebody's life – this process, it refines us into incredible human beings. So I want you to know – I was relentless, I will always be relentless in my vision and I believe in each and every one of you to be relentless in your vision, too. So let's go out there and make it happen.
To Find Out More About What I Do As A Coach Click To Join My Informational Group About Coaching: Join The Group  
Or Read More Here