I hope you're ready because I am about to drop some serious nuggets about ending the year strong!! I've given this presentation on multiple occasions before and I think it's really important for you to hear it as we enter the holiday season. We have holiday parties, family visiting, traveling – so many distractions!! We are truly being pulled in a thousand directions!
It's easy to let your business go to the wayside when there's a lot going on and you are still building the foundation of your business. Even if you have great momentum, now is not the time to take your foot off the pedal. The worst thing you can do for your business is to check out and think it will be easy to pick up in the new year!
Be a fourth quarter warrior.
I am the fourth quarter warrior – I always see the most growth in the last quarter of my business. November and December are my time to build momentum for a strong new year. I'm already saying that what I'm doing right now is going to determine how my January goes. So don't check out, don't stop building your business right now. I can tell you with honesty that the new year is not going to happen the way you think it is. People won't be beating down your door asking for invites!!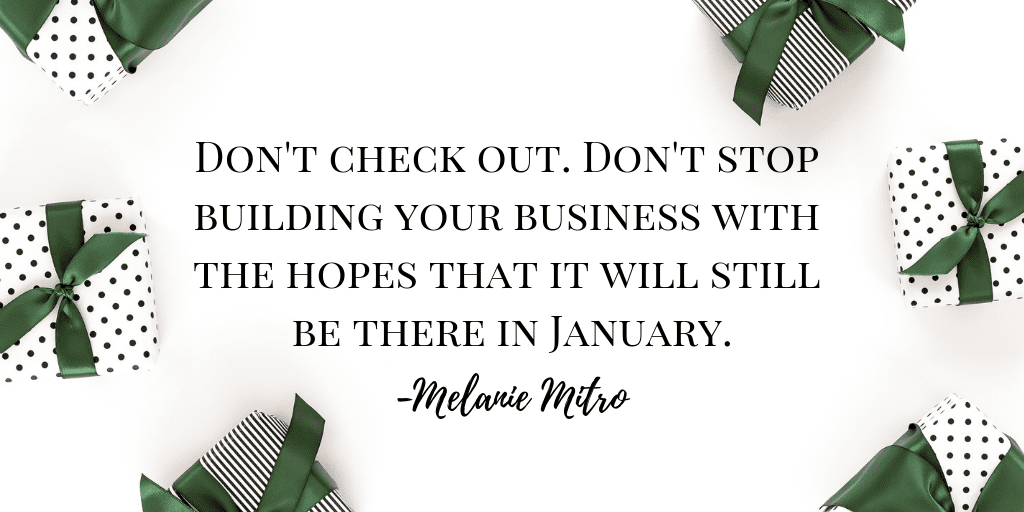 Stay consistent.
I want to be the consistent voice that people see every day. I want to show up in my fitness and nutrition so that I can show people how to stay committed but also how to stay balanced. It is all about mindset and discipline and strategies for getting through the holiday season while feeling in control and confident. Do not be fooled into taking your foot off the gas – you want to be the consistent one that inspires others to get started. Show them that you do the hard things when it's not convenient.
Discipline over motivation.
There will be times you get lots of no's. People will ignore you and you'll get into your head and think its only happening to you. But you have to remember that you're not alone! It happens to all of us and we might get more objections the next two months than usual. But that's where you have to get creative with it. You must create a clear vision of where you want to be so that you can use it to inspire you on the days that you don't feel any motivation.
For me, I wanted to earn extra cash over the holiday season so I could pay for Christmas gifts without having to put it all on a credit card and worry about paying it off later. I made myself a visual so that every time I sold a product I colored in part of my tracker. When I woke up and didn't want to conquer the day, I'd think about my kids opening their gifts under the tree and I would get out of bed. Use your vision as motivation!! Then you can think about the opposite. Today is the day I sleep in. What is the tree going to look like? How stressed is Matt going to be when we have to pay off our presents in January and we can't afford to go on vacation because Mommy hit the snooze button and didn't want to get out of bed?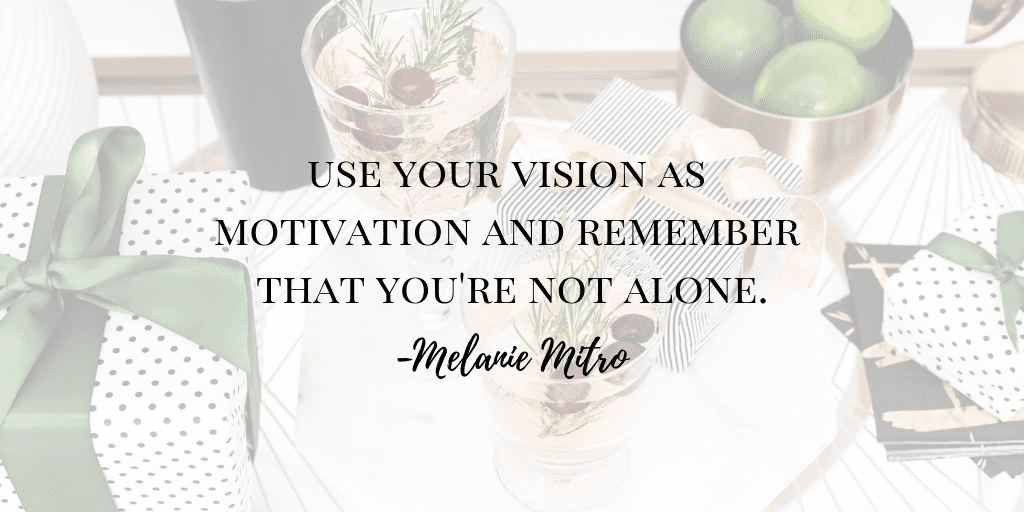 Set your goals & share your results.
What are your goals? Break it down and make it simple and tangible. What goal is going to have a significant impact on your happiness over the next two months? You have to show up and be disciplined when other people aren't showing up. I know the week of Thanksgiving and the two weeks leading up to Christmas is quiet. People aren't engaged and traction is low. But I lean it to that instead of taking it as a sign that I should check out.
This is the time to show up and overload people with content. Give them knowledge about your industry and pique their interest. I want you to be the example that inspires others. Show them that even though your life is busy this is how you are staying accountable. The best thing you can do is share your results.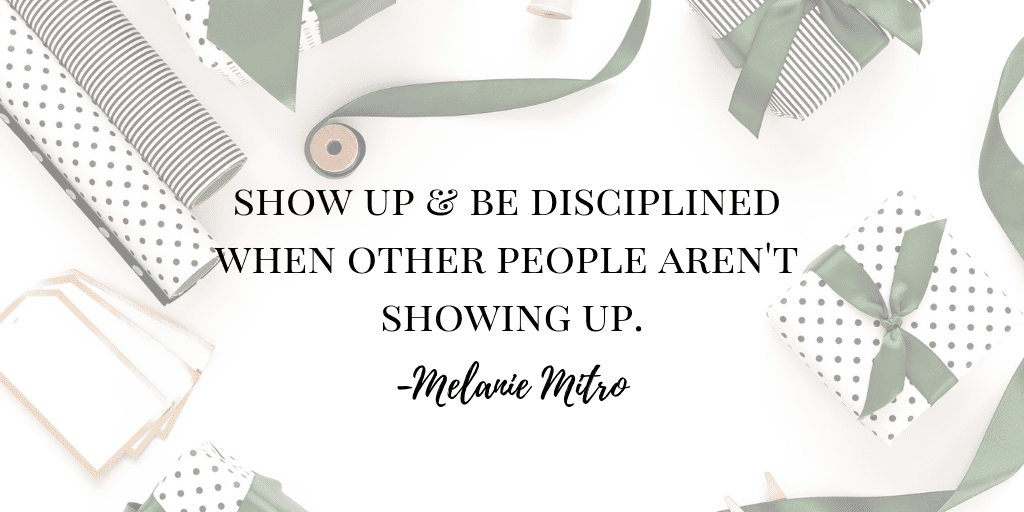 Leverage Black Friday, Small Biz Saturday, & Cyber Monday.
If your company doesn't do it, make your own promotion! You can make a gift basket or send a small gift card to anyone who signs up. Then, invite!!! Just because someone doesn't respond doesn't mean they're never interested. It just means they cant do it right now. I invite more than I ever do at the end of the year. I am relentless! Then follow up, follow up, follow up.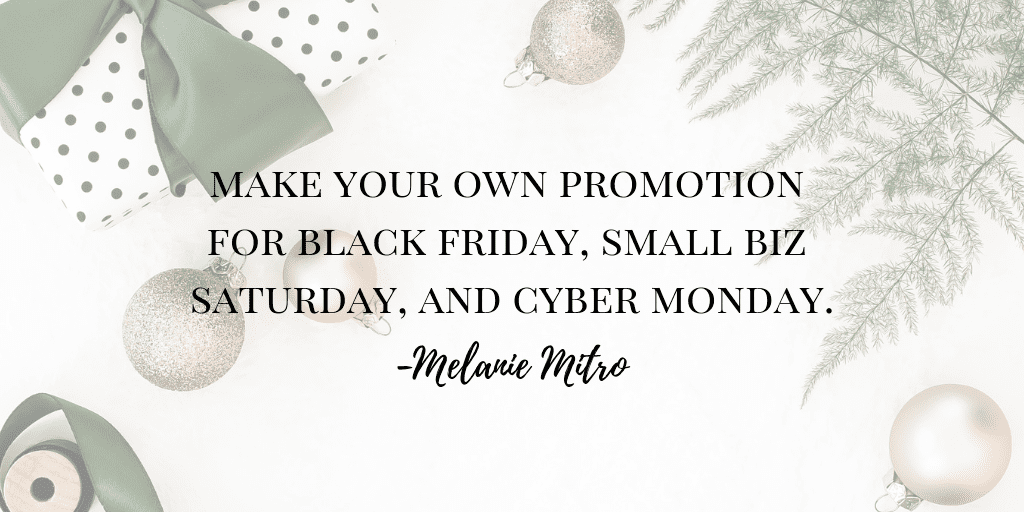 You're going to have to make sacrifices! If you have you biz time scheduled and someone wants to go to happy hour, you're going to have to make a decision. But I hope that these tips will help you rock the last few months of the year and start your biz on the right foot in January.