We are officially back from the 2019 Success Club Cruise to the Caribbean!  The Mitro family had theeee BEST time of life week and I can't wait to share all the details with you!
This is our 7th rewards trip with the company and I have to tell you that every year when we go on this trip I remind myself of the journey and the very first trip that I earned as a Team Beachbody Coach to Disney.
I will never forget the very first time I realized that I had the opportunity to earn a vacation for my family because of my job as a coach.  It was in 2011 when I signed up and I was in the midst of stay at home mom life. Dirty diapers, spit up on my shoulder, toys everywhere, meals to cook and laundry to fold.  There was no vacation in the near future because we had cut out every single non necessity from our budget so that I could stay home. When I joined Beachbody I saw people earning this thing called a success club trip.  They were going to the Bahamas and it looked incredible. The only vacations we took were the ones where we went with our family because they usually paid for us. I seriously lived vicariously through their Bahamas trip and then I decided I needed to be on the next one! When they announced that it was Disney, it lit a fire in my soul.  I had a dream of taking my boys to Disney but that wasn't in the plans until they were going to be way older and we could save up for it.
All I could think was how cool would it be if I could earn that trip!  So printed out a picture of the magic kingdom and put it on my bathroom mirror and my vision board. Every morning I looked at that picture and it motivated and inspired me to get to work!
Every month I helped at least 3 new people get started on their health and fitness journey.  Month by month I got closer to the goal!
At the end of the year I had done it.  I had reached the benchmarks to earn the trip and our family of 4 was going to be boarding a plane and heading to Florida!!!
I cannot even express how proud I was!  How much that trip meant to me. You see, I have my Bachelor's in Psychology and a Masters Degree in Special Education.  No one was going to be giving me a trip for doing my job! I only thought rewards trips were for people in Corporate. I didn't consider myself a salesperson either.  The beauty of this business is that I was just honestly doing what I loved and believe in. I was sharing my own personal journey, I was sharing how my life was changed, and I was inviting others to join me!
I built my foundation of my business at my kitchen table while the boys were napping or at bedtime.  I found these pockets to crush my goals and I was able to have the best of both worlds.
So you see, I'm telling you this story because you have that same spark and interest that I did.  You are curious how you can do it too! I am no different than you, I just simple made the decision and I took action every day to make it a reality.  I didn't over think it. I just kept my head down and helped others with purpose.
Now here we are 8 years later and we are taking our 7th trip!!!!  We have gone to Disney, Riviera Maya, 2 Cruises, Cancun and we are about to go on our 3 rd cruise with the company. This is our 3rd trip bringing the boys along with us!  Depending on the resort and the style of the trip we bring them if we think they would love it. Of course now that they are older it is pretty easy to have them on board with us!  They have just as much fun as we do.
We are eternally grateful for the opportunity to make such these trips a family affair.  
What is Beachbody Coaching???  Check out my page on coaching!!!  
Beachbody Takes Over The Harmony Of The Seas The Success Club Cruise
This year we set sail out of Ft. Lauderdale on the Harmony of the Seas which is an amazing ship full of activities for both the adults and the kiddos.  We definitely did not have a shortage of activities to keep us busy.  The kids were literally counting down the minutes until we left for the success club cruise.  The really awesome part is that we have developed such amazing friendships through this business that our kids look forward to hanging out with each other as much as we enjoy our teammates.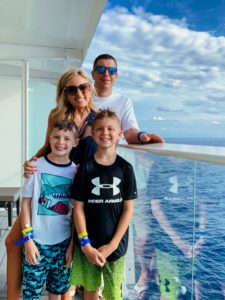 On Sunday we boarded the boat, Harmony Of The Seas for the success club cruise and we let the fun begin. We were greeted with an an amazing gift package for Elite Coaches which are the top .01% of the company.  We got an adorable beach bag with a tank top, water bottle, ear buds, and a super cute suncreen kit.
We headed up to the top deck to watch the ship sail away before we got dressed for our first evening event!  The Elite and Premiere Reception was held in the back of the boat and was exclusive to all of the Top Coaches in the company!  This was the first event where we got together as the 2019 ELITE Coaches and I'm so excited that this year I have a HUGE team of top coaches that are rising up in the ranks!!  It was so cool to get to spend time with them and their spouses and celebrate an incredible year of success.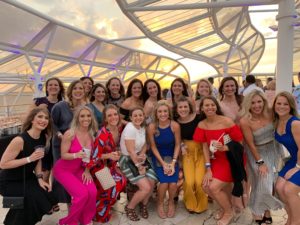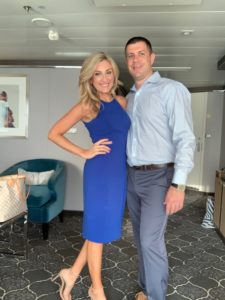 We traded in our comfy clothes for a swanky cocktail dress and got a babysitter for the evening so we could mix and mingle with our team!!
Monday was our first of 2 full days at sea and the kids were literally up and ready to hit the water slides, the flo rider, basketball courts and of course ice cream machine!!! I got up early to catch my first cruise deck workout!  Literally words cannot describe the energy, the excitement and the fun that these workouts bring.  There is nothing cooler than working out as the sun rises on the open ocean, with live music and our super trainers pushing you in your sweat session.  We truly had such a time each day working out together.
Plus we got some really awesome photographs that capture the energy and excitement of the workouts.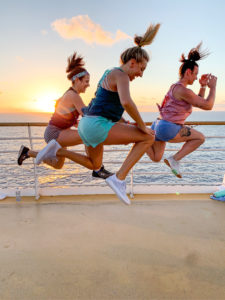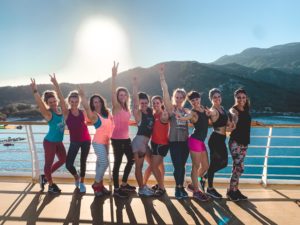 Each night we hung out together on the ship whether it was with our kids seeing a show, getting milkshakes from Johnny Rockets, riding the slides or having great dinners together!  This vacation was such a great way to just peel back the business and spend quality time with the coaches that you see every single day online through our zoom chats and our group message threads.  My life is so much richer with friendships and positivity because of coaching.  Coaching has given me such a positive perspective on life and I'm constantly surrounded by people who lift me up and challenge me to be the very best version of myself that I can be.  Every morning I wake up with such gratitude in my heart that I said yes!!!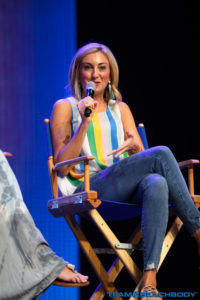 I did have to do a little bit of work on the trip!! Every year they ask the top 10 to do a panel during the trip.  So on Monday morning the 6 of us that were on the trip sat on a panel and answered questions from the audience about our businesses and how we navigate leadership, mentoring coaches, and growing our organizations.  I have been an Elite 10 coach for 6 years now.  I was the 4X Top Coach and I feel it is such an honor to be a representation of the coaching network.  I do not take my job lightly at all.  I love mentoring, leading and training my team to reaching their goals!
I also want to TELL YOU THAT I NEVER KNEW THAT THIS WAS SOMETHING I WAS PASSIONATE ABOUT!  Honestly- I had no idea that I loved leadership as much as I do!  This business uncovered a hidden passion for marketing, strategy, and leadership!!!  I'm always thinking of ways to help my team succeed and to help them crush their big visions in their lives.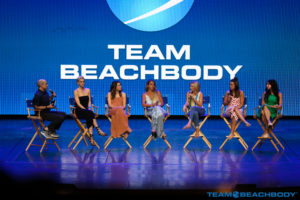 Alright, back to the cruise!!!  LOL!  I got a little sidetracked there!!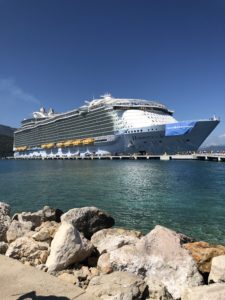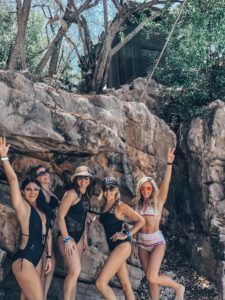 We went to two islands, Cocoa Caye which is Royal Caribbean's private Island and Nassau in the Bahamas.  For both days at port we found a beach and some beach chairs to relax on while the kids played in the water, dug up sea shells and played in the warm sunshine.  There was no shortage of smiles from our kids!  At one point Landon said this was the best trip ever because he got to hang out with his friends on the boat.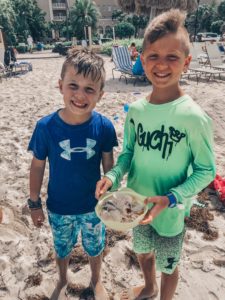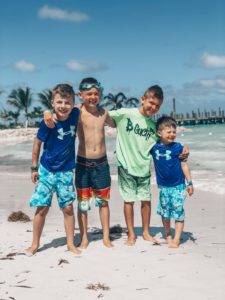 Gosh how freaking blessed are we that we get to give our kids this experience!  I want you to know that as you sit here reading this blog post- if you find yourself saying… I WISH I COULD EARN THIS TRIP TOO!!  Then you CAN!!!!  Trust me, I'm no different than you.  I made the decision to sign up, I made the decision to do the work and I never looked back.  I didn't want to ever regret taking a chance of something I felt called to do.  I can't imagine my life without the friends, the business partners and the experiences my kids have gotten to have because of my hard work.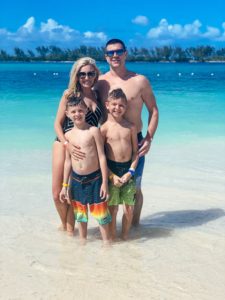 We started my coaching business when Bryce was 6 months and Landon was 2 1/2 and now they are 8 and 10 years old.  They have watched their mommy and daddy build this business from the ground up. They know what hard work and discipline looks like and they know that they get to do cool things because of the work we put in. What an incredible example to our kids about life, work and achieving goals.
Some of my very bestest friends and our families get to vacation together because of what we do as coaches!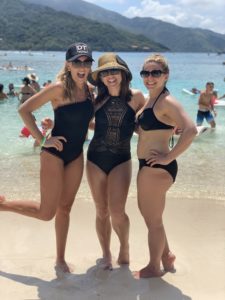 Rising Stars LIVE Coffee & Conversation On The Success Club Cruise
Every single week I host a zoom webinar for my Diamond Coaches and above called coffee and conversation!  We talk about leadership, strategy, tips and growth for our businesses.  There were so many of us on the ship that we decided to snag a spot and do our own live training!  We met in the back of the boat in the Solarium and had a great chat and mastermind.  How amazing is it that ALL these ladies are rocking leadership roles on our team and showed up on their VACATION for a little training session!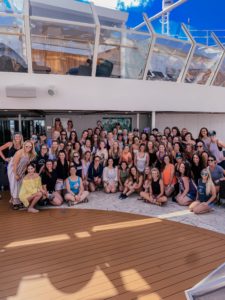 Then, of course afterwards we took a big group picture with everyone we could rally together from our DREAM TEAM FAMILY!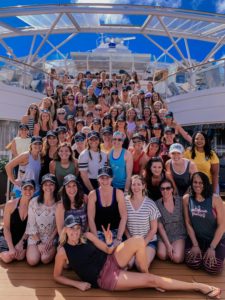 Elite 10 Reception On The Success Club Cruise
On Tuesday night Matt and I attended the Elite 10 Reception in a private suite on the cruise ship with the Super Trainers, Carl Daikeler our CEO and our Executives at the company.  We had the opportunity to watch the sunset, chat with the trainers about upcoming programs and products, meet the new Elite 10 before our trip to Greece in May and just laugh and enjoy an evening with the adults.  Matt and I have been doing this for 6 years so we feel like the old dogs in the room!!  But truthfully there is never a year we don't take being a top 10 coach for granted.  We love that we get to leave a positive impact on the lives of others.  Such a blessing!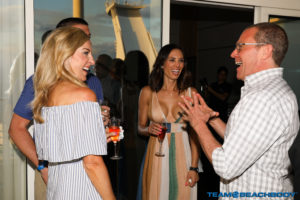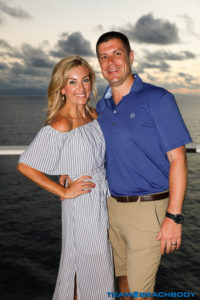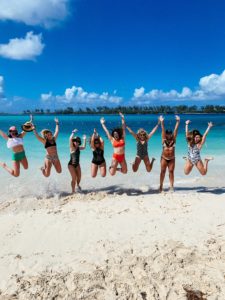 Have You Ever Thought About Coaching?
As this trip comes to an end and we had to say our goodbyes to our friends I couldn't help but think about everyone out there like myself in 2011 watching and wondering if this could be for them too!
I am going to shoot you straight for a moment!  It is totally possible and its totally possible for you too!  Trust me, I didn't just get lucky and building a business wasn't a cake walk but it sure has made a difference in our lives.  As the top leader in the company I believe that linking arms with me will set you up for success because I'm going to help you cut the learning curve, I'm going to teach you how to launch your business, how to get results, how to invite others, how to share and not sell and how to truly grow a lasting stable business.
You are no doubt going to have to face some fears, you are going to have to be willing to invest in your business, and you are going to have to make the time to do the work!!!  But this business is WORK that matters and that makes a difference!  It's so incredibly rewarding to know that you have the ability to change someone's life because of what you do!
So if you are ready to get started and you would like to join my team here are the next steps!
complete the application below,
Apply For The Dream Team Mentorship Program
I am accepting new coaches on my team!  If you are COACHABLE, you are CONFIDENT, you are a NATURAL SELF STARTER AND GO GETTER then I want to link arms with you!  If you envision MORE for your LIFE and you are willing to do the work then I'm going to give you the steps to make that a reality! To learn more about coaching click here: COACH Q&A
Are you ready to be in Punta Cana  on the Success Club Trip next year?!?!  3 people every single month getting started on their journey- that's what you are going to set the goal for!
I'm saving you a beach chair!  So I sure hope to see you there!!!!