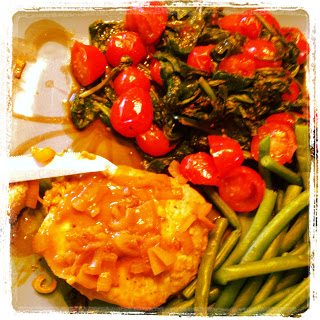 Oh how I love to cook and I absolutely love to cook clean foods!  I am always looking for new ways to spice things up.  I feel like sometimes I get into a rut cooking the same foods week after week!  So this week I decided that I was going to pull out some of the nutrition guides that have come with my fitness programs and give them a whirl.
So far my absolute favorite cookbook is the Chalean Extreme guide!  Talk about clean food and totally full of flavor!  I have tried quite a few of her meals and so far there is not one that I wouldn't make again.
Last night I made the Country Style Pork Chops with Sauteed Spinach and it was very tasty!