I was in the mood for pancakes this morning and I haven't had them since before starting Whole30.  Although, I didn't want to eat wheat since I have noticed I am pretty sensitive to any type of gluten.  I went searching for some recipes on the good ole faithful Pinterest and found an awesome blogger Nicole.  She writes a blog called Gluten Free on a Shoestring.
The recipe was perfect.  It had coconut in it, no dairy, gluten or sugar and quite frankly I didn't even eat it with syrup.  Landon even scarfed up a few pancakes too.  So I can easily say this is husband and kid tested and approved.
We are really trying to limit Landon's gluten and refined sugar so this was right in line with that.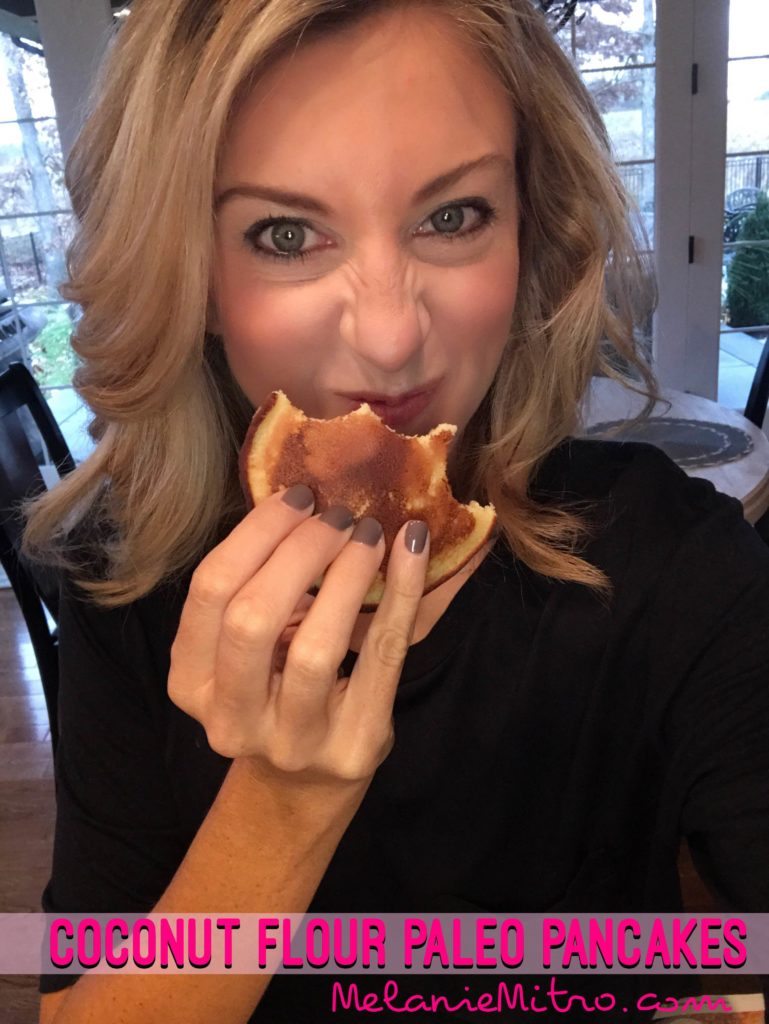 Ingredients
1 cup (8 oz) unsweetened coconut milk, but not from a can, which is too thick), at room temperature
4 tablespoons virgin coconut oil, melted and cooled
4 eggs eggs
2 tablespoons honey
1/2 cup + 2 tablespoons coconut flour
1/2 cup arrowroot powder
1/8 teaspoon
salt
2 teaspoons Paleo baking powder (1 teaspoon cream of tartar + 1/2 teaspoon baking soda + 1/2 teaspoon tapioca flour or arrowroot)
Directions
In a blender or food processor place the milk, melted coconut oil, eggs and honey, and pulse to combine.
In a separate, small bowl, place the coconut flour, arrowroot powder, salt and baking powder, and whisk to combine well.
Add the dry ingredients to the wet ingredients in 2 batches, pulsing to combine after each addition.
Once all of the dry ingredients have been added, blend or process until very smooth.
Allow the batter to sit for about 2 minutes (it will thicken and begin to appear a bit clumpy), and then blend or process again until smooth. The batter will be thick.
Heat a griddle or lightly greased nonstick or cast iron skillet over medium-low heat.
Pour about 2 tablespoons of batter onto the hot griddle and, using the underside of a large spoon and working quickly before the pancake begins to set, spread the batter into about a 4-inch round, just less than 1/4-inch thick.
Allow the pancakes to cook for less than 2 minutes, or until the underside is evenly browned. Not many bubbles will break through the surface during cooking as they would with normal pancakes. With a flat spatula, flip over each pancake, and continue to cook until set on the underside (about another 45 seconds).
Remove from the skillet, and repeat with the remaining batter.
You can enjoy these pancakes with a little pure maple syrup or like me I just ate them plain and they were so tasty.