I have 2 children who LOVE chicken fingers and I really am working hard to transition my entire family over to eating clean but it is VERY HARD!  It's so easy to just grab some frozen chicken nuggets, mac and cheese and hot dogs and go!  So in an effort to begin on my journey of transitioning my kids as well I found this recipe in the turbofire nutrition guide that came with my TurboFire fitness program.  It was a hit and the sauce was yummy!!
Ingredients
8 5-oz boneless, skinless chicken breasts (pound thin if too thick)
3/4 cup panko (whole wheat panko bread crumbs, I found at McGinnis Sisters)
1/4 cup Dijon Mustard (may sub with spicy Asian mustard)
1/2 cup nonfat plain yogurt
2 tbsp sesame oil (may substitute with peanut oil)
3 garlic cloves
1-1/2 tbsp dried parsley
Directions
Wash chicken breasts, pat dry with a paper towel, and set aside.  In a large bowl, whisk together mustard, crushed garlic, yogurt, and sesame oil.  In a separate bowl, mix parsley with panko.  Dip chicken into mustard mixture and then roll it in breadcrumbs.  Place on a Cookie sheet sprayed with nonstick spray and bake it at 475 degrees for 20 minutes, or until coating is golden brown and the chicken is no longer pink.  Use a meat thermometer to test chicken, or pierce the thicker portion to make sure juices run clear.  Serve with Dijon sauce.
NUTRITION INFORMATION PER SERVING
Calories:  231, Protein 31g, Carbs 9g, Total fat 7g, Fiber .5g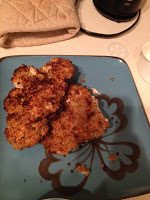 Dijon Sauce
1/4 cup Dijon mustard
1/4 cup nonfat plain yogurt
1 tsp. sesame oil
1 tsp. low sodium soy sauce
NUTRITION INFORMATION PER SERVING
Calories:  17 protein, .5 carbs, 1g total fat, Fiber 0g