I have had quite a few people suggest the Chocolate Shakeology Pudding Recipe to me and I just hadn't taken the time to try it. I don't think I was necessarily afraid of it, I just get lazy sometimes and don't feel like trying something new.
I needed a little sweat treat tonight so I decided to whip it up. There are just some days that no matter how healthy I eat that the cravings still strike.  I don't want to completely deprive myself but I also don't want to feed the sugar demons because it is a slippery slope.
This is hands down one of the easiest and yummiest treats that keeps me on track with my nutrition and fitness goals. I am definitely someone who loves chocolate, but I also love the definition in my body from eating healthy and clean.  I also love that I can have something that is rich and creamy but also is healthy at the same time!  Honestly, why wouldn't you want the best of both worlds.
If you have never tried Shakeology but are curious about how it could benefit you then contact me and I can always give you the scoop!  You can decide for yourself if you feel it is worth the investment!  
If you want to give Shakeology a try, please contact me to purchase!  Then I can explain the best options to get you the most bang for your buck! 
NOTE:  I did add extra almond milk because at first it wouldn't blend in my blender.  I used a whole banana that I had frozen and you could easily top with berries or coconut or mix in some almond butter.
Ingredients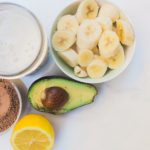 1 ripe avocado, skin and seed removed and chilled is best
1 ripe banana, peeled (chilled or frozen)
1 scoop of Chocolate Shakeology
1/2 cup unsweetened almond milk, more as needed
Directions
Add all ingredients to a food processor and blend until creamy.  Add a tiny bit of almond milk as needed for consistency.  Makes 2 servings. Enjoy