One of the things I love to do on Sundays is meal plan. Why on Sundays? Sundays are my day for rest and self-reflection. I plan my week of workouts, food, and business on Sundays to prepare for the week ahead.
If you fail to plan, you are planning to FAIL! I'm telling you that from personal experience. When I started my transformation, I was super excited about the workout and put the nutrition aspect aside. I thought I could out-exercise my diet!! I thought if I ate whole grain bread instead of white bread and Diet Pepsi instead of regular Pepsi that I was going to get results. Guess what?? At the end of thirty days, I didn't actually get the results I wanted. I was frustrated, but smart enough to know that nutrition was going to be 80% of my actual results.  I realized I was missing a key piece in my personal transformation.
I began to plan and prep. What I'm sharing with you is what I do and what works for me. It won't be the same for you. You might choose to plan on your day off, and that might be a Monday or a Tuesday. Maybe you only want to plan one day at a time, instead of 5 or 7. The bottom line is that you're planning ahead and you find out what works for you. If you don't, things will come up, you won't feel like cooking, or you'll be missing ingredients. That's when you'll end up making bad choices.
So let's dive into this. You can get on the meal plan wagon with me!! Start by creating a meal plan template in Excel. It's super easy, I just make a chart with the days of the week and my workout, breakfast, morning snack, lunch, afternoon snack, dinner, and evening snack. Below is an example of my blank meal template.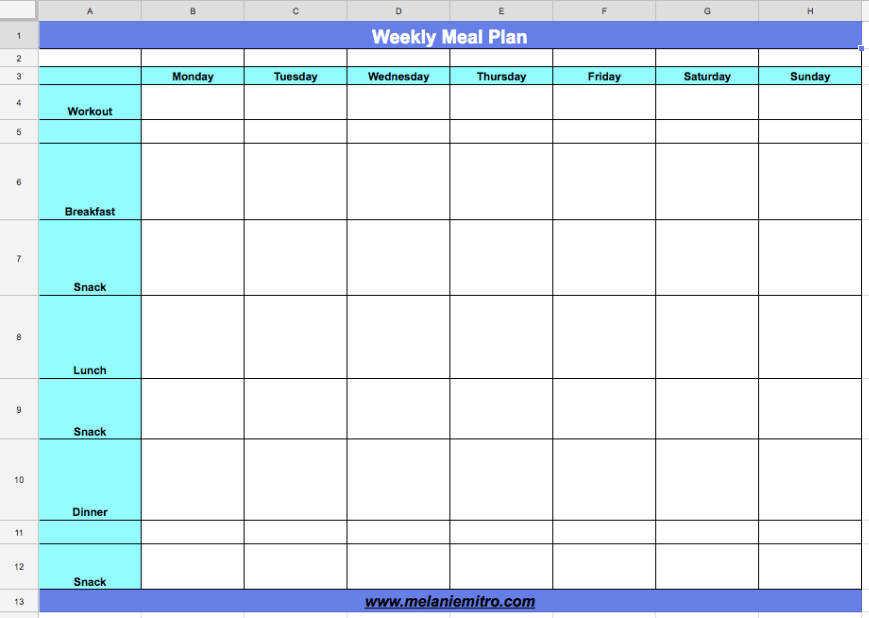 When you're first starting out, don't make all new recipes. You are going to burn yourself out by cooking a new recipe every day of the week. Think of what you can repeat and what you can create extras of!!
One of the most important parts of meal planning is thinking about your obstacles for the week. If you're leaving for travel, think ahead. If you have a date scheduled, it's okay to schedule in one cheat meal per week. Cheat meals are not meant to be over the top, but you can say "I'm going to have my glass of wine, say no to the bread, have a salad with a healthy meat and side and then have my dessert." Pick and choose your battles. If you have too many cheat meals, you'll sacrifice your progress and find yourself frustrated that it's taking longer to reach your goals.
Let's get to planning! For me, I have shakeology every morning for breakfast. I add unsweetened coconut and coconut milk to mine, so I have a grocery list that I'll start making with the ingredients I'll need for the meals I'm planning out. A lot of times I'm meal planning and in the kitchen checking out the pantry or I'll make my grocery list and then go look and see what we have in the pantry. When you're done, you'll have a week of meals planned and a grocery list with every item that you'll need.
With clean eating, the goal is to eat every 2-4 hours in order to keep your metabolism fired up. For a snack, I usually pair some sort of protein or good fat with a carb or fruit or veggie. For example I'll have an apple and 12 unsalted cashews.
Lunch for me is usually leftovers. Last night we made coconut chicken fingers, so I'll have some of those and then half a baked sweet potato and maybe some steamed green beans.
For an afternoon snack, I'll have 1 cup cucumbers and 1 blue container of hummus.
Dinner is where people get stuck. People freak out and think they have to research fancy and complex recipes which leads people to feel overwhelmed. In the beginning, don't worry about fancy recipes with lots of ingredients. Keep it basic. I'm going to have flank steak marinated with olive oil and lime juice, half a baked sweet potato, and grilled asparagus. I'll bake extra potatoes tonight to warm up throughout the week.
After dinner is usually when my sweet tooth hits. My kids might want to go out for ice cream, so I'll make greek yogurt cookie dough or a Shakeology mug cake to curb my cravings.
There you have it! It's nothing fancy, but it's done. Maybe you're a creature of habit and can eat the same snacks every day. Maybe tomorrow you want celery or red peppers. For dinner, you could have stir fry shrimp for dinner with carrots, peppers, onions, broccoli and brown rice.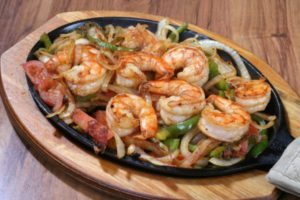 If you're ready to start trying new recipes, check out the clean recipes on my site!! A lot of times I'll use my own blog as a resource for recipes. You can even print them off or download them as a PDFs. Another great resource is Pinterest. Search for "clean eating recipes" and see what you can find!
When I meal plan, I'll sit down and do the entire week. Then I've got my grocery list and my completed meal plan. The plan goes on the fridge and I head to the store to get the ingredients on my list. Sometimes I'll prep and cut veggies or portion out containers so it's easy to grab snacks throughout the week.
Is it always going to go as planned? Definitely not. You can switch meals around and eat them on different days. I'm flexible enough to go with the flow but know that I have a plan and food is already in the house. If I don't want flank steak tomorrow, I'll swap it out for Tuesday's shrimp stir fry and feel comfortable knowing I have all the ingredients at home.
Traveling makes things a little bit tougher, but it's still important to plan ahead!! I know that I need to pack Shakeology for breakfast. I'll bring RX bars as a healthy and clean travel snack. I'll even portion out containers of nuts and veggies and pack them in my luggage. Sometimes I'll portion out some raw, uncooked oatmeal and then when I get to the hotel all I need to do is add water and I have a clean meal that I brought myself.
If I know I'm eating out lunch and dinner, I'll check out the menus ahead of time or ask for food to be prepared the way I want. Don't let peer pressure get the best of you when you're out with other people who aren't eating clean!! Your goals are important to you, so ask for what you want and you'll find that no one will even flinch. Blame it on allergies if you feel like it! No one will know.
Meal planning is one thing that took me a little while to get the hang of. Now it only takes me 5 or 10 minutes to get my planning done for the week!! Let me know if you have any questions in the comments section and happy meal planning!
If you would like more support and accountability with starting your fitness and nutrition journey join my next group!  Complete the application below and I will contact you in the next 24 hours with the details.