Welcome to my website!  I am so glad you are taking the time to check out my blog post about becoming a health & fitness coach with me.  You may be following me on Instagram, Facebook, listen to my podcast or read my blog, but something sparked your interest about the coaching business. So what was it?  Was it the travel, my transformation, the freedom, my coaching that made you want to know more?
Maybe you are like I was and you just can't even fathom that freedom, flexibility and finding ultimate health and fitness is in your future.  I can tell you first hand that it ABSOLUTELY can be if you choose that path.  I can 100% show you the way because I am living proof of what is possible when you are disciplined, consistent, and passionate about where you want to go in life.  This company has been the catalyst for my entire life overhaul.
In this blog post I am going to tell you everything you need to know to become 100% confident in your decision to work with me as your business partner to achieving your ultimate health and fitness goals!
Who Is Melanie?
8 years ago I was a new mom of 2 boys.  I was a new stay at home mom.  I left my corporate career as the Director of Early Intervention to live out my dream of being home to raise my boys.  I love being a momma but I was really struggling personally with my confidence level because of the 30+ lbs I could not get off after 2 pregnancies in under 3 years.  I couldn't fit in any of my clothes and we were financially tight due to being on a single income.  My husband Matt and I fought over money ALL THE TIME and it was a very large stressor in our marriage.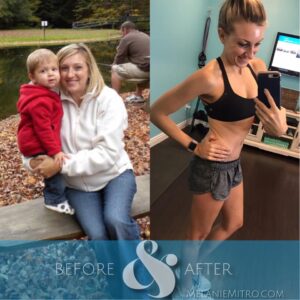 In 2011 I made a post on Facebook about eating celery and wanting to lose the baby weight and my coach (who was a complete stranger at the time) saw the post and sent me a private message inviting me to join her accountability group.  Before responding back I went to her page and creeped on her.  She seemed normal.  She was also a mom of 2.  She had an incredible transformation and I saw myself in her before photo.  In her after photo she was smiling, had a twinkle in her eyes, she looked happy and healthy. I WANTED that TOO!  So without skipping a beat, I made the commitment to join her group.
This was the start of my own personal life transformation.
I was 100% committed to doing whatever it took to feel confident and fit in my clothes.
Every day I worked out in the basement of our townhouse while my boys napped.  I overhauled our pantry.  I started cooking healthier foods, paying attention to the labels, researching portion sizes and how to truly be healthy.  I LOVED it and the lbs were melting off.  After 60 days of being in an accountability group my coach invited me to join the business opportunity with her.  I actually turned her down at least 6-7 times.  I didn't feel like I could be a coach!  I wasn't at my goal weight yet!  I didn't have a clue how to coach other people!  But my coach said, "Melanie you are already doing what I do!  You are sharing your results, you are teaching people what you are learning and you are encouraging others in the group!  You would rock at this!"
I thought about it long and hard!  I saw how happy she was.  I saw that she was earning an income.  I knew that we desperately needed the money and I loved the person I was becoming.  So I said YES!!  In July of 2011 I became a coach without any background in marketing, sales, social media, and I got to work sharing what I loved.
Here we are 8 years later and I cannot imagine how different my life would be if I didn't say YES!
What started as a way to get in the best shape of my life turned into…
Paying for my own products monthly with my income I was earning,
To paying cash for our Christmas presents my first year.
To earning a trip for my family to Disney for being consistent and helping at least 3 people a month.
To paying off our student loans.
Becoming part of the top .01% of the company!
Being a top 10 coach 6 years in a row!
Being the 4X Top Coach
Retiring my husband from his corporate career!
Leading my team to duplicate this success and creating leaders who are also having massive life changing success!
To speaking on stages and teaching other business owners what has worked for me!
I never SAW THAT COMING but boy oh boy and I glad that I said YES!
I feel like I would be a total JERK if I didn't shout it from the rooftops and share it with YOU!
So THANK YOU for being here and for reading my blog post.
I'm sure you are sitting here SCRATCHING YOUR HEAD asking, BUT HOW MELANIE!!!!  So here is how…
Here is the game plan:
 Watch the 4 videos below.
Check out the images/info to get an idea of what this lifestyle business is all about and what my team is like.
Keep an open mind and allow yourself to dream!  SERIOUSLY ask yourself where do you want to be in 3 to 5 years if you could do ANYTHING!!!  Is what you are doing RIGHT now where you want to be?  Could you see yourself in some part of my story?  Do you want to be your own boss, make your own schedule, take vacations whenever you want?  This business DOESN'T play favorites.  If you have the work ethic, the drive and determination you can create that life you are envisioning for yourself.
Let's Start With Some Income Inspiration
I really don't love talking about the income part of what I do because I just don't ever want people to think I'm gloating.  But, I never knew that coaching was such a great income opportunity until it was shared with me.  I would watch people in my organization accomplishing big goals and talking about how they paid of their debts it really motivated me to work harder.
So if you are interested in earning an income by getting in shape, inspiring others through your own journey and helping people change their lives too then this is a great way to do it!
I have to also say that your income is a direct reflection of the lives that you change.  You cannot just WISH for the income, you have to work for it!  Below are some examples of our team members who are crushing it and changing lives!
Beachbody does not guarantee any level of success or income from the Team Beachbody Coach Opportunity. Each Coach's income depends on his or her own efforts, diligence, and skill. See our Statement of Independent Coach Earnings located at http://tbbcoa.ch/TBB_SOICE  for the most recent information on our Coaches' actual incomes.
We all start at the bottom.  We all started small but with consistency and dedication it grew.  My first paycheck paid for my product but it quickly grew to $300-$500 a week and we were paying for our groceries, paying off student loan debt and saving for our future.  This hobby of mine was really starting to become significant and it was truly changing our family.
There is HUGE potential for you to do the same!  The compound effect of your consistent efforts will pay off.
I do work incredibly hard, so I don't want you to think that this is easy.  But this WORK is work that I love.  The JOB is one that I can do anywhere I have access to wifi.  I can determine my work hours and I can work as little or as much as I want for the results that I desire.
I share these examples because just maybe you are searching for SOMETHING more and this could be the spark that propels you into action.
What do you have to lose?
For me- the pain of staying the same was far greater than the pain of the change! Getting out of my comfort zone and doing something I had never done before was the best thing I could of ever done!!!
Time To Watch & Learn!
Alright friends, it's time to listen to a few videos that I created just for you!  You can listen to these videos while you drive, clean the house, put on your makeup or cook dinner!  I'm the queen of multi tasking so I know what it's like to be super busy and use your time wisely.  But check out the videos because I'm going to walk you through everything you need to know plus share my story about how coaching has truly changed our current and future state.
1:  Who Is Melanie and What Is A Health & Fitness Coach?
2:  The Worries, Fears and Misconceptions
Ditch the thoughts that…
I'm not a fitness or nutrition expert.
I'm not at my goal weight.
I do not have a large network.  I'm not active on social media.
I don't want to sell.
I'm shy or an introvert.
I'm afraid of what people will think.
I don't have time.
3:  All About The Money- Getting Started, What It Costs & How We Earn
4:  Training, Mentorship & The Next Steps For Health & Fitness Coaching.
When you join my team you are going to be joining a team that is a FAMILY!  We work together, we lift each other up, we give you training, support, motivation and accountability.  I give you a step by step system that walks you through everything you need to know to get started, to have success, and reach your goals.
I have taken my 8 years of experience and created my new coach training university to help you not make the same mistakes that I did and cut your learning curve in half.  The training is self paced and you can work through it as fast or as slow as you would like.
You will also be added to my support and accountability group to work on your own goals!
Plus I have weekly team calls, new coach calls and 1:1 calls as needed.
As your mentor I'm invested in your success!
Ready To Become A Health & Fitness Coach?!!
(Make sure you APPLY below!!!)
Bonus Info on Health & Fitness Coaching!!
Perk #1 of Coaching!  Getting Into The Best Shape Of Your Life!
Let me be clear; coaching is the best form of accountability and way to get healthy and fit.  Don't believe me, just try it for yourself.
Here are some transformations from members of our team to show you how life changing this gig can be!
It DOESN'T matter what type of body you have when you start! You can be 250 lbs or 100 lbs and be successful because it's all about documenting your journey, being real & relatable, and INSPIRING other women!
Whether you want to get toned or lose 100 lbs, this coaching gig can help you do that! And our tribe will be there to support you every step of the way!
Bonus Info #2 Community & Friendship
"You become MOST like the 5 people you spend the most time with. Choose those people wisely"
I never understood the power of the PEOPLE you spend your time with until I started spending it with other empowering UPLIFTING women. Then I got to the point that if someone wasn't going to be positive and action based and solution oriented and someone that gave me ENERGY vs. took it away, I didn't want to spend my time with that person – said with love
But TRUTH. The people you spend your time with IMPACT so much of your life.
We work hard – we play hard – we travel – we build businesses behind computer screens and we are STRONGER when we are TOGETHER!  Health & Fitness Coaching truly changed my LIFE!
FRIENDSHIP is one of the biggest PERKS of this coaching gig!
I'd be lost without these people I get to WORK beside, build businesses with and dream big dreams! And YOU could be right there beside us on our team retreat in the fall, our leadership event in Arizona or next year's rewards trip to PUNTA CANA!
Now Is Your Time To Shine!
Why not you!!!  Why not become a health & fitness coach and transform your life!!!
If you are a go getter, willing to hustle for your future and you see something more for your life then now is the time!
This opportunity is perfect for you and I would LOVE to be your mentor and show you the way!  I have open ENROLLMENT for my personal mentorship program and there is a spot with your name on it!  The longer you wait, the further away your DREAMS are from becoming a REALITY!
Thanks for taking the time to check this out!  I hope you'll believe in yourself enough to take the leap of faith!
xo
Melanie